Capunet (Stuffed Cabbage rolls) 
Like our other recipes, Capunet (Stuffed Cabbage) is a simple Italian recipe, and the ingredients used are readily available. Stuffed Cabbage rolls recipe, we have stuffed a mixture of rice, carrot onion and garlic in Savoy cabbage leaves, fresh herbs, eggs, and Parmesan cheese have been used to enhance the taste. Traditionally, Christmas luncheon meats were used to reuse leftover dishes. That's why you can also call it a traditional recipe, although over time many other fillings and ingredients are used in it.
All you have to do is boil the cabbage leaves and cook them with the prepared filling. For fillings, you can use fresh herbs, garlic, and Parmesan cheese. You can use an oven or pan for cooking. Use sauces to enhance the taste.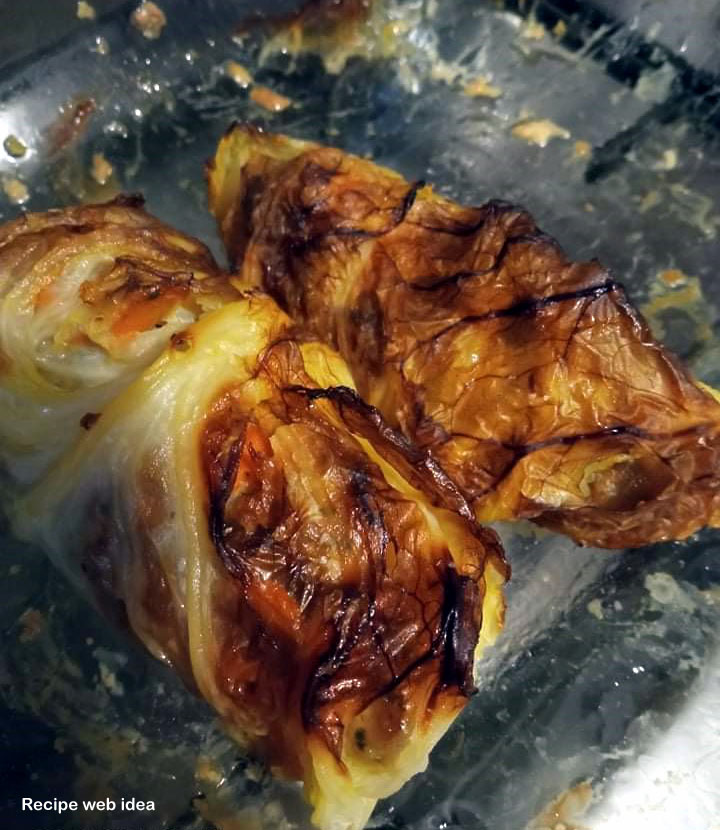 0ur other popular Italian recipes
Grilled Tilapia Fish with Asparagus (Tilapia recipe with Lemon)
Traditional peperonata recipe with peppers and onions.
Italian Semolina Pancakes recipe.
Polpette di Ceci (Chickpea balls recipe)
How to make an Apple Pie recipe at home.
Preparation time        20 minutes
Cooking time               1 hour
Total time                      1 hour 20 minutes
Serve for                       6
Difficulty level             Easy
Course                            appetizer recipe / main course
Cuisine                           Italian dish
Ingredients for Capunet recipe
Savoy cabbage            01 (8 leaves)
Rice                                  04 cups
Egg                                   01
Carrots                           3- 4 (chopped)
Onions                            02 -medium-sized (chopped)
garlic                                5-6 clove
Parmesan                      04 tablespoons
Nutmeg fresh              01 (Grated)
Black pepper                1/4 tsp
Salt                                   as per taste
Fresh Herbs                  Rosemary, celery, and Italian Parsley (to taste)
Preparation for Capunet
Firstly preheat the oven to 180 degrees.
Cook the rice in abundant salted water Boil it for about 25- 30 minutes and then drain.
Blanch (cook a little) 4 cabbage leaves in plenty of water and spread out on a cloth and allow to dry,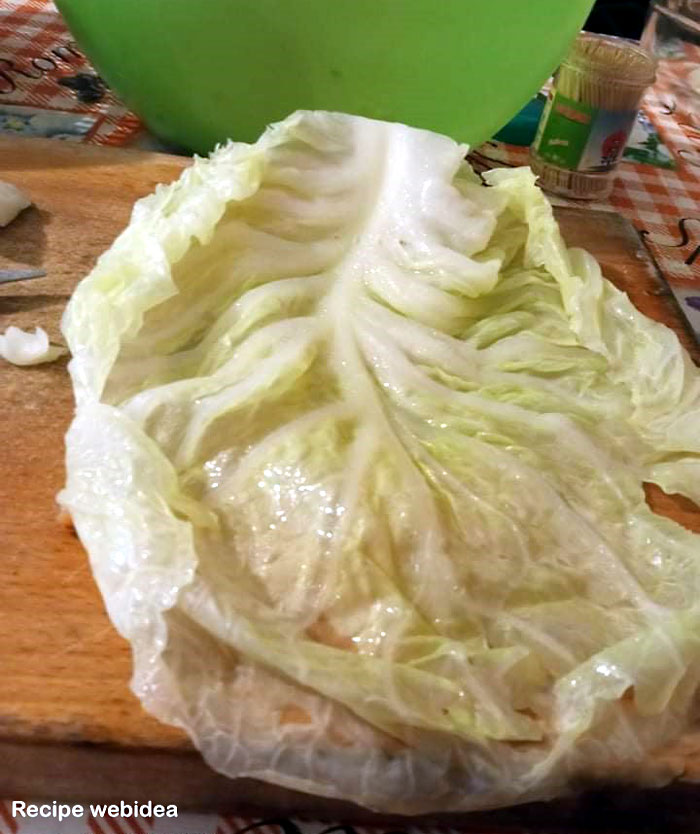 cook the other 4 leaves and let them dry.
Chopped the carrots, onions, garlic,  some cabbage, Rosemary, and celery leaves and fried with olive oil.
Take out the mixture and keep it aside.
In a bowl put the boiled rice, an egg, the fried vegetables, nutmeg, Garlic, Parmesan, a little salt, pepper and mix well.
Take a cabbage leaf, put some of the vegetable mixtures and close the leaf-like a roll.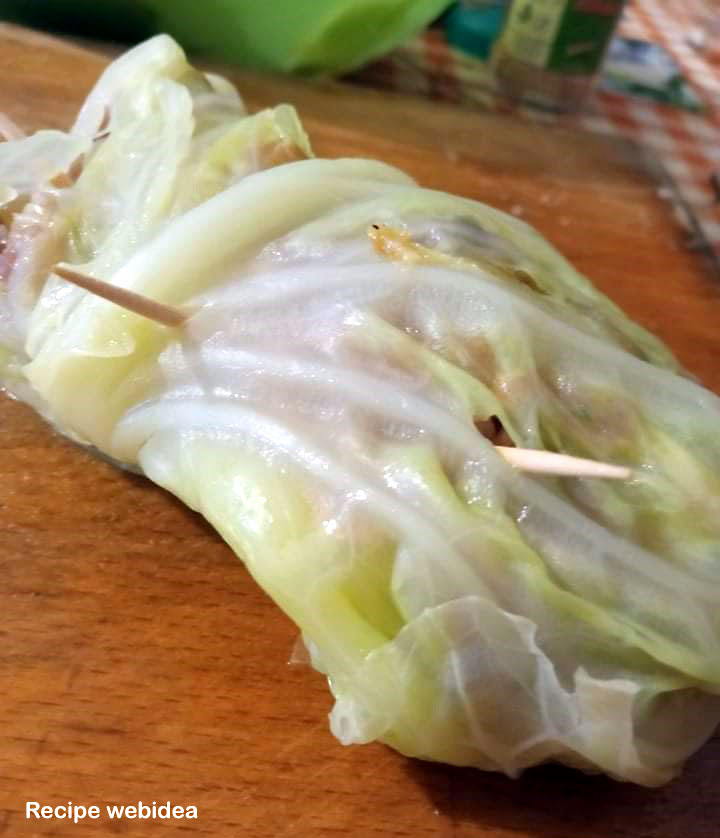 Stop the roll with a toothpick.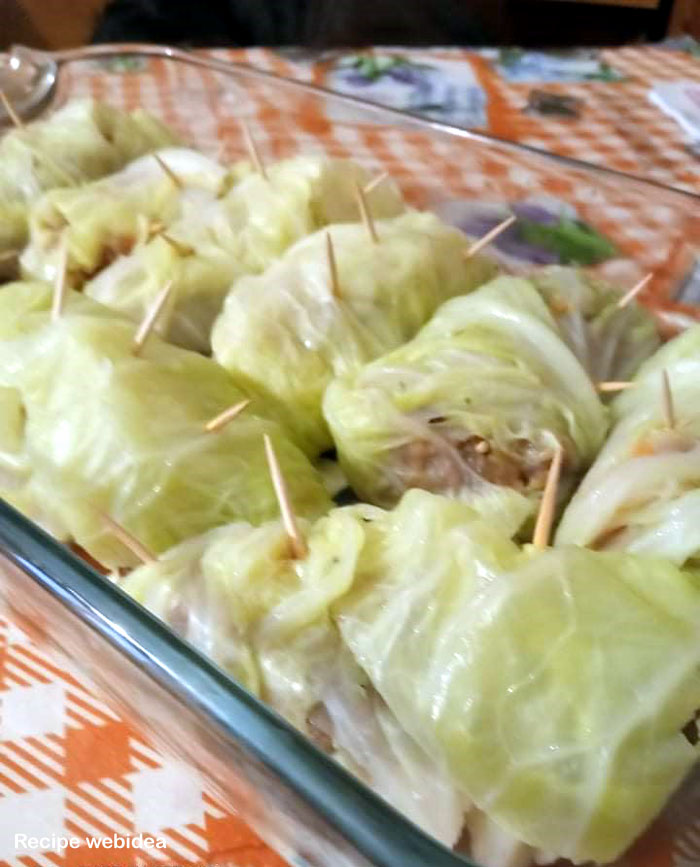 Similarly, make rolls using all the boiled cabbage and keep them aside. Read also.
How to make Capunet recipe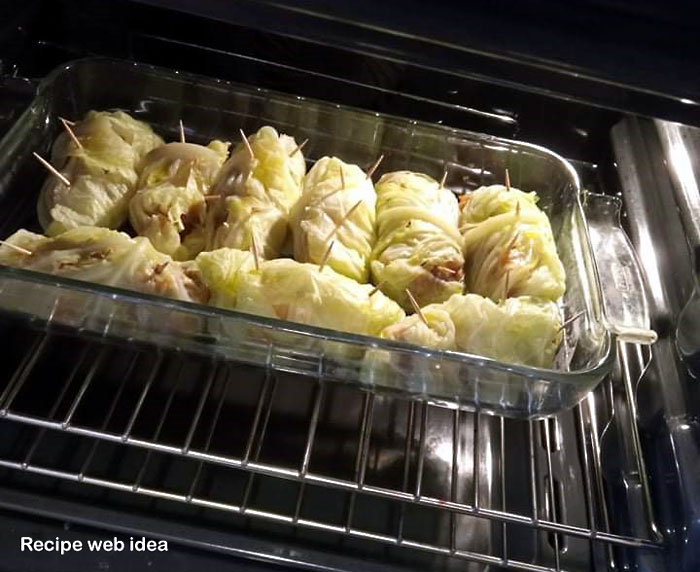 Put a few flakes of butter on the surface of a pan and spread the rolls (CAPUNET). Sprinkle a few drops of olive oil over the rules.
Place the rolls tray in the oven and bake at 180 degrees for 40 – 45 minutes.
Serve hot with chutney made of red or green chilies.
For the NON-VEGAN recipe
Instead of rice put minced meat of chicken or rabbit or a mix of meats and fried with onion and herbs.
Main ingredients
Savoy cabbage, Rice, Egg,  Carrots, Onions,  Garlic, Parmesan, Nutmeg,  Black pepper, Salt.
Main keywords
Capunet, Stuffed Cabbage recipe, Capunet recipe, Vegan Capunet, Italian recipe., stuffed cabbage rolls, cabbage rolls, stuffed cabbage.
Read also:
Traditional Turkish kebabs recipe at home. How to make Mawa jalebi at home. Pad Thai noodles recipe. Chicken pizza recipe at home. Kesar kaju katli recipe. Semiya Upma recipe. How to make Cheese balls. Traditional Italian meatballs recipe.  Keema karela recipe at home. Chicken karahi recipe traditional style.
For pin: