Spaghetti with Tomato Sauce
Italian Spaghetti Recipe with Fresh Tomato Sauce is a delicious recipe that is loved by kids. After the spaghetti is cooked enriched with the flavors of tomato sauce, oregano, garlic, and black pepper. Some people also use green vegetables like bell peppers and carrots to make them tastier and healthier.
Gluten-free spaghetti Spaghetti (any type) with Tomato Sauce, Garlic, Pepper, and Parmesan Recipe is a quick and easy Italian recipe, it takes about 20 minutes to make. read also.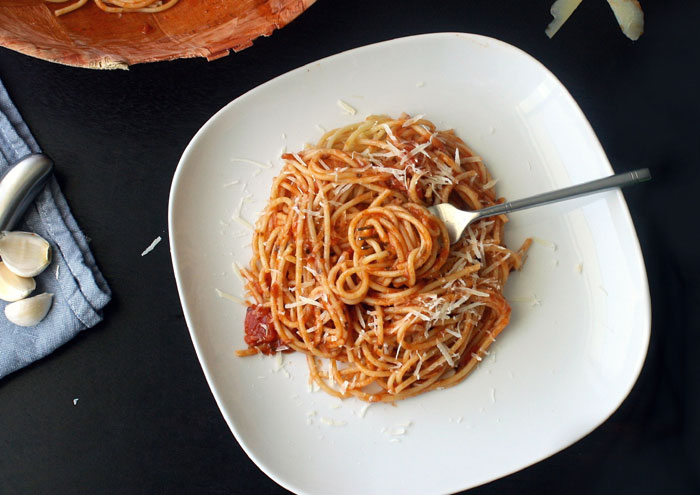 Click for our other popular Pasta Recipes
How to make masala pasta recipe.
Preparation time              10 minutes
Cook time                           25 minutes
Total time                            35 minutes
Serve                                    04 members
Difficulty level                   Easy
Cuisine                                 Italian  cuisine
Course                                  Breakfast
Ingredients
Un cooked spaghetti      200 grams
Olive oil                               02tbsp (extra-virgin olive oil)
Tomato sauce                    02tbsp
Garlic                                    7-8 cloves
Parmesan cheese            1tbsp (grated )
Dried oregano                   01 Tbsp
Black pepper                     1/4 tsp
Salt                                        as needed
How to make Spaghetti with Tomato Sauce
First of all, fill about 3/4 part of a big pot with cold water, put it on the gas, and boil it.

When the water starts boiling add 2 tsp salt and then add spaghetti.

While boiling, separate it with tongs in the middle so that your pasta does not stick. Do not cover pasta while cooking.

You can also add a spoonful of olive oil to avoid sticking.

Do not cook the pasta too much otherwise, it will stick.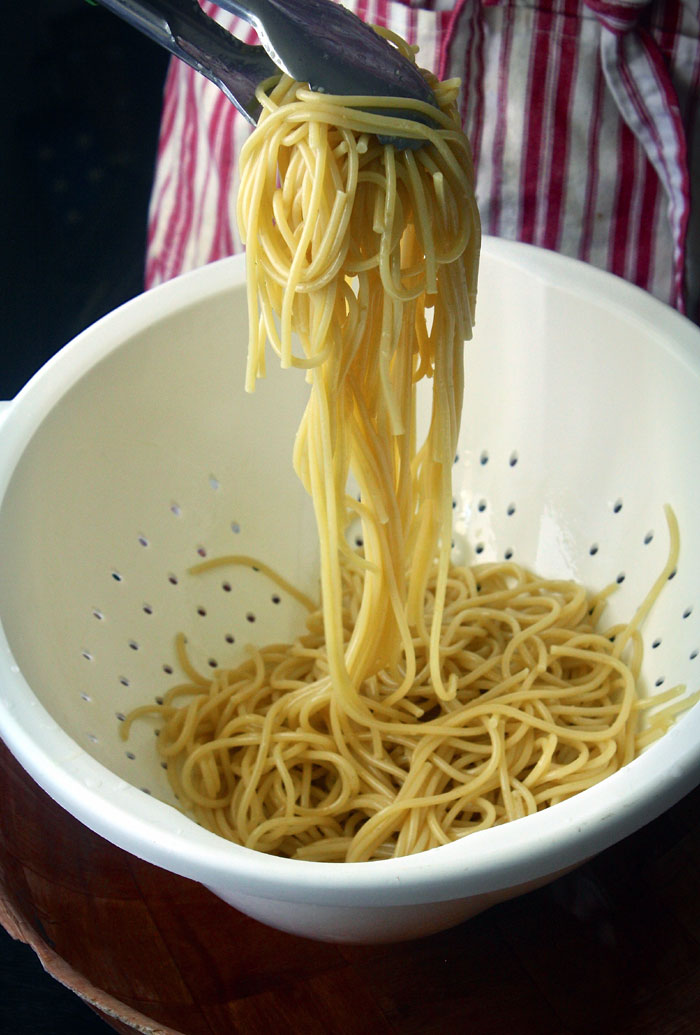 After boiling, strain the pasta to remove excess water. Filter the paste and keep it aside on a plate.

 Now put a pot on medium heat and heat it, add olive oil to it.

Add 4-5 cloves of garlic and carom seeds to it and cook till it turns brown, stirring continuously.

Keep in mind that garlic cooks very fast, so keep stirring, otherwise, it will burn. Now turn off the flame and reduce it completely.

Now add cooked spaghetti to it, then add tomato sauce to it. For the Tomato Sauce recipe, see.

Add salt, black pepper, and 1-2 more fresh garlic cloves as per taste and mix. You stir it slowly, if necessary, hold the end of the pan.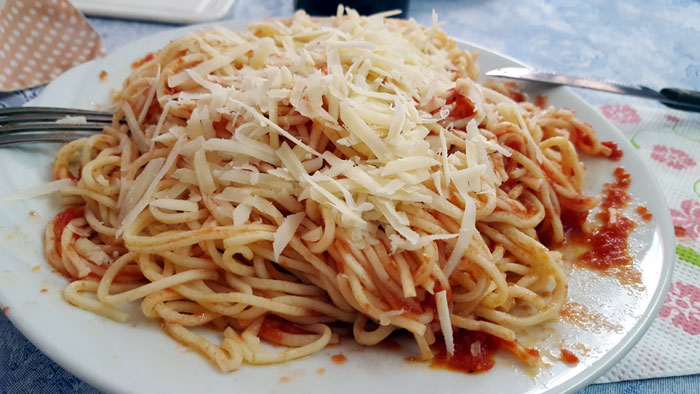 Lastly, sprinkle dry oregano or basil over it, add a little pre-grated Parmesan cheese and

serve

.
Suggestions
Do not cook the pasta too much or too little.

Add bell peppers and beans, or add other vegetables to make it more nutritious.
Main ingredients
spaghetti, Olive oil, Tomato sauce, Garlic, Parmesan cheese,  Dried oregano,  Black pepper, Salt.
 Main keywords
Breakfast, Spaghetti Recipes, Continental Recipes, pasta 
Read also:
How to make frittatas. Mushroom Pizza recipe step by step. Sweet sesame chicken wings recipe. Peperonata recipe step by step. Veg Manchurian recipe at home. Eggplant parmigiana recipe step by step. How to make Potato papad recipe. Home-made Gulabjamun recipe.
For pin: