Veg Manchurian recipe
Read this article to know How to make Manchurian | Veg Manchurian recipe | Vegetable Manchurian and tips related to this Indo Chinese food. The cold season is for eating, drinking, and about making health. There is an abundance of green vegetables throughout the season, at this time you should prioritize food that is good from the point of view of nutrition and health. Indo Chinese veg Manchurian is one such recipe which is delicious and spicy as well as healthy food.
You can make this Indo Chinese breakfast very easily in your home, you can make special with Veg Manchurian recipe when guests are present. Nowadays this street food is very much liked in India today. The Manchurian balls filled with vegetables drenched in a spicy gravy of cornflour are much preferred. Recipe Web Idea is sharing a very simple Vegetable Manchurian recipe, which you can make at home. Read this too.
The veg Manchurian recipe is my favorite, I often make it at home during the winter season. The best thing is to use vegetables that are available at your home. I like Veg Manchurian with gravy, you can also make it dry. It is easily available in your kitchen for use, I prefer this for office lunch for my husband, in children's tiffin.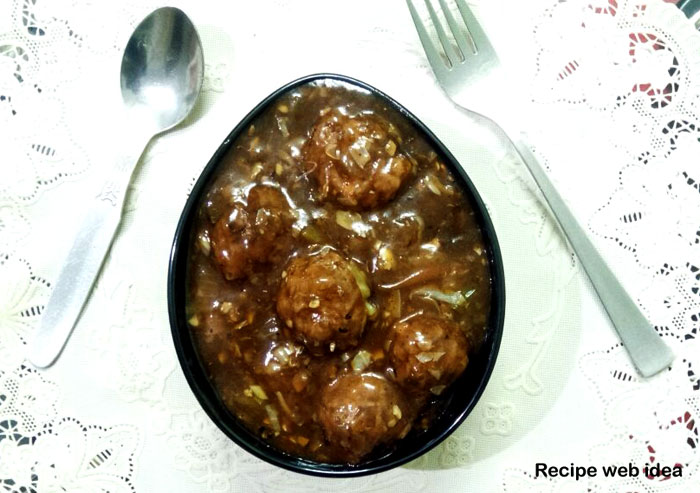 Preparation time                          50 minutes
Cooking time                                 10 minutes
Serve                                                08 members
Difficulty level                               easy
Course                                              Breakfast
Cuisine                                             Indo-Chinese Cuisine
Ingredients for Veg Manchurian Ball
Fine flour                                         1/3 cup
Corn flour                                        02 tablespoons
Capsicum                                         1/2 cup (finely chopped)
Carrot                                               3/4 cup (grated)
Cauliflower                                     3/4 cup (finely chopped)
Black pepper                                  1/4 teaspoon
Ajinomoto                                      01 pinch
Oil                                                       for frying Manchurian Balls
Salt                                                     as required
Ingredients for Manchurian Gravy
Corn flour (maize) flour             02 tbsp
Ginger                                              02 inch (grate it)
Green chili                                      2-4 (finely chopped)
Green onion                                  1/4 cup
Garlic                                                 5-6 cloves (finely chopped)
Soy Sauce                                        02 Tbsp
Chili Sauce                                       1/2 Tbsp
Tomato Sauce                               02 Tbsp
Water                                               02 cups
Salt                                                     as required
How to make Veg Manchurian 
Take cornflour in a large bowl according to the quantity mentioned above. In this bowl mix pepper powder, salt, and a pinch of Ajinomoto.
Then add grated carrots, grated cabbage, finely chopped bell pepper, chopped green chilies, and a spoonful of oil.
This mixture gets wet due to water in the vegetables, if there is a shortage of water, sprinkle some water over the required amount. Mix the ingredients well. After making it well, make small balls with the help of palms. Set aside after making.
In another bowl, make a thin batter by mixing fine flour (maida) with water, dip the vegetables into this batter and keep aside.
Now heat the oil in a deep bottom pan. Keep the gas flame medium, Manchurian balls will remain raw from inside due to high heat. Slowly pour 4-5 balls in the oil and deep fry. When one side turns brown, flip it and fry it so that the balls are well fried from both the sides.
Place paper napkins on a plate and keep all the fried balls. Putting it in a paper napkin will remove its excess oil.
Your Manchurian Balls are ready.
How to make Manchurian gravy
To make Manchurian gravy, take corn flour as mentioned above and make it a diluted solution with water.
Heat oil in a pan, and add peas according to the above-mentioned quantity. Then add finely chopped ginger, garlic, chopped green chilies, chopped green onions, and fry. Add 2 tablespoons soy sauce, 1/2 teaspoon chili sauce, and 2 tablespoons tomato sauce and fry for about 1 to 1.5 minutes.
Now add black pepper powder and salt, add 2 cups of water. Boil it for about 1-2 minutes.
When it starts boiling, add the cornflour dissolved in it and cook on low heat for about 1 minute.
Veg Manchurian recipe
Now slowly add the fried Manchurian Balls to the gravy and let it cook for 3-4 minutes.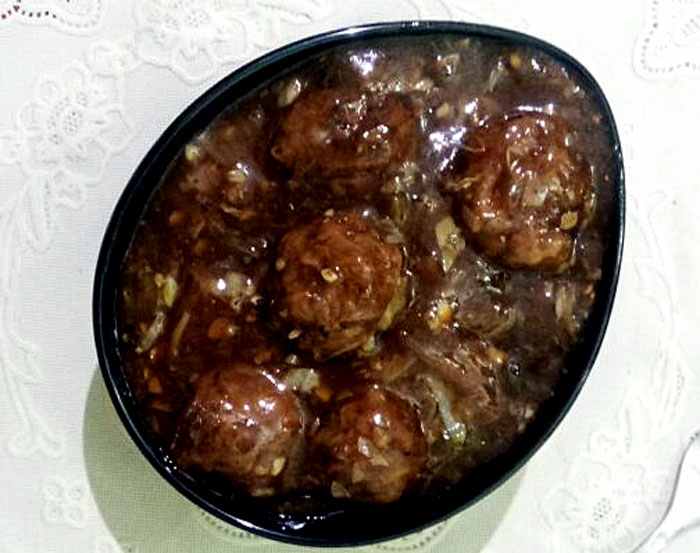 Take your Veg Manchurian is ready, you can serve it with hot roti, naan, jeera rice or rice or similar.
Tips
No water is required in the vegetable mixture, the water coming out of the vegetables is sufficient to make Manchurian Balls. And despite this, if the water is less, you can add some water.
Keep the gravy thin at the beginning, as it will thicken itself after cooking.
We have used Ajinomoto to develop Chinese flavor. If it is not available then you can make Manchurian without it.
Main material
Corn (maize) flour, Fine flour (maida), soy sauce, chili sauce, tomato sauce, and green vegetables.
Tags
Veg Recipe, Street Food, Chinese Recipe, Breakfast. Chinese food, Indo-Chinese food.
How to grow Onion in containers. see also.
Read also: 
How to make Upma. How to make spring roll.  Cabbage kofta recipe step by step.  Rava appe (Paniyaram) recipe step by step. Vermicelli (sewai)recipe.  Raw mango chutney. Indo Chinese Manchurian recipe. Potato cheese balls recipe.  Banana pancake recipe east steps.  Mumbai Pav sandwich recipe.
For pin: