The raw mango chutney recipe
Green mango chutney recipe | Raw Mango Chutney. Green mango pungent chutney (mango chutney) makes your tasteless food tasty and edible. Often we did not like to eat during the summer season, so my mother always served food with chutney, mint chutney, tomato chutney, or mango pickle. This chutney is made by adding mint leaves, coriander leaves, garlic, ginger, and cumin seeds. Aam ki chatni is a complete tangy Indian traditional side dish, my family's favorite chutney.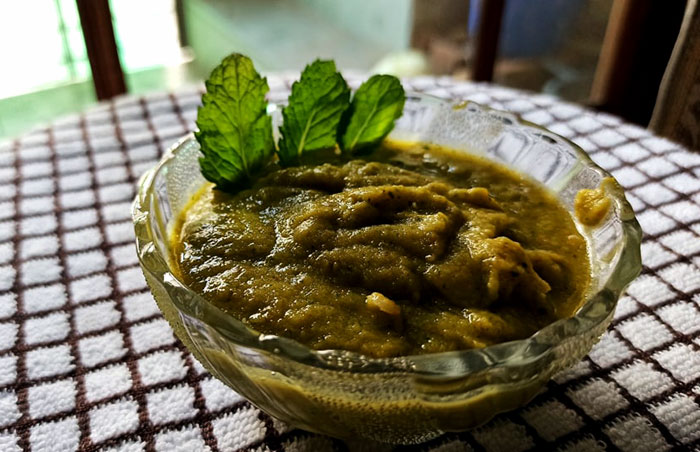 Today I am sharing with you the raw green mango chutney recipe told by my mother. It is very easy and all the ingredients used in it are easily available in your kitchen.
Raw mango chutney can be served with dal chawal, roti, pulao or any other breakfast.
Sweet Green Mango Chutney
Some people like the sweet chutney of green mango, which is also known as launji in the colloquial language. Its sour-sweet taste also makes your food tasty. We will also tell you an easy recipe to make it.
Preparation time                              10 minutes
Cooking time                                     10 minutes
Total time                                            20 minutes
Serve for                                             05
Difficulty level                                   Easy
Course                                                  Condiment (Side)
Cuisine                                                 Indian
Ingredients for raw mango chutney (aam ki chatni) 
Raw green mango                           03 (peel and chop)
Sugar                                                     01 spoon
Green Chili                                          3-4 (chopped)
Mint leaves                                        1/2 cup
Coriander leaves                              1/2 cup
Ginger                                                  02 inch (peeled and chopped)
Garlic                                                     4-7 cloves (peeled)
Cumin seeds                                      01 teaspoon
Black salt                                              1/4 teaspoon
Regular salt                                         1/2 teaspoon
Green mango chutney recipe
First wash and peel 03 raw green mangoes with clean water, then cut into small pieces and keep them aside in a plate. If there is kernel in the mango, separate it.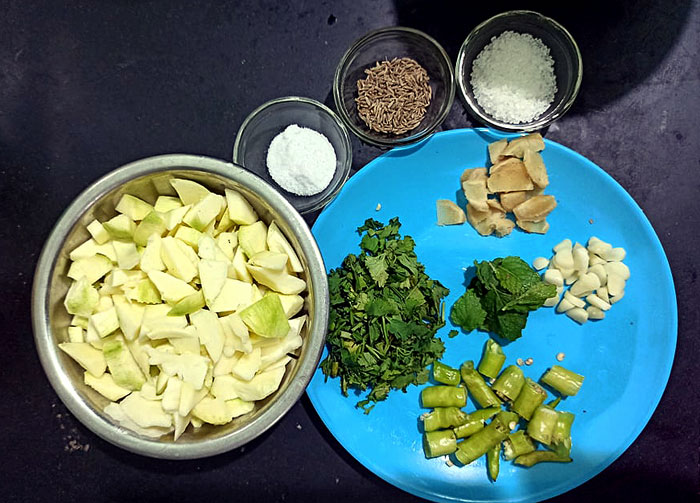 Wash and chop green coriander leaves and mint leaves and separate the stalks.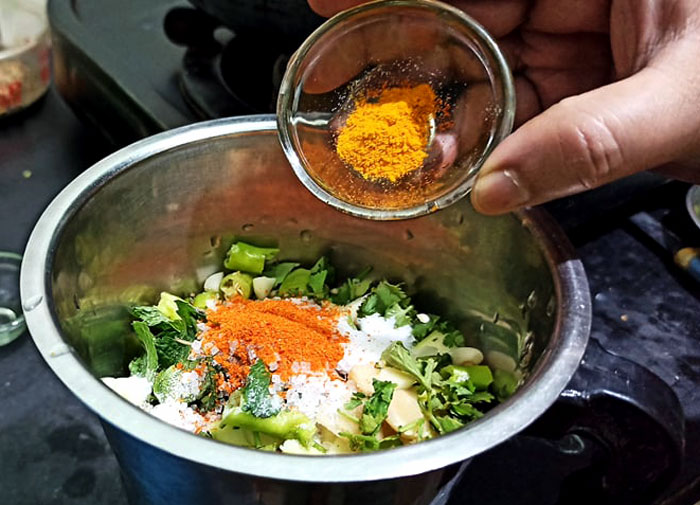 Now add chopped raw mango, coriander leaves, mint leaf, sugar, green chilies, ginger, garlic, and cumin seeds to the saucepot, and grind it smooth.
Remove the chutney from the pot in a bowl and add 1/4 teaspoon black salt and regular salt as per taste.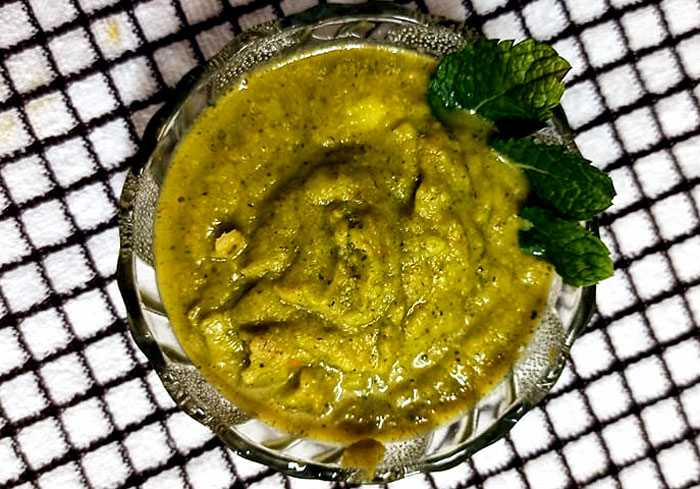 Your mango chutney is ready and serves it with your lunch, dinner, morning, or evening breakfast.
Keep chutney in an airtight container in the fridge, you can use it for about 7-8 days.
Suggestion
Wash and peel raw mangoes and cut them into pieces.
After preparing all the ingredients, put the chutney in the pot, and make a smooth paste.
Removing aam ki chatni from the pot, then add salt to it and serve immediately.
Main ingredients
Raw green mango, Sugar, Green Chili, Mint leaves, and salt.
Keywords
Mango chutney, aam ki chatni, Raw Mango Chutney.
Read also:
Dal fara recipe step by step. How to make moong dal mangode. Chur chur naan recipe step by step.  Pad thai noodles recipe step by step.  Famous Indian dessert Doodh Peda recipe.  Pav Sandwich recipe easy steps. Famous North Indian Tehri recipe. Vegetable pulao recipe step by step. Paneer Tikka masala recipe step by step.
For pin: