How to make Tehri | Tehri recipe
How to make Tehri | Tehri recipe | Tahari recipe step by step. Tehri is a popular recipe in North India, it is made by adding vegetables mixed with rice, and lots of spices. Tehri is a great option when there is a desire to eat separately. In this major North Indian Cuisine, rice is made with a spicy taste.
Non-vegetarian eaters make it by adding favorite meat. Tahari recipe is a nutritious recipe, with rice and main spices mixed with saffron and turmeric. Turmeric is used to work joint pain and arthritis. It is also nutritious due to having many vegetables.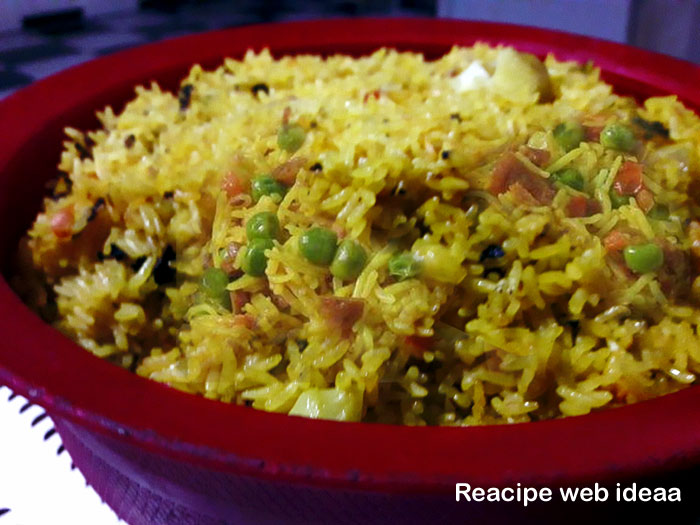 Preparation time                                              15minutes
Cooking time                                                     60 minutes
Total time                                                            1hour 15 minutes
Serve for                                                             04
Difficulty level                                                   Medium
Course                                                                 Lunch/dinner
Cuisine                                                                 North Indian
Ingredients for Tehri recipe
Rice                                        01 cup (soaked)
Potato                                  01 (sliced)
Tomato                                02 (chopped)
Onion sliced ​​                      01 medium size
Green chili                          2-3 (chopped)
Carrot                                   01 (chopped) Optional
Green peas                        1/2 cup (Optional )
Turmeric powder             1/2 teaspoon
Red chili powder              1/2 teaspoon
Ginger garlic paste           01 teaspoon
Bay leaf                                01
Cumin seeds                      01 tsp
Cloves                                   4-5
Black pepper                      4-5
Cardamom                          2-3
Garam masala                   1/2tsp
cooking oil                           04 tbsp
salt                                         to taste
Coriander Leaf                  01 tbsp (chopped)
How to make Tahari (Tehri recipe)
Clean the rice thoroughly and soak it with  2 times water the amount of rice. After about 15 to 20 minutes it will be ready to make.
Wash and chop all the vegetables thoroughly.
Add mustard oil in a large pot or pressure cooker and heat it, add cumin seeds, cloves, black pepper, cardamom, and bay leaves and fry a minute.
Now add chopped onion and cook for about 2 minutes.
Add ginger and garlic paste and chopped green chilies to it and cook for a while.
Add chopped tomato and mix well, cook it for about 2 minutes.
When the tomatoes turn slightly mushy, add chopped vegetables, add turmeric powder, chili powder, and garam masala and stir well.
Now add soaked rice with water in the cooker, if the water is less then increase the amount of water. Add salt as required and close the lid and let it cook for two whistles.
Turn off the gas, your tahari is ready, garnish with coriander leaves and serve hot.
Serve hot North Indian Tahri with raita, roti paratha or naan.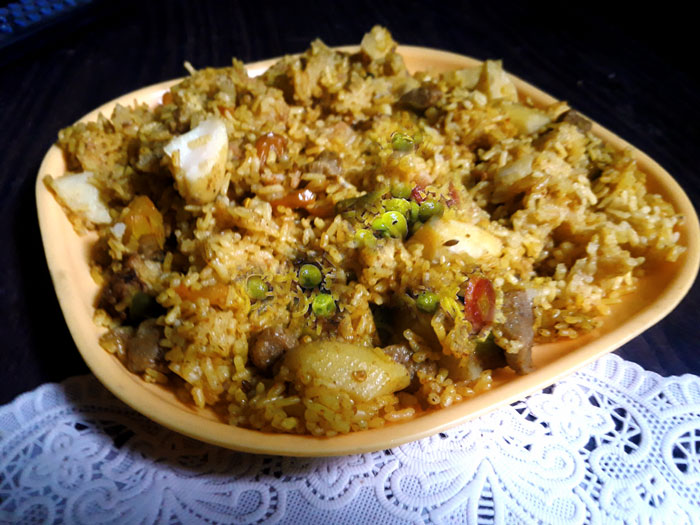 Suggestion
In this recipe, you can use any vegetable which mashes well.
Some people also add soy chunks in it, you can also use it.
Use good quality rice, it will be tastier.
Main ingredients
Rice, vegetables, oil, and spices.
Keywords
Tehri, Tehri recipe, Tahri, North Indian,  Tahari recipe
Read more : 
How to make Coconut Barfi. How to make Suji Upma. Habshi recipe step by step. Moon dal mangode step by step. Palak Chicken Curry recipe at home.  Cabbage kofta recipe at home.  Gujrati snacks Chakli recipe.  Patiyala aloo recipe. Aloo Tikki Chaat recipe at home. Cucumber Raita recipe step by step.
For Pin: