Mangode recipe
Moong dal Mangode recipe is a popular snack in North India. When it is monsoon or cold season, Mango dal mangode and green coriander chutney are very pleasing to people. However people like other gram flour (Besan bhajia) or pakoras too. Apart from Uttar Pradesh, Rajasthan, Madhya Pradesh, and Gujarat are also eaten a lot. Learn How to make Mangode, Mangode recipe step by step, and related suggestion of this Fritters recipe.
Moong dal pakoras or Mangode are prepared from peels moong dal, you do not need gram flour (Besan). However, if the moong dal becomes too wet at times, you can add a little gram of flour, but this will make the taste slightly different. To make it, you use chopped ginger and onion, it will be more crispy and tasty.  If in the evening breakfast, the guests have to feed the hot mangode instead of snacks, then the guests will enjoy the full flavor of it.

Ingredients for Mangode
Moong dal (lentils)                          4 cup
Ginger                                                  01 inch piece
Green chili                                           4-6
Onion                                                    01 (finely chopped)
Red chili powder                             01tsp
Asafetida                                             01 pinch
Green coriander leaves                 3-4tbsp
Turmeric powder                             01tsp
Baking Soda                                        01 Pinch
Salt                                                         as needed
Cooking oil                                          for frying mangode
Mangode  recipe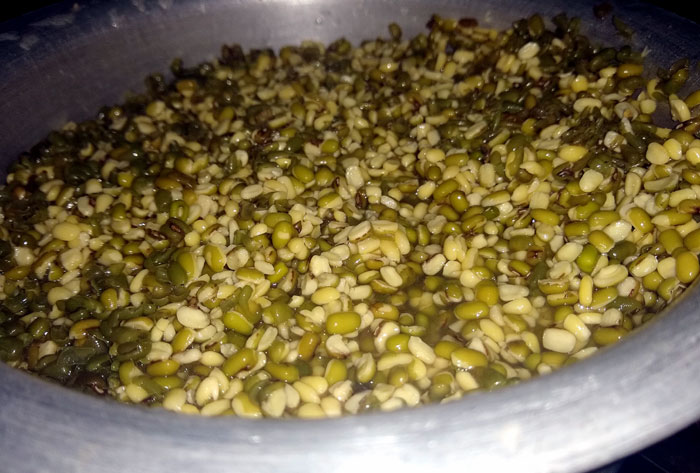 Step -01
Take moong dal according to the above-mentioned quantity, and soak it in water or for overnight. If you have short of time, soak it in lukewarm water for about 2-3 hours.
When the lentils (moong dal) swell, you rub it with your palms and peel it off. Pour the lentils in a bowl filled with water, the peel starts floating on top, you can easily separate it.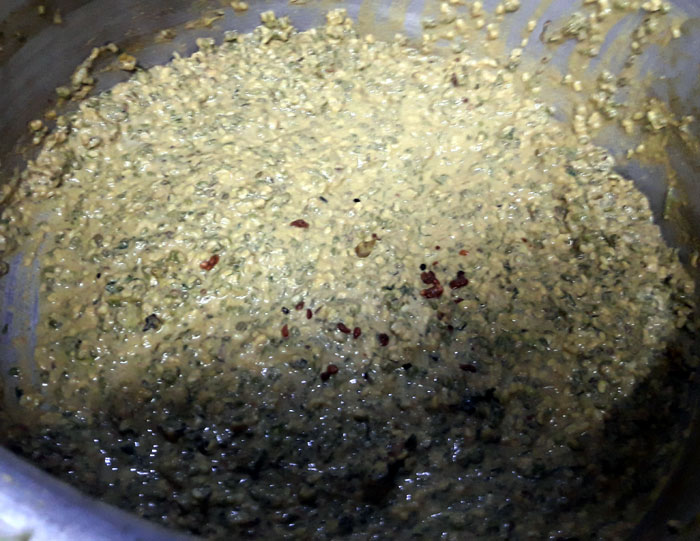 When the peels separate from the whole lentils (moong dal), grind them coarsely in a mixer grinder, do not use additional water while grinding.
Wash ginger and green chilies in a saucepot and make a paste, set it aside in a bowl.  Read also.
Step -02
Add 1 teaspoon ginger-green chili paste, 1 teaspoon red chili powder, 1/2 teaspoon turmeric powder, salt to taste, and finely chopped onions and mix well.
Add green coriander leaves and 1 pinch asafoetida to this mixture and mix well.  Now your mixture is ready for Mangode.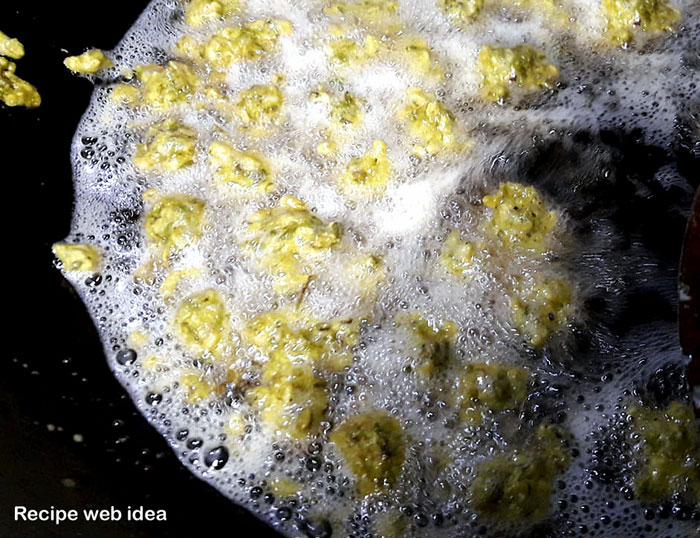 Step-03
To fry the mangoes, pour oil into a pan and heat it. Oil should be well heated for frying.
With your fingers, take a little ready mixture and give it a round shape and fry it till it turns golden brown, when it fry on one side, flip it. Moong dal pakorasbegins to appear golden brown after frying well.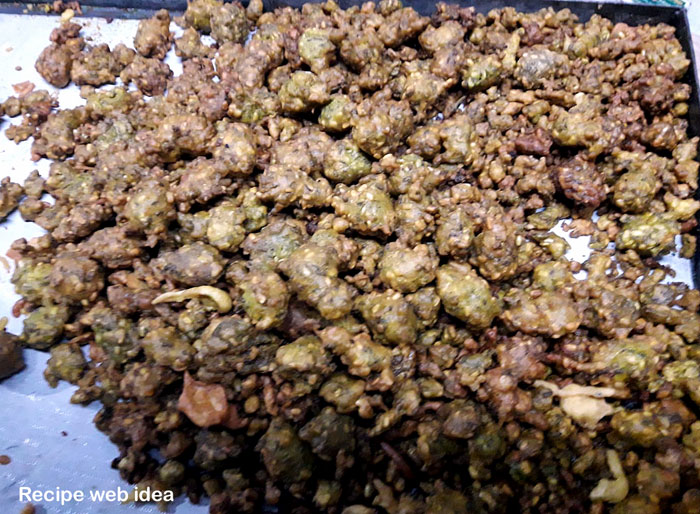 Now take them out with the help of a strainer, and spread them in paper napkins. This will remove excess oil from the mangode.
Step-04
Now hot mangodes of moong dal are ready to be served, serve it with coriander chutney or tomato sauce.
Suggestions
If you are short of time, then you can also use dung moong dal for this.
Oil should be well heated for frying the mangoes, otherwise, the mangoes will not be good.
 If the lentils grind a little pearl then you will get a new taste and a more crisp taste.
Put a pinch of Baking soda before frying, it will be very tasty and crispy.
If the mixture becomes too wet while making Mangode, you can add a little gram of flour.
Main Keywords
moong dal mangode, Mangode recipe, Fritters, Breakfast., Moong dal pakoras.
Read also:
How to make palak puri recipe. How to make Chakli easy steps.  Dal Fara recipe step by step.  Aloo tikki chaat recipe at home. Semolina pancakes recipe. Sweet sesame chicken wings recipe. Vegan Pumpkins meatballs recipe. Homemade Pico de gallo recipe.
For pin: