Palak Puri Recipe (Spinach Masala Puri )
Palak puri (Spinach Puri) is different from regular puri. It made from whole wheat flour, semolina, gram flour, and spinach. Spinach is rich in iron and gives you nutritious food. It is an excellent lunch for your child due to its rich in vitamins and minerals. Learn How to make Palak Puri, Palak Puri Recipe, Spinach Masala Puri, Palak missi poori, and suggestion about this recipe.
Palak puri is very easy to make spinach puri; in this, you can also use fenugreek instead of spinach. People usually serve it with chutney, pickle, and potato vegetable. Read also.
Preparation time                    10 minutes
Cooking time                           30 minutes
Total time                               40 minutes
Serve                                       06 members
Difficulty level                         Easy
Cuisine                                    Indian
Author                                     Sneha
Ingredients for Palak Puri
Spinach (Palak)                       250 grams (finely chopped)
Wheat flour                             01 cup
Gram flour (Besan)                 04 cups
Semolina                                 02 tbsp
Asafoetida (Hing)                    01 pinch
Oil                                           02 tbsp
Carom seeds                           ¼ teaspoon
Ginger                                                 01 inch piece
Green chili                              2-3
Salt                                          to taste
Edible oil                                 for frying
Palak Puri Recipe
First, cut the spinach (Palak) leaves in a strainer and rinse them thoroughly in water. After the entire water drains well, keep aside.
Boil water in a pan.
Take the pan down and dip the washed spinach and blanch leaves for about 1-2 minutes.
With the help of puri strainer, lift the spinach leaves. Wash these leaves thoroughly with cold water.
Now put the spinach leaves in a blender or grinder jar and add ginger pieces and green chilies to it, mix well.
Make a smooth puree of spinach, no need to add extra water. Keep the spinach puree aside.
Spinach puree dough
In a large bowl, add Wheat flour, gram flour, semolina, salt, Carom seeds as per the quantity mentioned above and mix well.
Add two teaspoons of oil and spinach puree to it and mix all the ingredients well. If there is difficulty in kneading the dough, then you can add some water.
Puri requires semi-soft dough, using a little water to knead the dough.
Cover the dough for about 20-25 minutes, so that the dough will become soft.
After 20-25 minutes, make small or medium-sized balls of dough.
Roll the round ball with the help of palms, and then flatten it.
Spread a little oil on the surface. With the help of a rolling pin (Belan), Flatten roll into a circle of about 4 or 5 inches.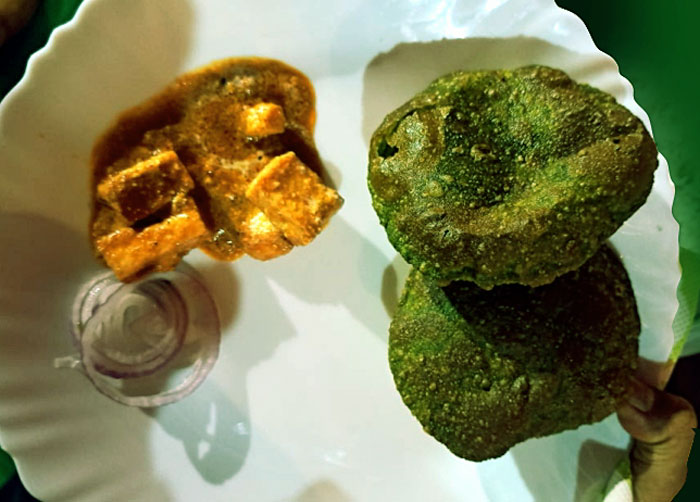 Spinach puree Frying 
Heat the oil in a pan or wok, add a small piece of dough to know how hot the oil is. If the part slowly comes to the surface of the oil, then the oil is a medium shot, and you can fry it puri.
Now put a palak puri in the pan and press it lightly with a strainer. Pressing will puff up completely.
After puffed up, turn it and fry another side.
When the puri is light brown, keep it in a plate and fry the all puris in this way.
Now your crispy puris are ready, lift it on a paper napkin to remove excess oil.
Suggestions
To make Palak puri (spinach puri), the dough should be stiff, so that it can puffs up well.
Puris should be fried in hot oil and high heat.
We have also added gram flour and semolina to the wheat flour; you can use wheat flour to make it with spinach.
Key ingredients
Wheat flour, Gram flour, semolina, and spinach leaves
Keywords
Spinach Puri, Palak puri, Veg recipe, Masala puri, Tiffin recipe
Read also (इसे भी देखें )
How to make Spring rolls.  How to make Moong dal Mangode. Sabudana Vada recipe in Hindi. Traditional Dal Fara recipe.  Rasmalai recipe at home.  How to make Chakli. शाही पनीर कैसे बनाएं.  घर पर जलेबी बनाने की विधि. लिट्टी चोखा कैसे बनाये? ब्रेड रोल कैसे बनाये. गुलाब जामुन रेसिपी स्टेप बाय स्टेप। बालूशाहीकैसे बनाये (Balushahi recipe). पोहा कटलेट रेसिपी । ब्रेड पकोड़ाकैसे बनायें? How to make Mangode. 
For Pin