Chakli recipe | Gujrati snacks
Chakli is a very tasty Gujarati recipe,  it is a popular snack at festivals like Diwali, Holi, Raksha Bandhan. It is made by frying a spiral shape using a mixture of rice flour, gram flour, wheat or lentil flour. In South India, it is famous as Murukku. Murukku is very easy to make at home, but if you keep some things in mind, then it will become crispy and crispy. Rice flour chakli is the most popular and easy recipe. learn How to make chakli, Chakli recipe, Rice flour chaklis, Gujrati snacks. read also.
Preparation time                              45 minutes
Cooking time                                     25 minutes
Total time                                            1hour 10 minute
Course                                                  Snacks
Serve                                                    05 members
Difficulty level                                   Easy
Cuisine                                                 Gujrati
Ingredients for Chakli
(1 cup = 250 grams )
Rice flour                                             01 cup
Gram flour (gram flour)                                 1/2 cup
Oil or softened butter                    03 tbsp
Ajwain (carom seeds)                    01 tsp
Cumin seeds                                      1/2 teaspoon
Red chili powder                              1/2 teaspoon
Turmeric powder                             1/2 teaspoon
Asafoetida                                         a pinch
Sesame seeds (white)                 01 tsp
oil                                                           To fry Chakli
Water                                                   as required
Salt                                                         as required
Chakli recipe (Gujrati snacks)

How to make the dough
To make Murukku, first, take rice flour and gram flour according to the above-mentioned quantity in a large bowl.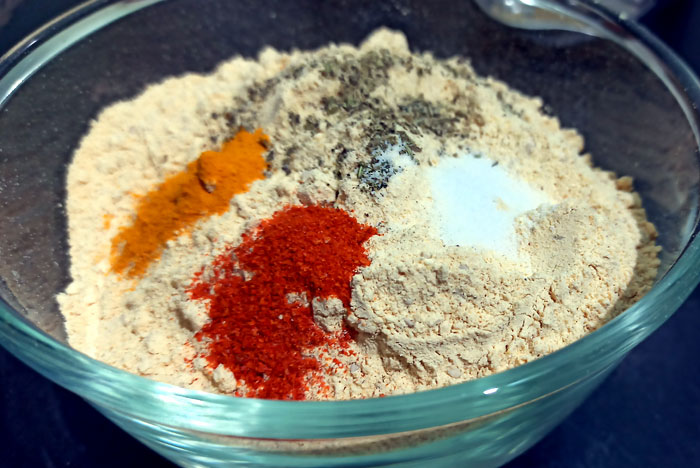 Add cumin seeds, white sesame seeds, turmeric powder, red chili powder.
Now add ajwain, asafoetida, and salt to taste and mix well.
Heat the oil or butter in another bowl and pour it into the prepared mixture.
Help your fingers mix the butter or oil in the mixture well.
Boil water in another pan and mix in flour mixture, and make the dough. Keep in mind that the dough should be kneaded hard.
Cover the dough and keep it aside for about 25-30 minutes.
Making chakli shape
To make Chakli (Murukku), take two of the Chakli makers thoroughly with water.
Grease a little bit inside the machine and place a large piece of dough in it.
Close the lid of the maker and press the machine on top. Make a spiral shape by moving round. After making a certain shape, break it, stick the end of it.
Place murukku on a butter paper or plastic sheet, otherwise, there will be fear of sticking.
Likewise, make all the chaklis.
Frying chakli
Heat the oil in a pan, and add a small piece of dough and check the temperature.
If the piece of dough comes up slowly, the oil is ready to fry, and if the piece comes up quickly, the oil is too hot.
When the oil is ready for deep fry, gently drop the chakli in the oil.
About 3 to 4 chaklis can be drop-in a pan, it depends on the size of the pan.
After turning golden color on one side, flip it and fry it.
When the chaklis fried, lift it in the paper napkins. This will remove excess oil from it.
Similarly, fry all the chaklis and leave them to cool to room temperature.
Take your chaklis ready, keep it in an airtight container after it cools down.
Serve with hot tea whenever guests arrive at home.
These chaklis (Murukku) kept in the container can be used for 10-15 days.

Suggestions
Sometimes, while making Murukku, it breaks in between, then you should add 1.2 tablespoon water to the flour. There will be enough moisture in the flour, and the breakage will stop.
Many times the dough becomes moist due to too much water, and proper size is not found, then add some flour and knead it again.
Always keep in mind that drop chakli in hot oil only and the flame medium while frying. If the oil is not hot enough, the chaklis will remain soft.
you can enjoy Chakli recipe, Rice flour chaklis, Murukku, Gujrati snacks easy steps by Recipe Web idea.
Main keywords
Chakli, Rice flour chaklis, Indian snacks, Murukku
Tags
Deep fry, Snacks, Gujrati snacks.
Read also
How to make Spring rolls. Moong dal Mangode recipe easy steps.  Palak puri recipe for your party. How to make Dal Fara.
For pin: