Suji Upma recipe (Rava Upma)
Suji Upma is a popular and nutritious South Indian recipe. People make it in many ways. We have shared an easy method of making Upma recipe from semolina (Suji). In which potato, peas, and curry leaves are used. You can also make other vegetables together in it.
There are two types of semolina(Suji) in the market, coarse and small granular. Upma should always be made of semolina with coarse granular, It will be very nice and spread.
This snack is quick and very easy for children to like. In this, roast the Rava (suji) with some oil and add green vegetables and salt to it. It is then cooked by adding water. For the Suji Upma recipe, you can roast semolina in more quantity in a container.
 Preparation time                             08 minutes
Cooking time                                     15 minutes
Total time                                            23 minutes
Serve for                                             04 people
Difficulty level                                   Easy
Course                                                  Breakfast
Cuisine                                                                 South Indian recipes
Ingredients for Upma recipe
Semolina                                             150 grams 
Onion                                                    01 medium size (finely chopped)
Potato                                                  01 medium size (finely chopped)
Edible oil                                              02 tbsp
Peanut                                                                 01 tbsp
Green chili                                          02 (finely chopped)
Green peas                                        02 tbsp (peeled)
Carrot                                                   01 (cut into small pieces)
Butter/ ghee                                      01 tbsp
Curry leaves                                       12-15
Coriander leaves                              01 tbsp (finely chopped)
Cashews                                              7-8 (optional) 
Lime juice                                            02tsp
Salt                                                         as needed
Upma recipe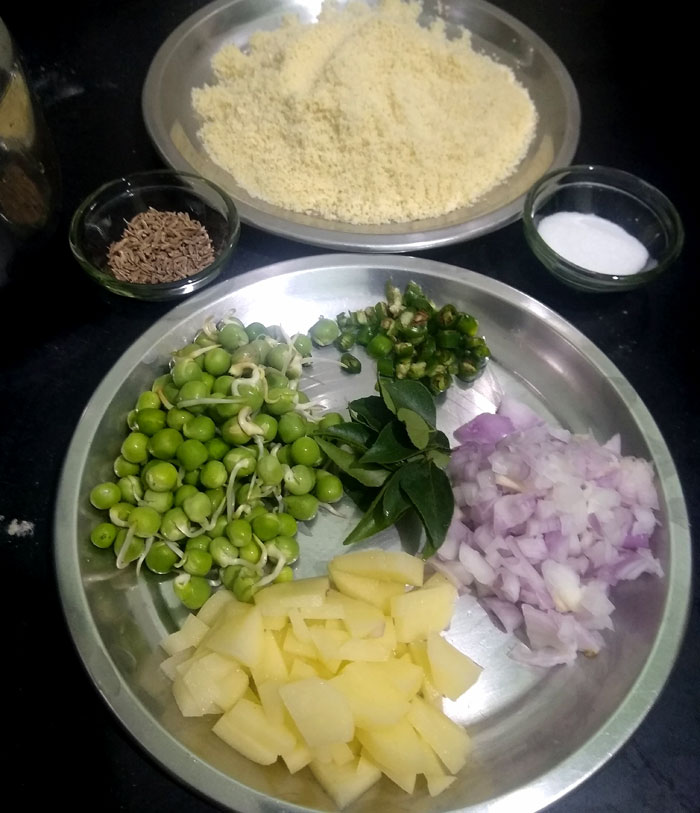 First, wash and chop the onions, potatoes, green chilies and peas and keep them aside in a plate. If you want to use capsicum, cabbage or other vegetables, wash and cut it too.
Put ghee in a deep bottom pan and heat it.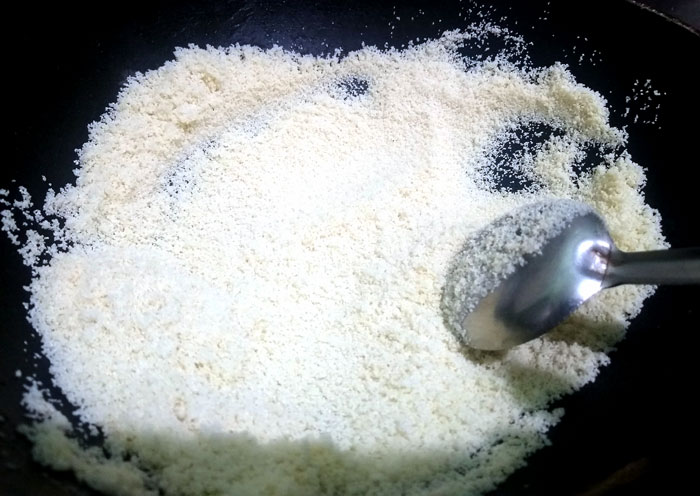 Add semolina to the hot ghee and stir it, stirring continuously until the semolina becomes light brown. After the semolina is roasted well, it gives a nice aroma.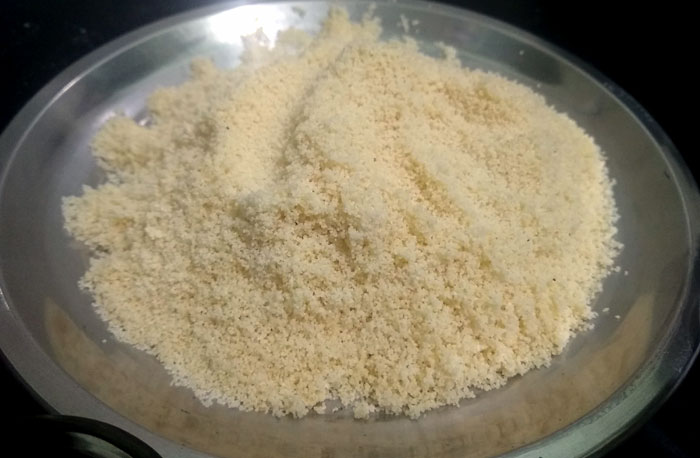 It takes about 4-5 minutes, then takes it out on a plate.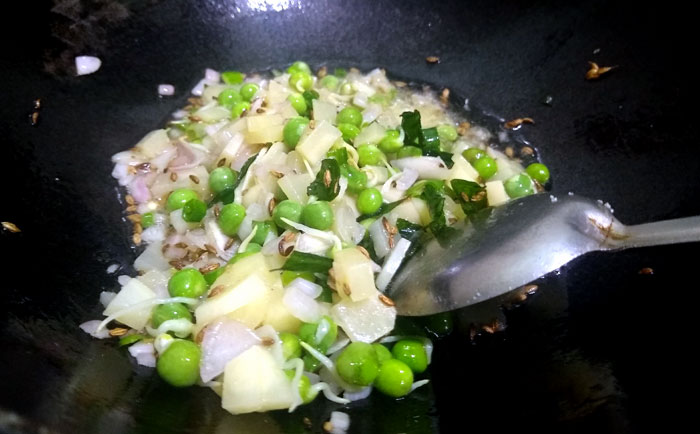 Now add 2 tablespoons of edible oil to the pan and heat it. Add mustard seeds and curry leaves. When frying a little, add chopped potatoes to it, after roasting a little, add onions and green chilies. 

You can add chopped carrots, green peas or other vegetables that you like. 

Add salt and stir for about 2-3 minutes. Now add roasted semolina and stir it.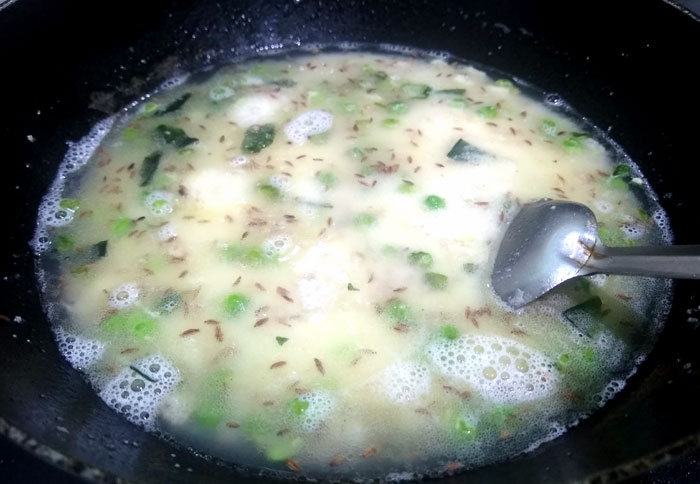 Add water after frying slightly and cook for about 2-3 minutes, keep it going with a skimmer, this will mix all the ingredients well.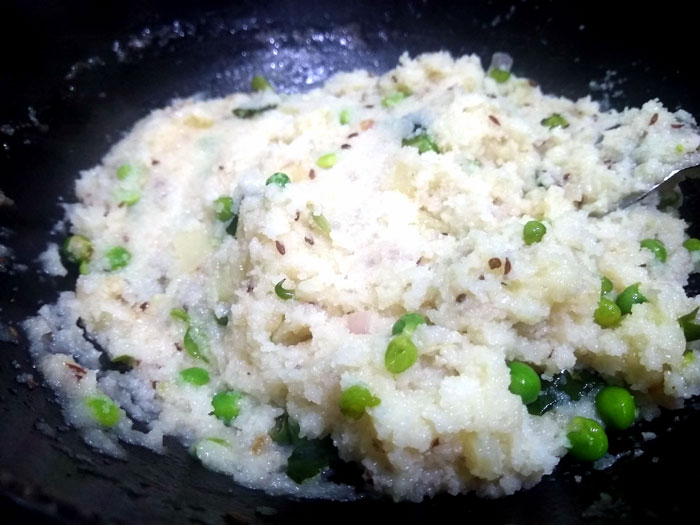 Now add lemon juice to it and mix well.

When the mixture is thick after cooking, add chopped coriander and turn off the gas.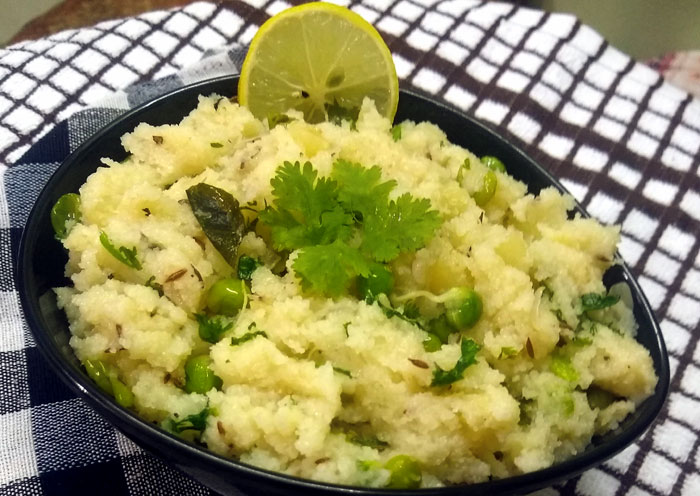 Take your hot breakfast semolina upma (Suji Upma) is ready, 

feed

 

it to your children and guests. 
Suggestions
The semolina (Rava) should be roasted on low heat, otherwise, the upma will become sticky. 

We have used onions, potatoes and peas, you can also use capsicum, cabbage, etc.
Main ingredients
Semolina (Rava), Curry leaves, oil, Potato, and onion
Keywords
South Indian recipes, Indian Cuisine, Breakfast, Upma, Suji, Indian cuisine
Read also
How to make Fara. How to make Suji ka Halwa.  Spring roll recipe at home. Gajar ka halwa recipe. Cabbage kofta curry recipe. Anarsa recipe step by step.
For Pin: