Pad Thai noodles recipe (Street food Pad Thai)
Pad Thai noodles recipe | Street food Pad Thai noodles.  Thai noodles are Thai's most traditional street food, available on roadside stalls, food courts, and the open market. It is made by mixing it with vegetarian, dried shrimp. We are introducing you to the vegetarian recipe of Pad Thai Noodles.  Pad Thai noodles are easy to make at home. It is made delicious by mixing noodles and vegetables with Thai sauce. With our recipe, you must try this Thai recipe once, you will not forget the taste.
Preparation time                              05 minutes
Cooking time                                     20 minutes
Total time                                            30 minutes
Course                                                 Main
Serve                                                    04 members
Difficulty level                                   Easy
Cuisine                                                                 Thai recipe
Ingredients for Pad Thai noodles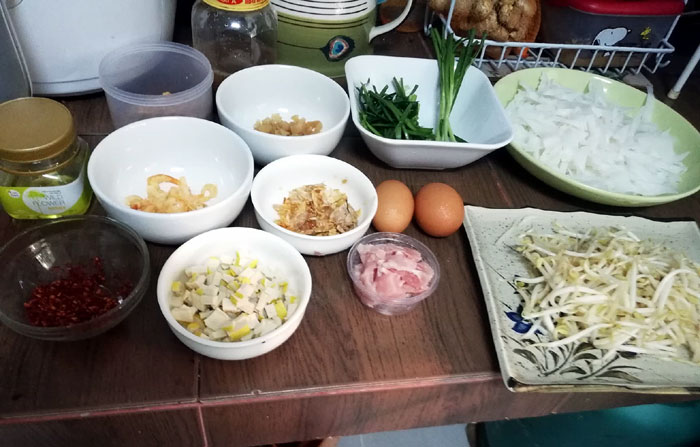 For Thai noodles
Pad Thai Noodles                             300 grams
Bell pepper                                         01(Chopped)
Green onion                                      02tbsp (chopped)
Red Chili                                               01 (Chopped)
Onion                                                    Half (Sliced)
carrots                                                  02 (Finely chopped)
Peanuts                                               02tbsp (chopped)
fresh herbs                                         02tbsp (cilantro, basil,  green onion,)  chopped
Lemon spike                                      4-5
Sesame  oil                                         02 tbsp or needed
Eggs                                                       02 beaten (optional)
Sauces Thai recipe
Fish sauce (vegetarian)                 03 tbsp
Soy sauce                                            01tbsp
Vinegar                (white)                                 02tbsp
Brown sugar                                       03tbsp
Veg Stock                                            03tbsp
chili paste                                           01 tsp
Salt                                                        to taste
How to make Pad Thai noodles
Pour boiled water into a large bowl, add uncooked noodles to it and leave it to soften for a while.
After the noodles are soft, pour it in a sieve and remove the excess water.
Now add some drops of oil to the noodles and mix well.
Cut red chilies and onions lengthwise like noodles, cut carrots into small pieces. Keep it aside.
Combine the sauce ingredients in a jar to make the sauce.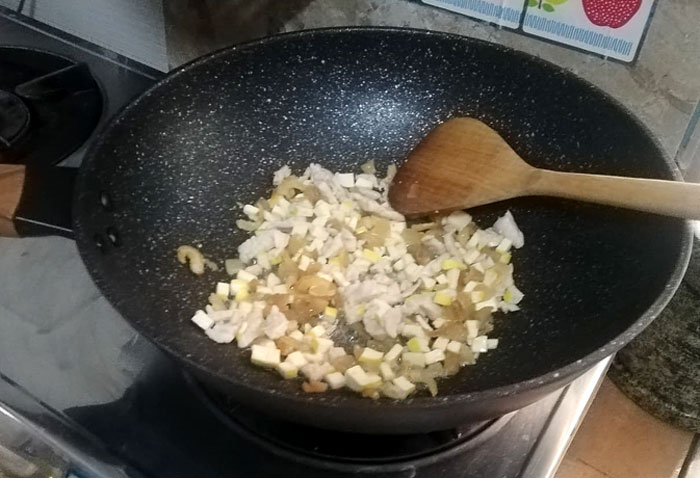 Heat oil in a pan over medium-high heat. When the oil is hot, add chopped vegetables to the pan, and fry for about 2 to 3 minutes until they tender-crisp.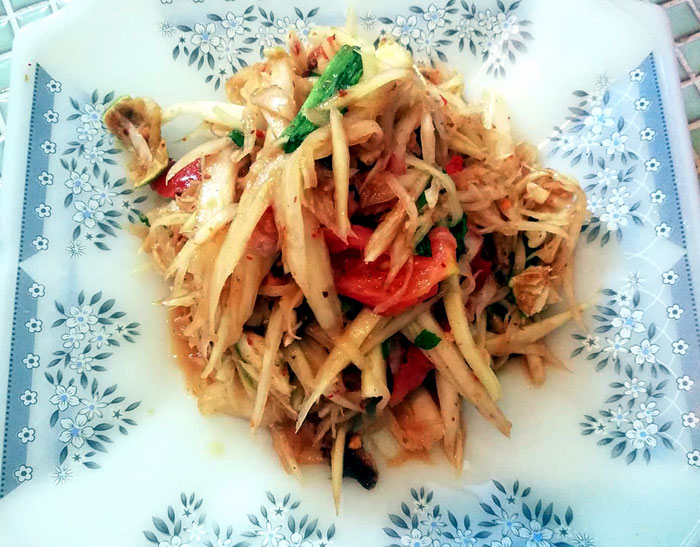 Be careful not to overcook the vegetables and let them be soggy.
Pour it into a plate and keep aside.
Add a tablespoon of Sesame oil to the pan and heat it. Add the noodles to the hot pan and fry for about 1-2 minutes while tossing.
Now add sauce to it and fry for 1-2 minutes, until the sauce thickens and stops sticking to the noodles. Toss the entire mixture.
Add roasted vegetables to it and toss together. Turn off the gas.
Take your Pad Thai noodles is ready, add peanuts and chopped herbs to it and mix well.
Serve Pad Thai noodles immediately.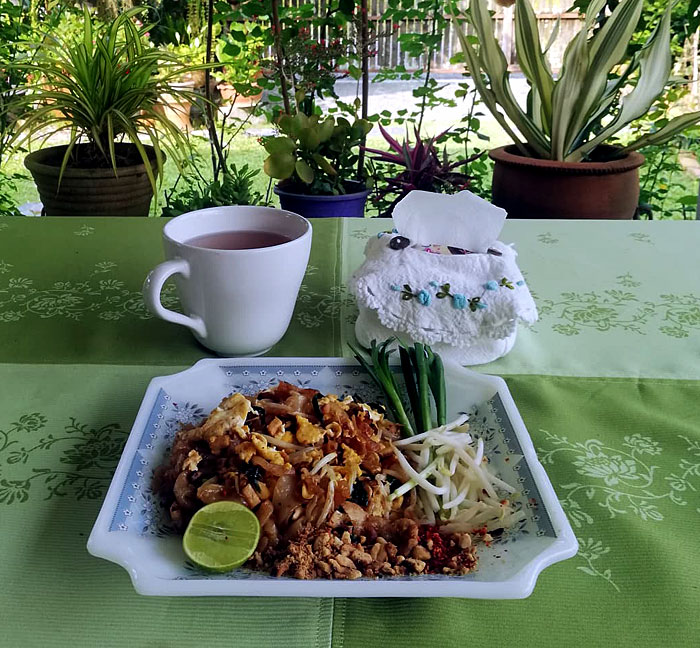 Add egg to the Thai recipe
You want to add an egg to the recipe, place one side of the noodles in the pan and add the beaten egg to the pan,  allow it to sit. Now toss everything with tongs.
If you put the beaten egg directly on the mixture, it will stick to the noodles and everything will become sticky.
Suggestions
It is usually very sticky when you cook it for too long. Take care of it and when it appears together, immediately remove it from the heat and toss with veggies.
Main ingredients
Bell pepper, Red Chili, Onion, Carrots, Peanuts,  fresh herbs, and sauces.
Keywords
Veg recipe, Thai recipe, Noodles, Pad Thai noodles
Read also:
How to make chakli easy steps.  Suji Upma recipe step by step.  How to make a cabbage kofta recipe. Spring rolls, famous street food.  Anarsa recipe, Famous North Indian recipe. Palak Chicken curry recipe at home. Vegetable Pulao recipe easy steps.  Fara recipe step by step. Moong dal mangode recipe easy step.
For pin: