Masala Pav sandwich recipe
Pav sandwich recipe | How to make masala pav sandwich. Pav sandwich recipe, vada pav, pav bhaji, missal pav are popular street food of Mumbai. In fact, the street food recipes market of Mumbai is made up of various cuisines and is a part of its life. This recipe is different from masala pav or vada pav, using spicy potato stuffing and vegetables mashed with pav! This is a quick and easy sandwich recipe, which is why it is my favorite snack.
There are many ways to make a pav sandwich recipe, but we are telling you this recipe with sliced ​​veggies and mashed potatoes. You can try the recipe of pav sandwich recipe (Mumbai street food), it can be a good option for your child's tiffin and quick breakfast.
In this, after roasting the pav on both sides, green chutney is applied, then stuffing of mashed potatoes and sliced ​​veggies are placed.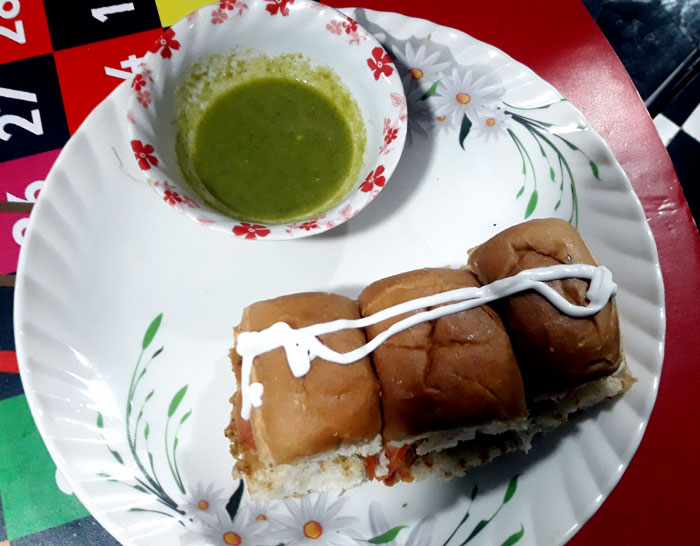 Preparation time                                      10 minutes
Cooking time                                             10 minutes
Total time                                                    20 minutes
Serve for                                                     05
Difficulty level                                           Easy
Course                                                          Breakfast
Cuisine                                                         Indian street food
Ingredients for Pav sandwich
Pav (Buns Bread)                                     05
Cucumber Slices                                       10
Boiled potato                                             03 (medium size)
Tomato Slice                                              10
Onion slices                                               10
Capsicum slices                                         10
Kashmiri red Chilli powder                   1/2 teaspoon
Pav Bhaji Masala Powder                     01 teaspoon
Roasted Cumin Powder                        1/2 teaspoon
Black pepper powder                             1/2 teaspoon
Coriander leaves                                      02 tbsp (finely chopped)
Green chutney                                         03tbsp
Butter/ edible oil                                      03 tablespoons
To serve Pav sandwich
Onion                                                            01 (finely chopped)
Lemon cleft                                                5-6
Salt                                                                 as required
Mayonnaise                                               for dressing
Pav sandwich recipe (Mumbai street food)
Prepare potato stuffing
First wash the potatoes well, now add a little salt to the water and keep it to boil.
Allow the potatoes to boil on medium heat, turn off the gas when the potatoes are in the mash position. Or cook in the cooker for two-three whistles.
Allow the potatoes to cool slightly, then peel them and mash them well. You can mix it by hand or with this masher.
Now add Kashmiri red chili powder, salt, pav bhaji masala, and green coriander and mix well.
Making a pav sandwich
Wash and slice all the vegetables to make the pav sandwich.
Add 2 teaspoons of butter or edible oil to the pan or pan, keep the pav, and roll over the butter when the butter melts. Then set it aside on a plate.
Similarly, roll the remaining pav on the butter, and keep aside.
Roast the pavs on one side until lightly golden. Now flip it over and roast it on the other side.
Now spread green chutney over the pav.
Spread the potato mixture on the top of the pav, if you wish, you can make slices like this and keep it on top of the pav.
Place onions, cucumbers, capsicum and tomato slices over the potato mixture, sprinkle some black pepper powder and cumin powder on top.
Cover the surface of the second pav.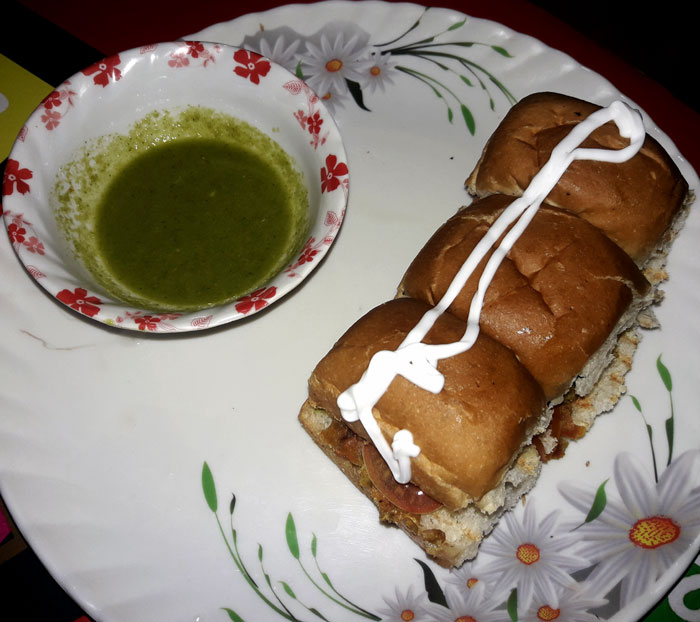 Serve pav sandwiches
Now your pav sandwich is ready and serves it immediately. To serve, put a little mayonnaise on the top of the sandwich and serve with green coriander chutney or tomato ketchup and fine onions.
Suggestions
You can also serve masala pav with a curry bhaji.
Use whatever vegetable you like in addition to our vegetables mentioned.
Main ingredients
Pav (Buns Bread), Boiled potato, butter, salt, and vegetables.
Keywords
Pav Sandwich, Street food, Mumbai street food, Sandwich, Breakfast, quick snacks.
Read also:
How to make Spring roll.  Kheere ka raita recipe. How to make mango pickle. Palak chicken recipe step by step. Chakli recipe at home.  Patiala aloo recipe (aloo ki sabzi). Tehri recipe step by step. Vegetable pulao recipe with photographs. Peda recipe restaurant-style.
For pin: