Chur chur naan recipe
Chur chur naan recipe | How to make chur chur naan on tawa. This naan is a modern Indian bread, it is delicious and spicy. This is a Punjabi recipe, where green vegetables are paired with cheese. You can also add garlic, ginger paste for extra flavor, you can also use vegetables of your choice. However, in restaurants it is made in Tandoor but you can also make it on Tawa. Chur Chur Naan is found in almost all major restaurants, where it is served with Chole, Bundi Raita or Dal Makhani.
In fact, its spicy moist flavor with vegetables, cheese, and potatoes will not disappoint you. When I made it at home for the first time, it also did many new experiments and each time it tasted better than before. Today, we are telling about this special Naan based on our experience. You can also use new for different proofing. It sounds hard to see, but actually it is a very easy recipe.
Preparation time                                                 15 minutes
Cooking time                                                         45 minutes
Total time                                                                01 hour
Serve for                                                                 04
Difficulty level                                                       Medium
Course                                                                      Main course
Cuisine                                                                     Punjabi recipe
Ingredients for dough
Fine flour  (Maida)                                               02 cups
Sugar                                                                         01tsp
Yogurt                                                                       02 tbsp
Ghee/butter                                                          04 tbsp
Baking soda                                                            1/2 teaspoon
Salt                                                                             to taste
Ingredients for stuffing
Potatoes                                                                  02 (boiled and mashed)
Paneer (cottage cheese)                                  01 cup (grated)
Ginger                                                                      01 inch (make a paste)
Garlic                                                                         3-4 clove(make a paste)
Green chilies                                                           2-3 (finely chopped)
Onion                                                                       01 medium size (finely chopped)
Carrot                                                                       01 (finely chopped)
Capsicum                                                                 01 (finely chopped)
Kashmiri red chili powder                                01 tsp
Cumin powder                                                      01 tsp
Coriander Powder                                               01 tsp
Black pepper powder                                         1/4 tsp
Chhat Masala                                                         1/2 tsp
Mango powder (dried mango powder)      01 teaspoon (optional)
Salt                                                                             as required
Green coriander leaves                                     02 tbsp (finely chopped)
Fine flour or flour                                                 for dusting
For garnishing
Green coriander leaves                                     01 tbsp (to garnish)
Paneer  (cottage cheese)                                 02 tbsp grated (for garnishing)
Prepare  dough for chur chur naan
In a large bowl take fine flour (Maida) as per above-mentioned quantity, add 1 teaspoon sugar, o1 tsp baking soda, and 1/2 tsp salt. Mix it well.
Now heat 3 tablespoons ghee/butter on the gas and allow it to melt well. Add this flour and mix well.
Add 2 tbsp of curd to this mixture and mix well until the dough becomes moist.
Now add water and knead the dough, making a soft dough. The dough should be kneaded for about 5-7 minutes to make it soft.
Cover the dough with a wet and damp clean cloth and leave it for 01 hours.

Preparation for stuffing
As long as you have kept the dough for 1 hour then you prepare the filling.
To make the stuffing, take a large bowl, add grated paneer (cheese), finely chopped onion, coriander leaves, and ginger garlic paste.
If you do not like garlic, then just add ginger paste.
Now add chopped green chilies, 1 teaspoon coriander powder, chaat masala, Kashmiri red chilli powder, cumin powder, and salt as per taste.
After mixing all the ingredients in the bowl, mix it well. Your stuffing is ready. Keep it separate.
How to make chur chur naan (Chur chur naan recipe)
After about an hour, take the dough out of the cloth, and knead it in open-air slightly, so that the dough sets well.
Take the dough in your hand to form a big ball, little dust this ball.
Now roll it with a rolling pin by placing it on a flat surface. Try roll thin.
Spread a little ghee on top of this roll and sprinkling all-purpose flour over it spread it evenly.
Now roll it cylindrically and wrap it in a spiral shape.
Now spread it again with the help of a rolling pin and flatten it slightly.
Place round stuffing in it and seal well.
Sprinkle little coriander leaves and gently press it with a rolling pin. Prepare a uniform surface, do not apply too much pressure.
On one side of this naan apply water with the help of a brush. This helps the naan stick to the griddle. Heat the griddle (tawa), sprinkle some water in it and pour the naan over the hot tawa.
For this, use a griddle made of ordinary iron (don't use a nonstick griddle).
Press slightly with the help of a flip, so that the naan sticks well.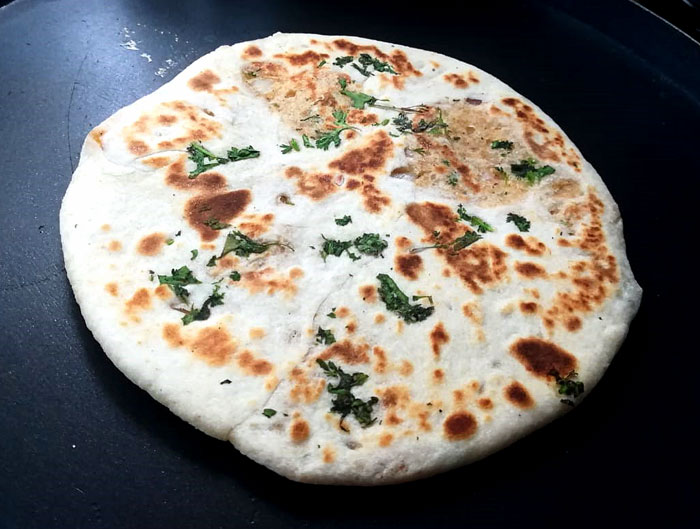 After cooking for about a minute, reverse the tawa, and allow the naan to rise on the ladder.
Cook till it becomes golden brown in color. Scrape the naan off the surface.
Many times the egged uncooked, then you should cook it directly on the flame.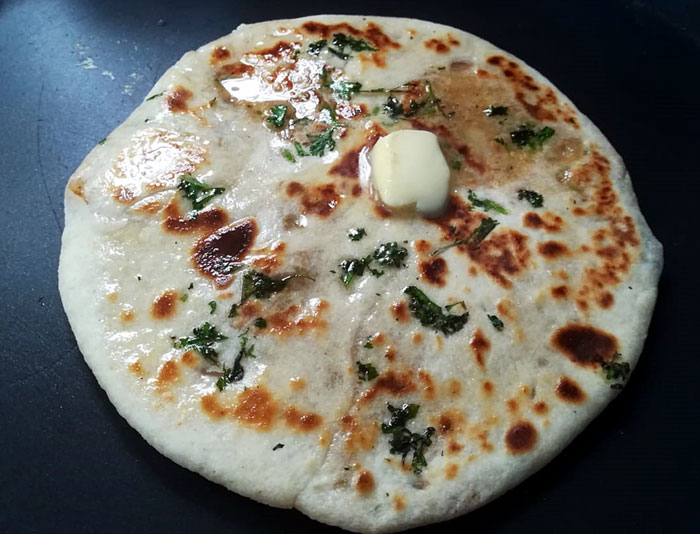 Now your chur chur naan recipe is ready, place the butter cake on it, sprinkle a little garnished paneer and green coriander.
You should serve the chur chur naan with boondi raita, chole, or Dal Makhani.
Suggestion
Put it in the dough and knead it well, and after kneading keep it covered for 1 hour.
After the tawa is hot, turn the flame to medium, otherwise, the naan will remain uncooked from inside.
You can use the vegetables available with you.
Main ingredients
Fine flour  (Maida), Sugar, Yogurt, Ghee/butter, Baking soda, Salt, Paneer, Vegetables.
Keywords
Chur chur naan, Naan, Punjabi recipe, naan recipe
Read also:
How to make Upma.  Paneer tikka masala step by step recipe. How to make Fara recipe. Veg Kothe recipe step by step. Patiala aloo recipe (aloo ki sabzi ). Rava appe recipe (Paniyaram recipe) with step by step photographs. Chicken Biryani recipe easy steps.  Coconut barfi step by step.
For pin