Rava appe recipe (suji appam)
Rava Appe  recipe| paniyaram recipe | instant vegetable appam recipe. Appe (Paniyaram) is a South Indian breakfast, which is delicious and very easy to make. Usually, people make this recipe of leftover idli or dosa batter, but you can also prepare it quickly and easily by mixing it with semolina and curd. South Indian breakfast is my favorite dish, it is easy and quick too. If you too are looking for a healthy and easy dish then our post will help you for the instant recipe of Rava Paniyaram or Suji Appe.
In our other post, we have described the recipe for quick and easy snacks like uttapam, upma, idli, Masala dosa from Suji/ Rava. Semolina is a nutritious snack and is a good choice.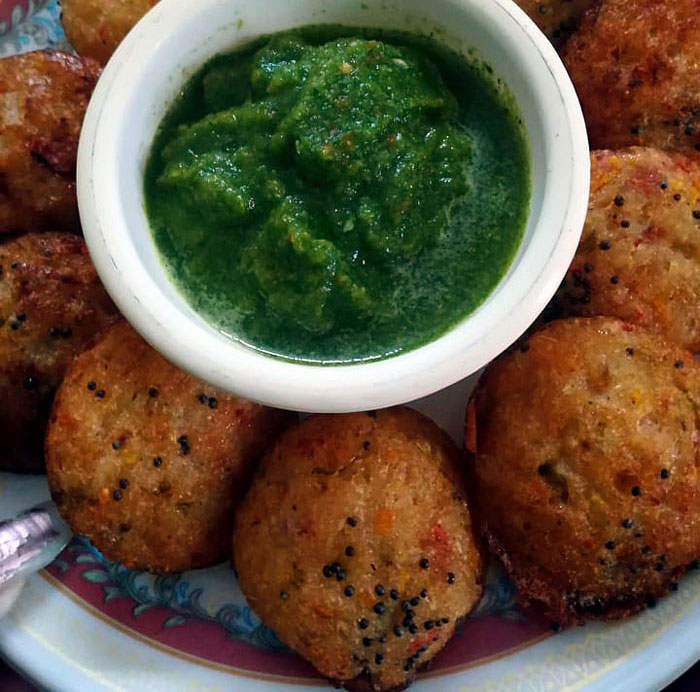 Preparation time                              20 minutes
Cooking time                                     20 minutes
Total time                                           40 minutes
Serve for                                             05
Difficulty level                                   Medium
Course                                                  Breakfast
Cuisine                                                 South Indian
Ingredients for suji Appam (paniyaram recipe)
Semolina (Rava/ Suji)                     1 1/2 cup
Yogurt                                                   1/2cup (whisk well)
Cauliflower                                         1/4 cups (finely chopped)
Green chili                                          02 (chopped)
Bell pepper (Capsicum)                 1/4 cup
Carrot                                                   1/4 cup
Tomatoes                                            01 (finely chopped)
Onion                                                    01 (finely chopped)
Ginger                                                  01 inch piece (make a paste)
Cumin seeds                                      1/4tsp
Mustard seeds                                  1/4 tsp
Curry leaves                                       5-6
Dry red chili                                       2-3
Baking Soda                                        01 pinch
Edible Oil                                             02 tbsp
Salt                                                         as needed
Preparation Rava appam (appe recipe)
First of all, prepare the Rava Appe recipe. Cut the cauliflower, capsicum, tomatoes, and carrots into small pieces, put it in a bowl. Chop the onion and green chilies finely and make a ginger paste.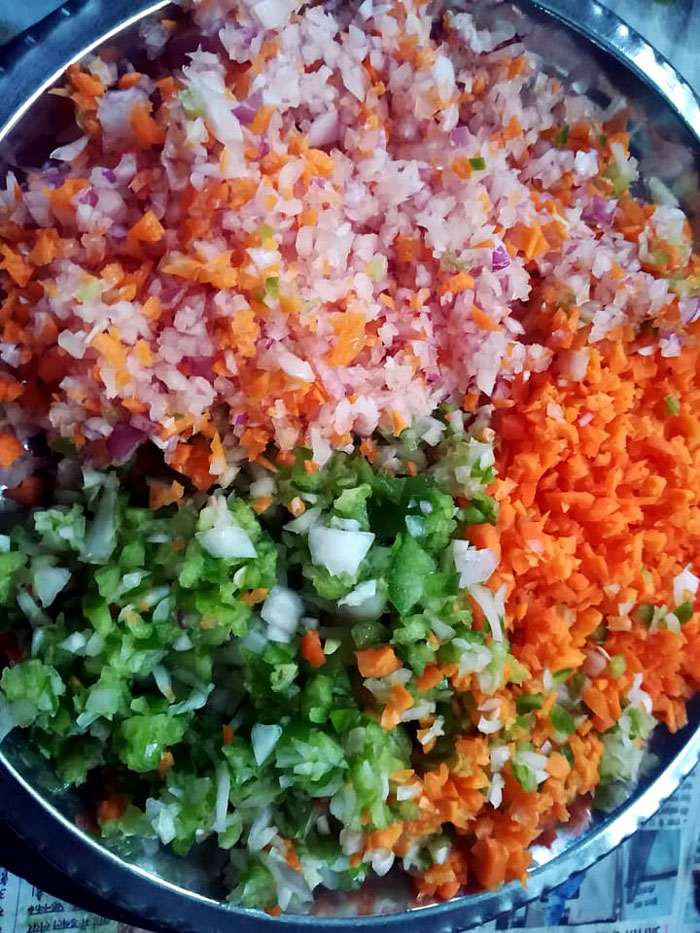 Cut all the vegetables and keep them together. You can add vegetables of your choice to it.
Now take semolina according to the above-mentioned quantity in a large bowl, add curd in it, add salt, and 1/2 cup of water.
Add chopped vegetables to this mixture and mix well.
Mix this well. If the batter is thick, add water to it but do not dilute it.
Make sure the batter is not too dilute or too thick. Cover the batter and keep it for about 10-15 minutes.
After about 10 minutes, remove the lid and add finely chopped green chili and ginger paste to it.
Now heat the oil in a pan, when the oil is hot, add mustard seeds, cumin seeds, red chili, and curry leaves and fry for a few seconds.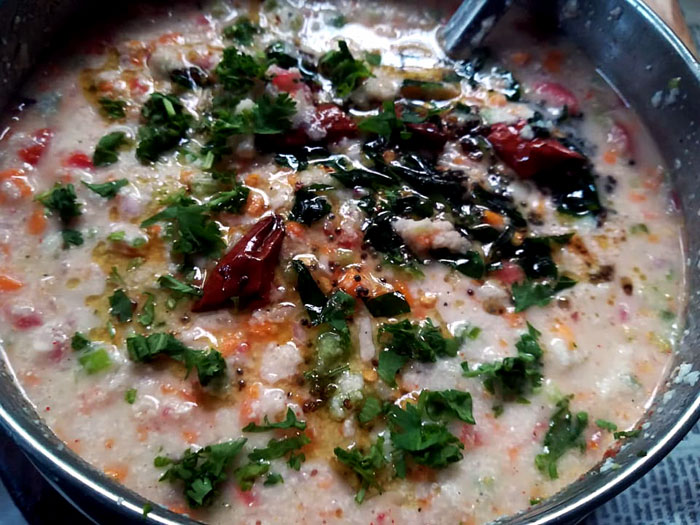 Add fried mustard seeds, cumin and curry leaves to this batter and mix well.
Now add a pinch of baking soda or eno to the batter and mix well.
How to make Rava appam (
Rava appe recipe
)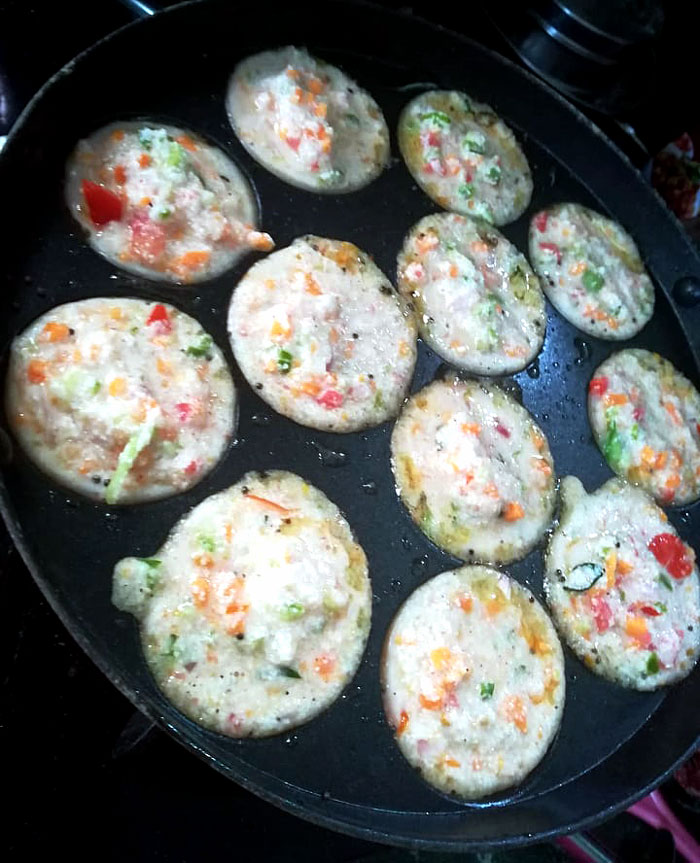 Now keep the appam maker on the gas and heat it, pour a little oil in each section of it.
Now with the help of a spoon fill the batter slowly in each section. After filling all the food, cover it with a lid and let it cook for about 2-3 minutes.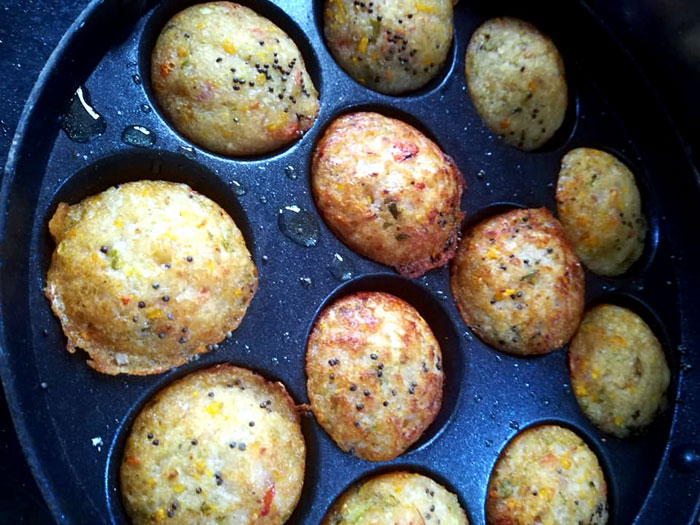 During this, keep the flame on the medium of gas.
Remove the lid and see that appe are golden brown, now flip them over and cook on the other side. Appam got Golden Brown from both sides.
Now your appams are ready, take them out in a plate, similarly, prepare the appams with all the batter.
Serving method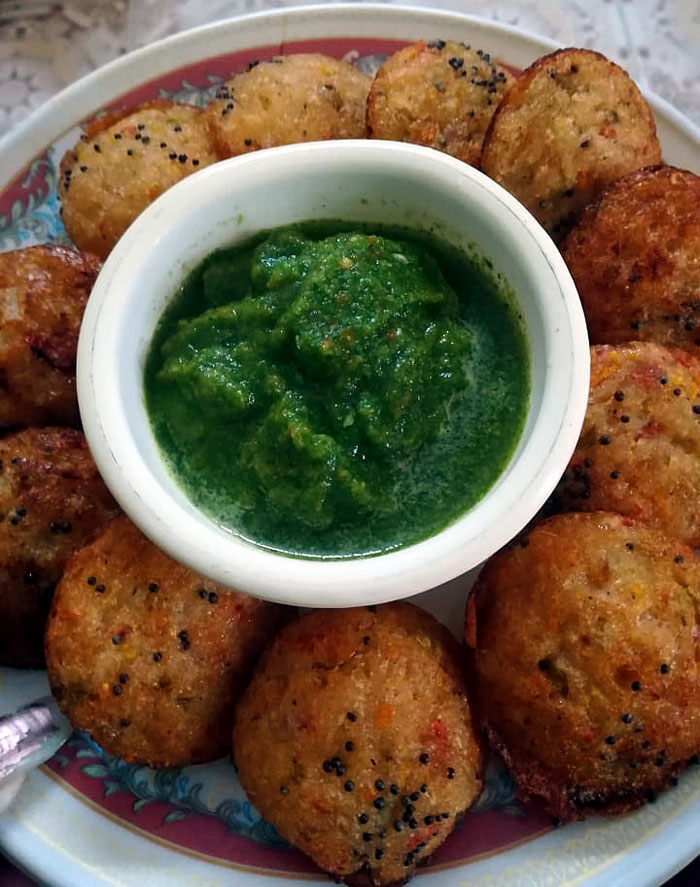 Serve suji/ rava appam with green coriander chutney, red chutney, or tomato sauce. Keep it in your children's tiffin or husband's lunch box.
Main ingredients
Semolina (suji),  Yogurt, edible oil, green vegetables, baking soda.
Keywords
Suji appe, rava appe, south Indian,  breakfast, appam, paniyaram recipe, appam recipe.
Note
Keep in mind the amount of water in the batter, it should not be too thin or too thick.
Keep the gas medium while compressing appe otherwise, it will burn on the surface.
You can also use the remaining batter of idli or dosa to make appam.
Read also:
How to make anarse.  Veg Crispy recipe step by step. Cabbage kofta recipe Dhaba style. Indian dessert Mango barfi recipe.  How to make milk peda step by step. Palak Chicken curry recipe easy steps.  Sewai recipe traditional sweet dish. Dal fara recipe (famous north Indian dish). Pad thai noodles recipe step by step.  Coconut barfi step by step with photo.
for pin