Mango barfi recipe
How to make Mango barfi | Mango barfi recipe.  Summer season means a season of Mangoes. you'll make Mango Burfi with fresh ripe mangoes or u can even use the preserved Mango Pulp. Mangoes are so versatile, they can be enjoyed in shakes, smoothies, parfaits, or as is. For people having appetite out there, this Mango Barfi is simply in a different way to relish on the king of fruits, Mango.
Mango barfi is such a special kind of Indian dessert and can't be easily found in Indian sweet shops. Which is perfect then we get to make it in our own kitchens which makes it even more delicious and as per our preferences.
You can also like our sweet recipes like Coconut Barfi, Lauki ki barfi, Milk peda recipe, Rasmalai recipe.
Preparation time                                              15-20 minutes
Cooking time                                                     20 minutes
Total time                                                           40 minutes
Serve for                                                             05
Difficulty level                                                   Easy
Course                                                                  Sweet dish
Cuisine                                                                 Indian dessert

Ingredients for Mango barfi recipe
Ripe Mango Pulp                                              0 1 cup
Chickpea Flour                                                  01 cup (110 gms)
Sugar                                                                     3/4 cup (150 gms)
Coconut powder                                              01 cup(110 gms)
Ghee                                                                     1/3cup (80 gms)
Cashew                                                                10 – 12 pcs (finely chopped)
Pistachios                                                            10 -12 pcs (finely chopped)
Green Cardamom                                            5 -6 (crushed /powder)
Milk                                                                       1/2 cup (to make milk powder paste)
Mango Barfi recipe
Take a pan and melt ⅓ cup of butter in it. Add a cup of chickpea flour to the melted butter. Stir while continuously stirring on medium flame. Roast until its color changes and there's a soothing fragrance from it.
After roasting it, pour it in a separate bowl.
Make a paste by mixing 1/2 cup milk and milk powder and keep aside.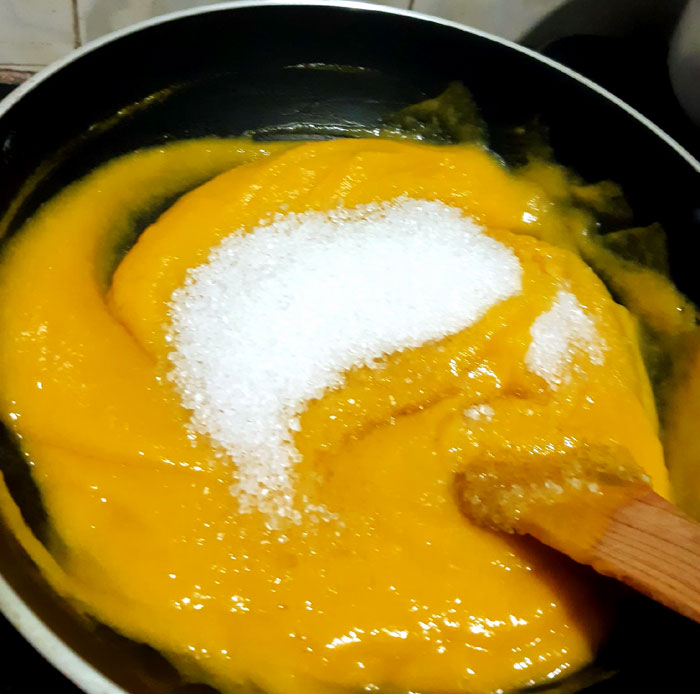 Preheat the pan and add a cup of mango pulp in it. Add a ¾ cup of sugar to it and cook until it becomes thick syrup on medium flame, now add milk powder paste.
Then add coconut powder as per the above-mentioned quantity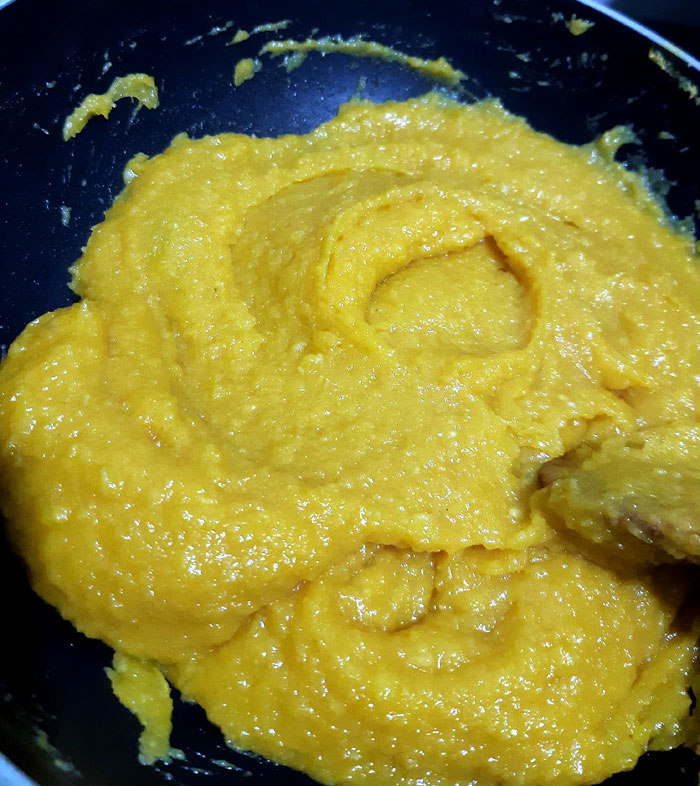 Add the roasted chickpea flour to it and stir well.
Now add some chopped cashews followed by the powder of cardamom. Stir and cook until it reaches to its thicker consistency.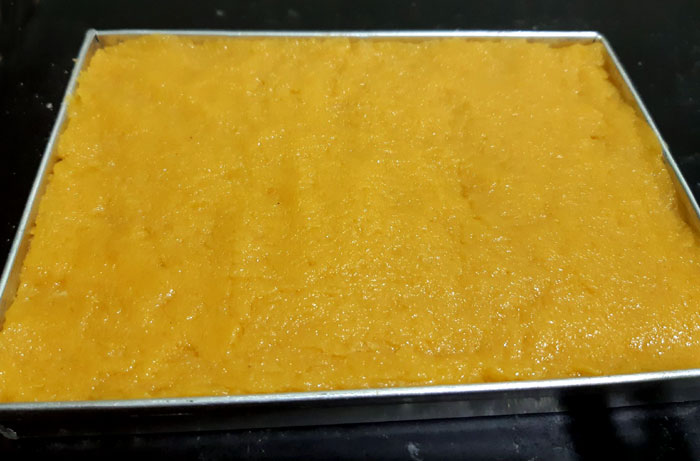 Take a plate and grease it with butter, spread the cooked mixture evenly thereon.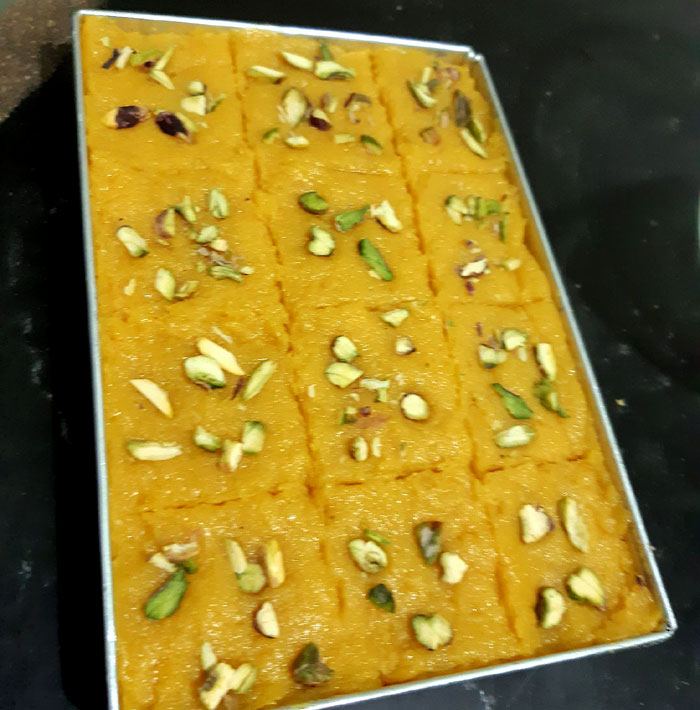 Garnish with some chopped cashews and pistachios. Press them to fix within the mixture and store in a cool place to line for 7 to eight hours or overnight. After an hour, cut the pieces into the specified shape and heat the bottom of the plate. read more.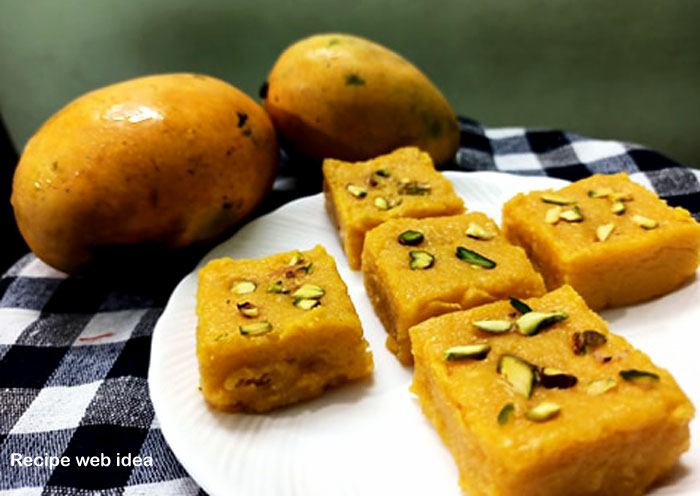 Remove the pieces using a knife and serve it. you'll store it in the refrigerator and consume it for a month.
Main Ingredients
Ripe Mango, Chickpea Flour, Sugar, Ghee.
Keywords
Mango barfi, Mango barfi recipe,  Barfi recipe, Sweet recipe, Indian dessert
Read also:
How to make suji upama recipe. How to make Cabbage kofta easy steps. Veg Kothe recipe step by step. Traditional Fara recipe.  Palak chicken curry recipe step by step.  Patiala aloo recipe (aloo ki sabzi). Pad thai noodles: famous street food.
For pin: