Lauki ki Barfi (Lauki ki Barfi Recipe)
Everyone knows about gourd vegetables (Lauki ki sabzi) and koftas, but have you heard of gourd barfi. Gourd barfi is a delicious and nutritious dessert. In Navratri you get bored with a dish made of sabudana (sago) and kuttu ka atta , then you make Lauki ki barfi (gourd barfi). Lauki ki barfi is made in many ways, people cook it by mixing it with milk, or by mixing it with mawa or condensed milk. This is an easy recipe, you must try it, learn How to make Lauki ki Barfi (Lauki ki Barfi Recipe).
This is an easy recipe, to make gourd barfi, the gourd is grated and then roasted in heat, adding sugar and mawa. It is thickened and set on a plate.
You can make Lauki ki barfi recipe in different festivals besides fasting like Navratri, Shivratri.
Preparation time                              15 minutes
Cooking time                                    35 minutes
Total time                                           50 minutes
Course                                                  Sweet recipe
Serve                                                    04 members
Difficulty level                                   Easy
 Cuisine                                                                Indian
Ingredients for Lauki ki barfi
Gourd (Lauki)                                    01 kg
Sugar                                                     300 grams
Pure Ghee                                          01Cup
Mawa                                                   200 grams
Cashew                                                ¼ Cup (Chopped)
Almonds                                              7-8 (Chopped)
Pistachios                                            7-8 (Chopped)
Coconut (Powder)                           100 gram
Cardamom                                          5-6 (Crushed)
Preparation Lauki ki Barfi
Wash and peel the gourd (Lauki) well, cut it into some big pieces and remove the inner seeds and pulp. Now you can grate gourd (Lauki). read also.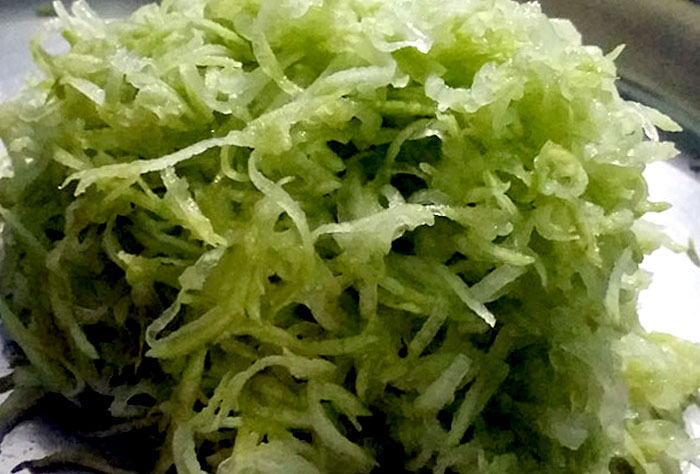 Remove the excess water by pressing the gourd with the palm.
If you are using mawa then crumble it and keep it aside.
Now all your stuff is ready for Lauki ki barfi (gourd barfi).
Lauki ki Barfi recipe
Put a grated gourd in a large pan, add 2 tsp ghee on top and stir.
Reduce the flame to cover and cover with a lid. Keep moving with a spoon in the middle, and let it cook until it becomes soft.
Now add sugar to the lauki and cook, keep stirring it frequently and keep checking.
After adding the sugar, its amount of water decreases, but keep stirring it continuously, so that the Lauki

(gourd)

does not stick to the bottom.
After a while, all the gourd juice will dry up.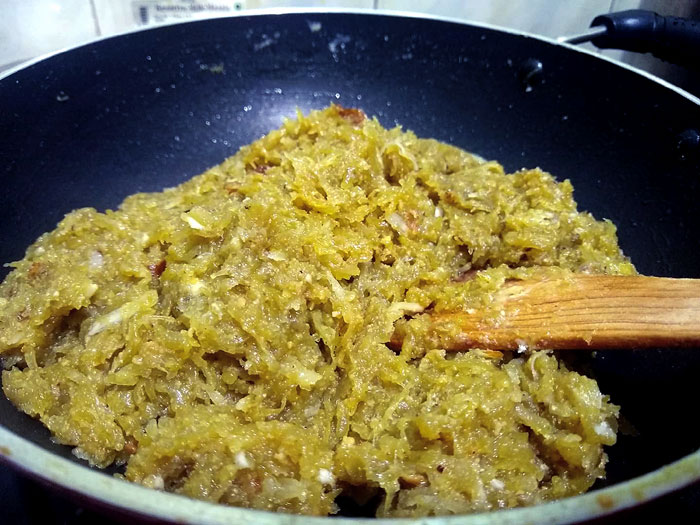 Now add the remaining ghee and mix it well. And fry for about 2-3 minutes.
Add crumbled mawa to the gourd and stir continuously and allow it to thicken. Now put cashew pieces in it and cook it further so that it comes to a freezing condition.
Turn off the gas and add cardamom powder to it and stir well.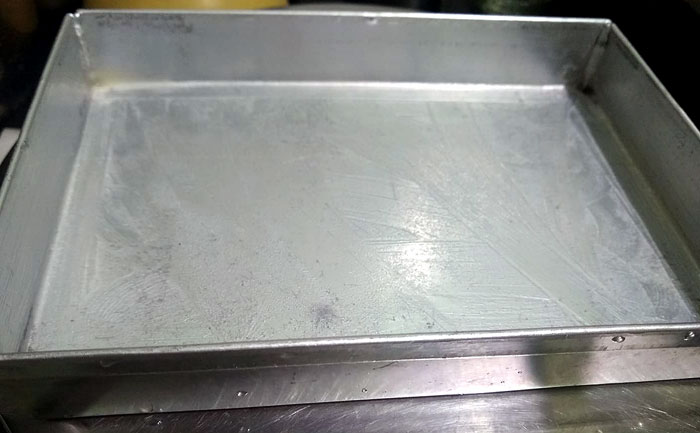 Grease a plate and pour the prepared mixture.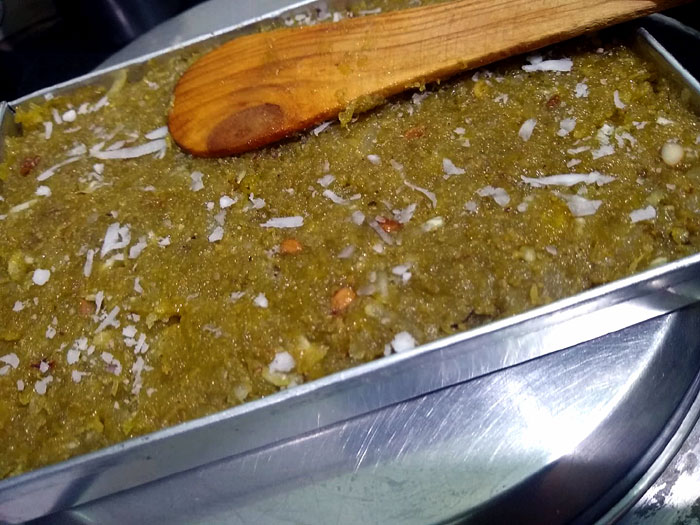 Spread the mixture evenly, and paste the pieces of Coconut Powder, almonds and pistachios over the barfi.
Leave the lauki barfi to set at room temperature. Barfi sets in about 1 to 1.30 hours.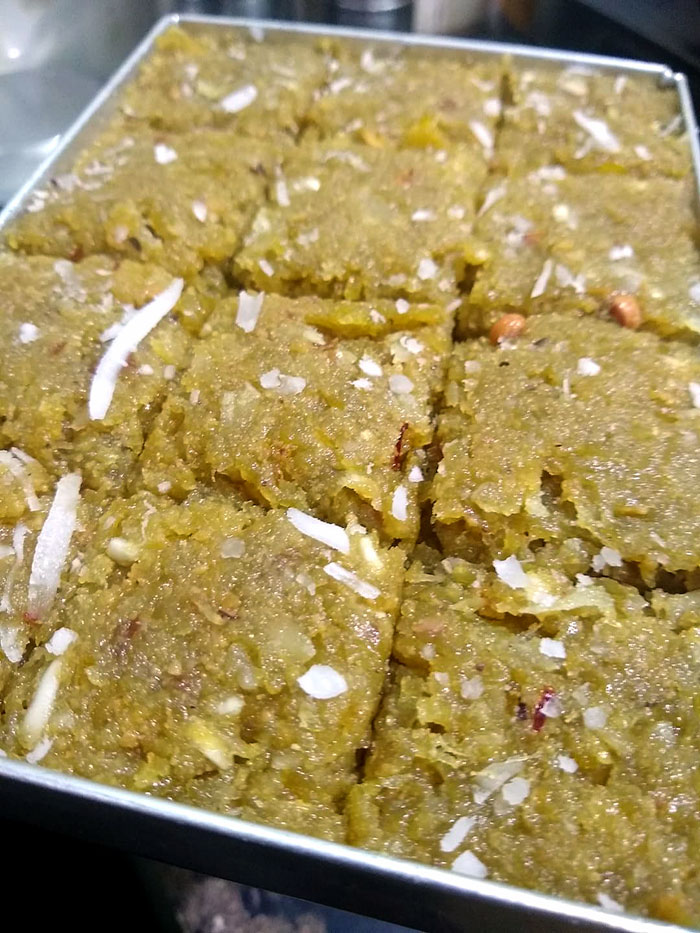 Cut it into the desired shape with the help of a sharp knife.
Take out the barfi, if there is any problem, then heat the surface of the plate slightly from below.
Take out all the barfi on a plate.
Your delicious gourd barfi is ready, store it in a refrigerator about 4-5 days.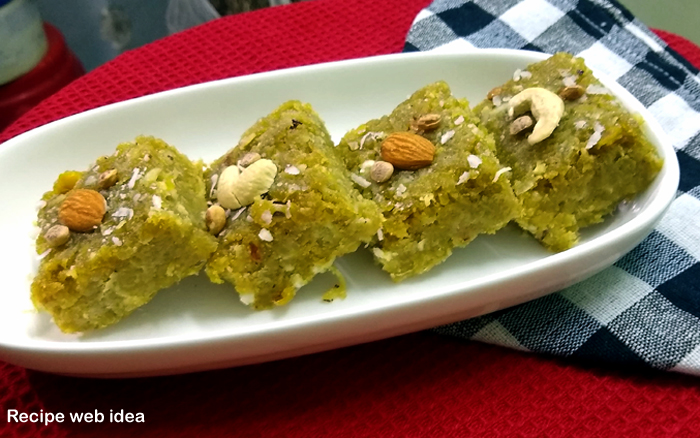 Suggestions
We have used mawa to make barfi. You can also use milk powder or condensed milk.
Main Ingredients
Gourd (Lauki), Sugar, Pure Ghee, Mawa (Khoya)
Keywords
Indian cuisine, Barfi recipe, Lauki ki Barfi, lauki, Navratri, Fasting recipe, gourd barfi
Read also
Suji ka halwa recipe step by step.  Gajar Ka Halwa Recipe.  How to make Fara recipe.
For pin