Banana pancakes recipe
Banana pancakes recipe | How to make pancakes | Pancake recipe. These pancakes are crispy from the outside, and tenderness inside.  There are many types of pancakes and are made from many other ingredients. This is a delicious and healthy breakfast made with bananas, you can include the phenomenal banana pancakes in the morning or evening breakfast. The recipe is very easy, and the ingredients are available in your kitchen.
Your pancakes bananas and eggs are two important components, due to its low fat and high protein, its details are spread across all fitness sites. In today's time, this type of food is important on the basis of health priorities, that is why today we have brought this easy recipe for you.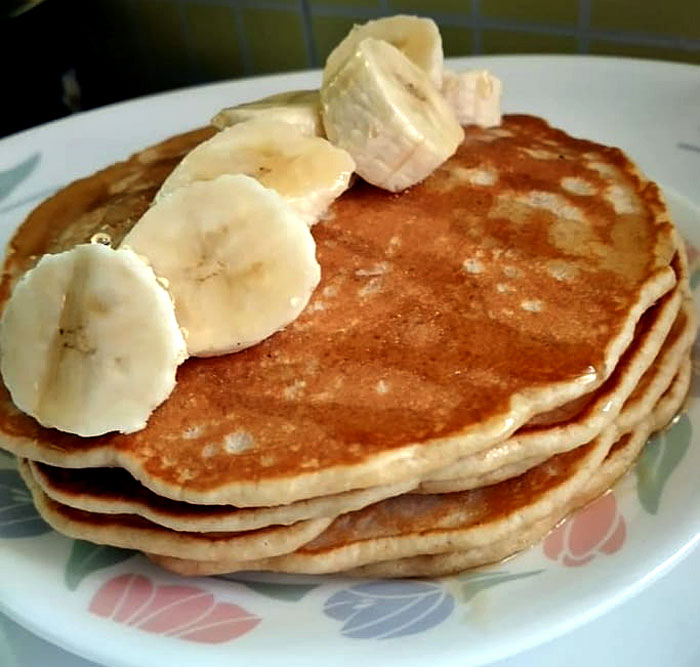 Preparation time                              10 minutes
Cooking time                                     30 minutes
Total time                                           40 minutes
Serve for                                             05
Difficulty level                                   Easy
Course                                                  Breakfast
Cuisine                                                 Indian
Ingredients for Banana Pancakes
All-purpose flour (Maida)                   02 cups
Sugar                                                      02 tbsp
Baking Powder                                     02 tsp
Salt                                                          1/2 tsp
Ripe banana                                          02
Egg (beaten)                                          02
Full cream milk                                     01 cup
Vanilla essence                                     1/4 tsp
Butter                                                     03 tbsp
Cooking oil                                            03 tbsp
Chopped ripe banana                         to decorate
Honey                                                    01tbsp (optional)
Banana pancake recipe
First, in a large bowl, add fine flour, sugar, baking powder, and 1/2 teaspoon salt and mix well.
Whisk the eggs and banana in another bowl. Now add full cream milk and vanilla essence and beat well.
Now add the beaten egg mixture into the flour mixture, add a little butter on it. Allow the batter to thicken.
Place a non-stick pan on the gas and heat it on a medium flame. Set until heated. Place a piece of butter and a spoonful of edible oil on the pan and turn it around.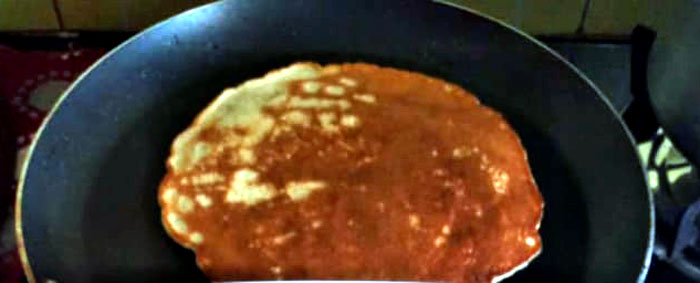 Drop the batter onto the pan, keeping the width of the pancake according to you. Allow the pancake to cook until it sees something tangy. Cook it till it turns golden brown, then flip it and cook till it turns golden brown.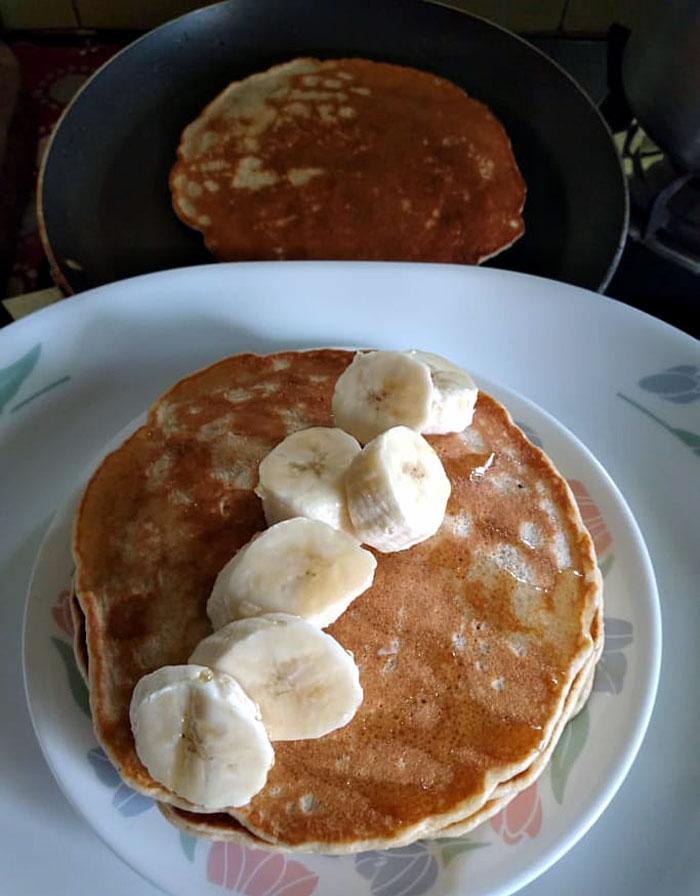 Now transfer it to the plate with the help of a spatula, your pancakes are ready to serve with honey topping. Read also.
Suggestions
If you have pancakes left then you can keep it in the refrigerator for a few days and heat it in the microwave while surveying. These will look fresh and equally delicious.
You can put any loose toppings on the pancakes, such as dry fruit or chocolate chips when baking for the first time.
Main ingredients
All-purpose flour (Maida), Sugar, Baking Powder, Salt, Ripe banana, Egg, Full cream milk
Keywords
Banana pancakes, pancake, Pancake recipe,
How to make Upma.  Paneer tikka masala step by step recipe. Vegetable pulao recipe step by step. Pav Sandwich recipe easy steps.  Pad thai noodles recipe step by step. Famous North Indian Tehri recipe. Coconut barfi step by step.  How to make Palak chicken curry. Vermicelli recipe step by step.
For Pin: