Gulab Jamun Recipe (Indian dessert)
Gulab Jamun Recipe is a classic Indian dessert. Which people make during festive occasions. Gulab Jamun seems impossible to make at home, but if there is a good technique, you can easily make it at home. We have many ways to make this North India dessert. Gulab Jamuns are made with milk, mawa (evaporated milk), milk powder, paneer, sweet potato, and bread, but, its best and traditional flavor comes with khoya(evaporated milk). Today, we are making the traditional Indian dessert gulab jamun (Indian dessert) with khoya.

Other popular names
It is known as Gulab Jamun in North India, Pakistan, Sri Lanka. In Nepal, it is known as Lal Mohan, in East India and Bangladesh it is Gulab Jam, and in Maldives Gulabujanu.
Preparation time           15 minutes
Cook time                       30 minutes
total time                       45 minutes
Serve                              05 members
Difficulty level                Easy
Cuisine                           North Indian cuisine
Course                            Indian dessert
Ingredients of Gulab Jamun
(1 cup = 250 ml)
Khoya                             250 grams
Cardamom powder        01 tsp
Baking soda                    1/4 tsp
Maida (fine flour)          01 cup
Saffron pinch                  01
Ghee or oil                     03 cups
Semolina (Rava)            02 tbsp
Cashews                         8-10 (finely chopped)
Ingredients for Sugar Syrup
Sugar                              04 cups
Water                             04 cups
Rosewater                      01 tsp
Cardamom Powder        01 tsp (optional)
Sugar syrup
Heat 4 cups of water in a pan, then add sugar, cardamom powder, saffron according to the above-mentioned quantity.

 Keep stirring this mixture. Stir until the mixture is slightly thick.

 Stir until the strings begin to form in the syrup. Put the sugar syrup aside in a pot.

* To see if a string has formed in the syrup, spread the syrup between your thumb and index finger. Read this.
Gulab Jamun dough
Take the above-mentioned khoa (evaporated milk) in a bowl and grate it well.

Then add 1 cup maida (fine flour) and a pinch of baking soda, cardamom powder, and 2 tbsp semolina. Mash the mixture well by hand.

*better the mash, the Gulab Jamuns will become softer.

If the khoya remains fresh, it will have wetness, otherwise, you can make it soft like flour by adding a little water.

Fine flour (Maida) and semolina (Rava) can be easily mixed in it. Knead this whole mixture like flour. Add some water to it, making it soft and easy to mix.
How to Fry Gulab Jamun
keep the mixture in a bowl.

Now take a little portion of this khoya mixture in your hand and give it a more smooth and round shape.

Make balls of all the mixture in the same way.

Make the balls smooth and there should be no cracks in them.

Now heat oil or ghee in a pan on medium heat.

When the oil is hot, try adding a few balls to it. If it bursts while frying, add a little more maida, and make balls again.

If all is right, put some balls in hot ghee, fry these balls till they turn brown. Turn them around so that it fries well all around.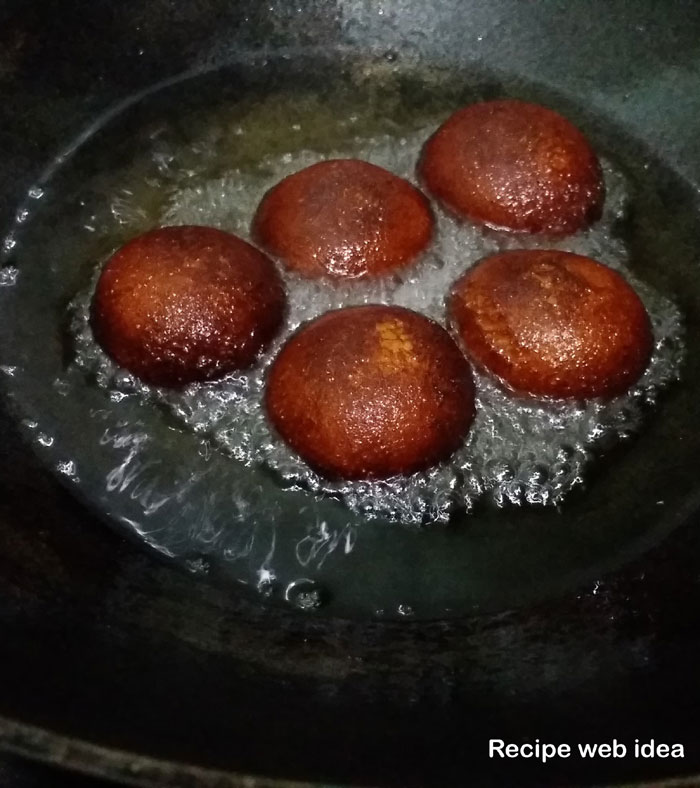 Keep in mind, it is fried in medium flame, otherwise, it will remain raw.
How to make Gulab Jamun
Before frying the balls in the sugar syrup, put them in paper napkins to remove excess oil.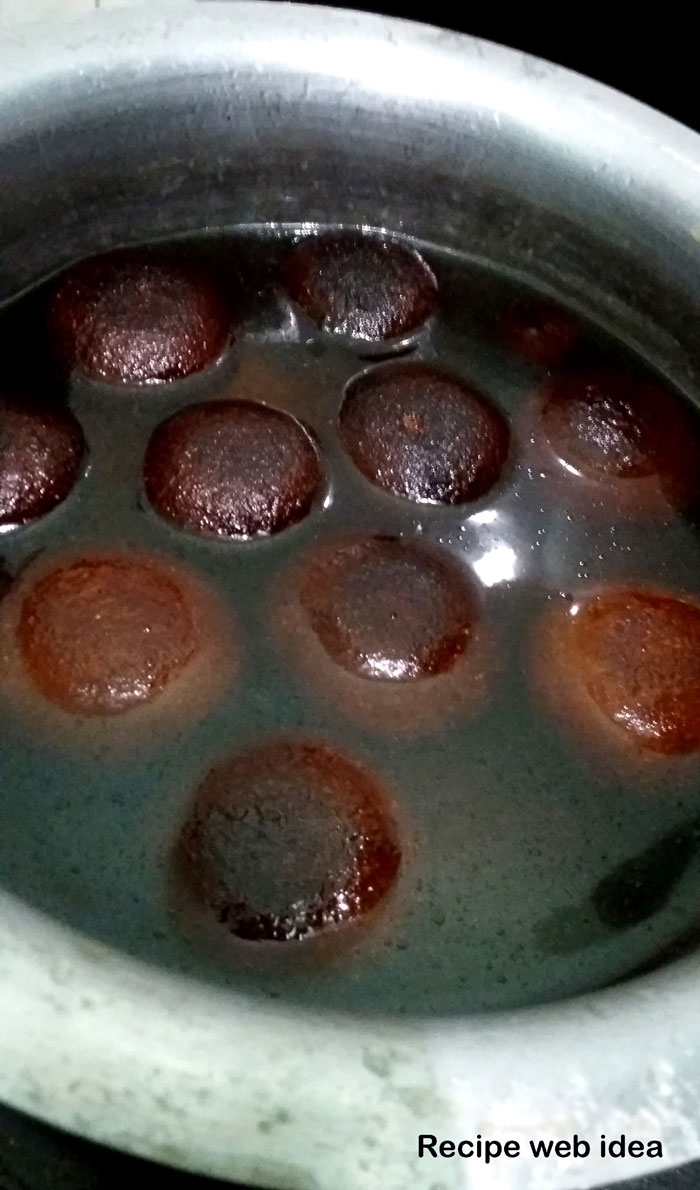 Pour these balls into the sugar syrup. Likewise, put the entire balls in sugar syrup.

Let it remain in the sugar syrup for one to two hours, so that the balls absorb the syrup well.

Balls will become large and soft when immersed in sugar syrup.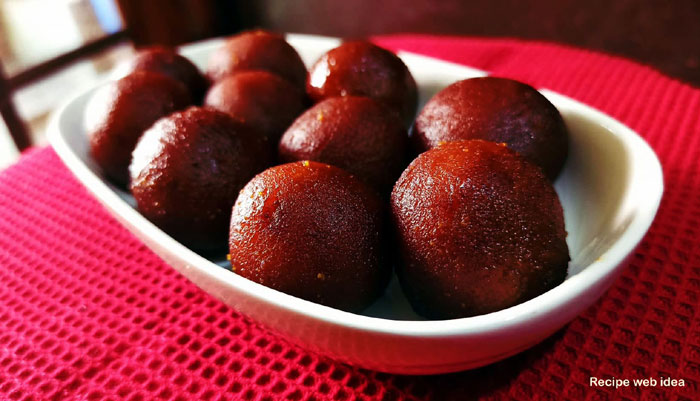 Indian dessert Gulab Jamun (Indian dessert) is ready to serve you. Read.
Serving Idea
 You can serve it hot or cold. You can also serve it as a dessert with the main meal. Some people like to eat it with Rabri (Condensed milk) too, you can also serve it with Rabri. 
Recipe note
It is important to know how much semolina has to be mixed in making Gulab Jamun. For this, after kneading the dough, put a small ball in hot oil, if it splashes in the oil, then you have added more semolina. Add maida (all-purpose flour) and khoya to it.

If you have added more all-purpose flour then Gulab Jamun will become tough.

Keep in mind that fry the Indian desert in medium flame, otherwise it will remain raw.
Main ingredients
Khoya, maida (fine flour), semolina (Rava), ghee or oil, cardamom powder, baking soda, saffron
Keywords
Gulab Jamun, Gulab Jamun Recipe, Gulab Jamun Recipe, Sweets, North India, Indian desert, Veg Recipe, Diwali sweets, sweet recipe. 
Read also:
How to make mango barfi. Chur – chur naan recipe step by step. How to make patiala aloo recipe,  Rava besan laddoo recipe step by step. Bharwan baingan recipe easy step. Palak pakora recipe. Sweet sesame chicken wings recipe. Peperonata recipe (Traditional Italian recipe)
For pin: