Rava besan ladoo recipe (suji besan ladoo)
Rava besan ladoo recipe | suji besan ladoo | Diwali sweets. At this time there is a constant celebration, such people like to make sweet, or special recipes.  People want to make something different in Diwali, Bhai Dooj, or Karwachauth. We have brought you such delicious Rava Besan Laddu recipe, it is ladoo made with semolina, gram flour, ghee, and dry fruits.   This is a simple laddoo recipe, which we have made differently to enhance the taste. This laddoo recipe is usually made during festivals in Maharashtra and Madhya Pradesh.
In this method, gram flour is mixed with ghee and water and made into a muthiya, then deep frying it into a powder, then roasting it in ghee and making laddus.
For festivals like Deewali, Holi, check out our popular recipe Besan Laddu, Instant Peda, Rasmalai, Chocolate Barfi, Coconut Laddu, Coconut Barfi.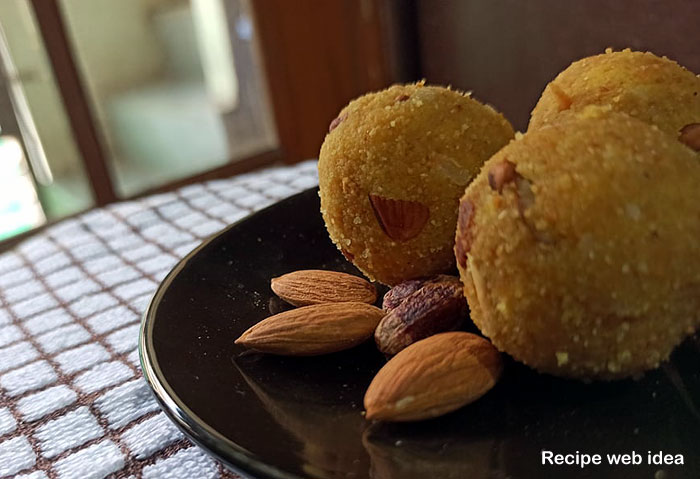 Preparation time                             15 minutes
Cooking time                                   50 minutes
Total time                                          01 hour  5 minutes
Serve                                                  08 members
Difficulty level                                 Medium
Course                                                dessert recipe
Cuisine                                               Indian dessert
Ingredients for Rava Besan Ladoo Recipe
Gram flour (besan)                       1.5 cups
Semolina (Rava or suji)                1.5 cups
Sugar                                                   02 cup
Pure Ghee                                        1.5 cup
unsalted butter                              4tbsp
Almond                                              50 grams
Raisins                                                50 grams
coconut                                            50 grams (grated)
Cashew                                              50 grams
Chirongi                                            50 grams
Green cardamom                           6-7 (crushed)
or cardamom powder
Preparation for Rava Besan Ladoo Recipe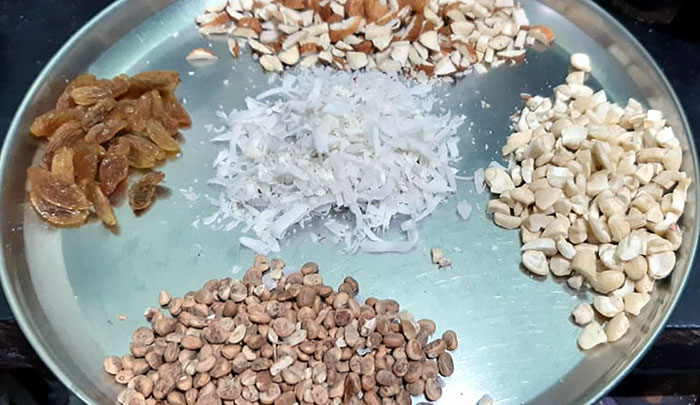 Cut all dry fruits into small pieces and add two spoons of ghee and fry them on low heat. Remove the fried dry fruits and set them aside on a plate.
How to prepare the dough
To make Besan and semolina ladoos, firstly mix gram flour and semolina (finely chopped) in a large bowl as per the above mentioned quantity.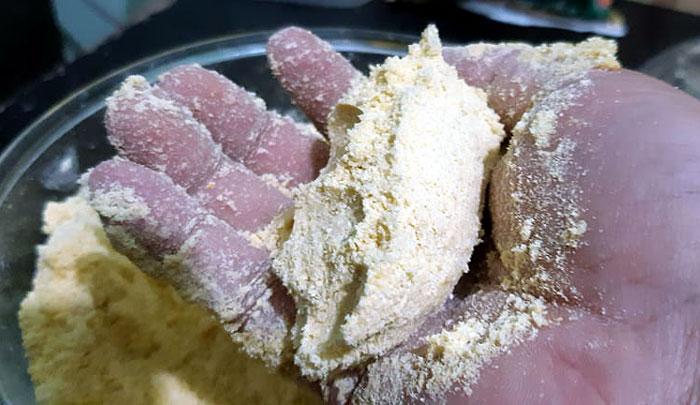 Now add 4 tablespoons of unsalted butter and mix it well. Add 4 teaspoons of pure ghee to it and mix and keep mixing, try to tie it with the palms, if not binding then add more ghee.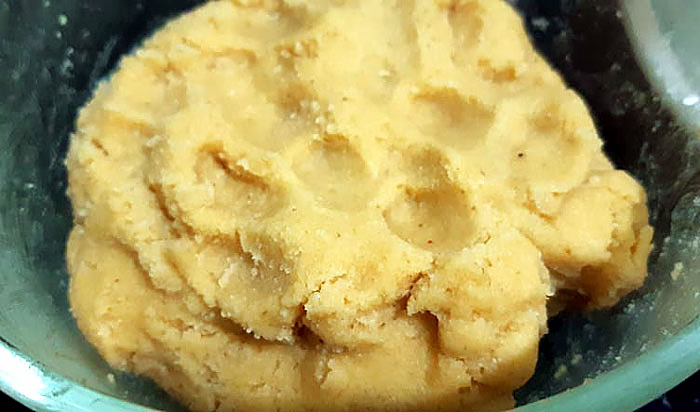 Add a little bit of water to this mixture and knead the stiff dough like puri, its consistency is very important.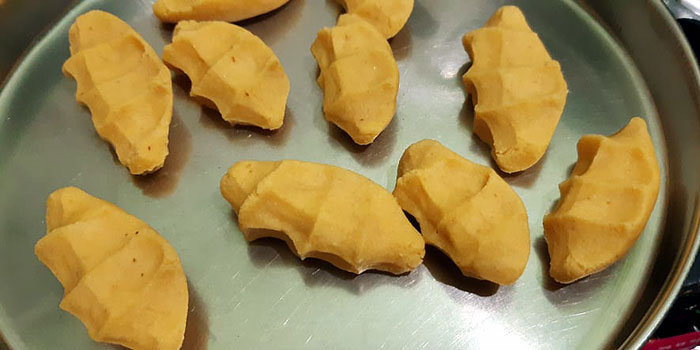 Now your dough is ready, take a small piece of it in hand and close the fist to make a muthiya. Similarly, make Muthiya with all the dough.
Make Muthia thin with flour so that it cooks easily.
Frying Muthiya
Now heat ghee in a pan, keep the flame medium, add some muthias and fry it. Now slow down the heat and fry the Mutiya till it turns light brown on both sides.
Keep it aside in a plate, likewise, fry all the Muthias, do not keep it in paper towels, otherwise, the top layer will become soft and the laddus will not be good.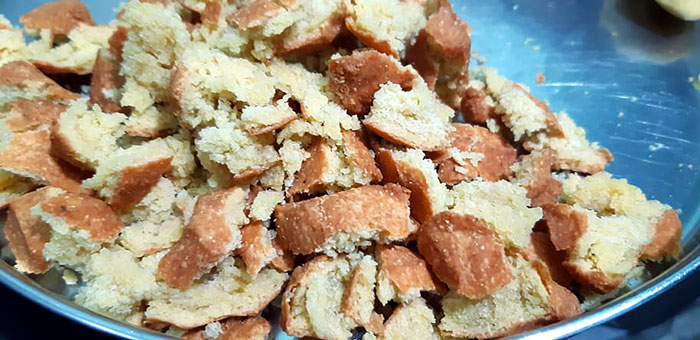 Allow the fried muthiya to cool slightly, break it into small pieces, now put it in a mixer grinder and make a fine powder.
However, moths can also make laddus with powder but there is some difficulty in tying. Keep this powder aside in a bowl.
Sugar syrup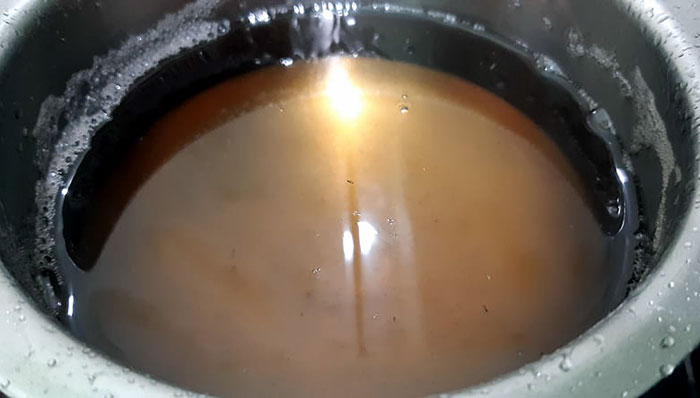 In a separate pan, add 2 cups of sugar and make the syrup by adding 1 water.
Keep the sugar syrup thin, that is, remove it before it becomes wire. Keep the consistency between the two fingers and check its consistency.
Rava Besan Ladoo Recipe
Add fried dry fruits, cardamom powder to the powder made from Muthia and mix well.
Slowly add sugar syrup to this mixture and keep mixing.
Keep checking the mixture, when it becomes lumpy, then do not add sugar syrup.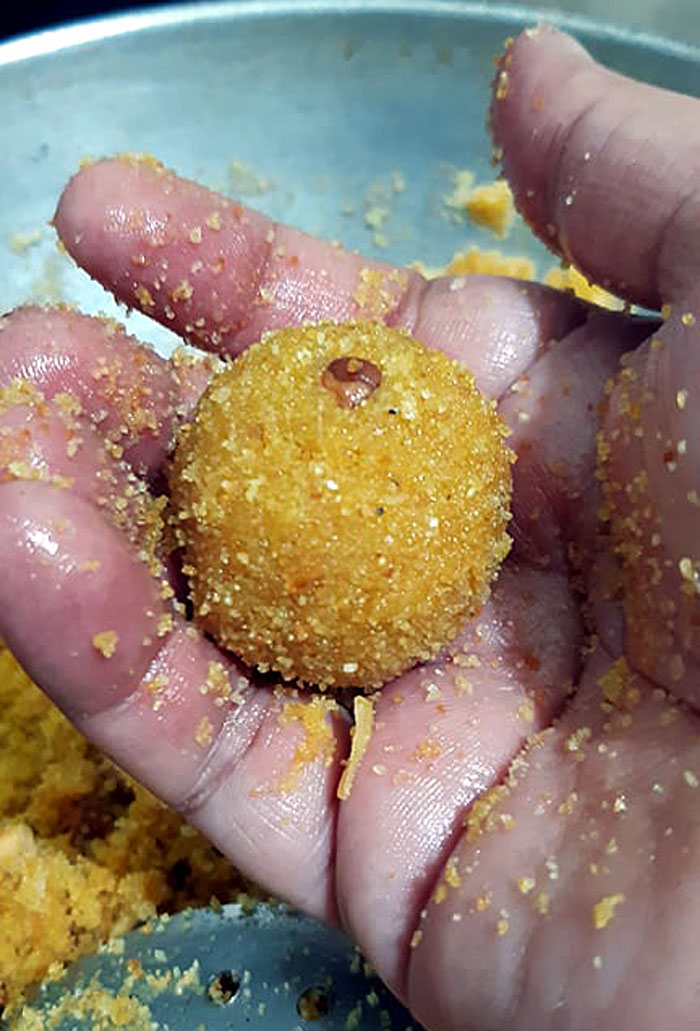 Make a ladoo with a little mixture in the palms, similarly make ladoos with all the mixture.
Your Besan Rava ladoos (gram flour semolina laddus) are ready, they can be served immediately but they remain soft, let it cool a bit, they become stiff enough.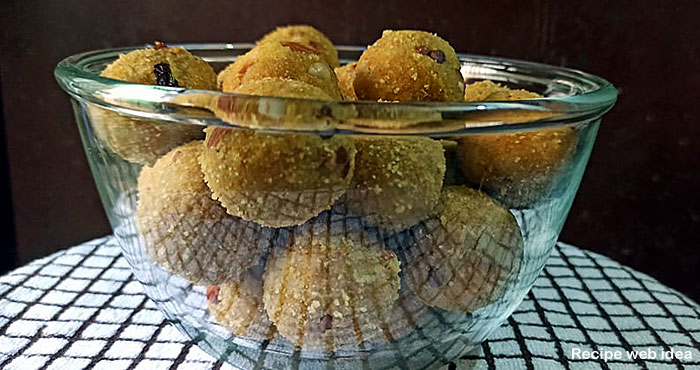 Keep Besan Rava Laddus in an airtight container, it does not spoil for about 7-8 days.
Suggestions
For Besan Rava Laddus you can use your favorite dry fruits.
Do not make sugar syrup thick, otherwise, your laddus will become very tough.
Take semolina finely to make laddus, if not then filter and use.
 Main ingredients
Gram flour  (besan), Semolina (Rava or suji), Sugar, pure Ghee,  unsalted butter, and dry fruits.
Keywords
Rava besan ladoo, Besan Rava Laddus, Ladoo recipe, Diwali recipe, Indian dessert, sweet recipe, suji besan ladoo. Besan rava ladoos, ladoo, Diwali sweets.
Read also:
Badam halwa recipe step by step. How to make Mangode. How to make Palak Pakora. Cabbage kofta recipe step by step. Finger chips recipe easy steps.  famous Diwali snacks Mathri recipe. Veg Manchurian recipe step by step. Palak puri recipe step by step. Dryfruits stuffed peanut rolls.
For pin: