Peanut roll recipe
Dry fruit stuffed peanut roll | peanut roll recipe. Sweet roll made of peanuts will be such that you will forget the cashew rolls. Anyway, peanuts are called almonds of the poor. Cashew is used in cashew rolls, here we have used peanuts and stuffing dry fruits. This peanut recipe is a very easy recipe and is made in a very short time, but its delicious taste is not forgotten.
Anyway, during the winter season, there is a lot of groundnut crop, so you will be ready to enjoy peanut rolls. You can make peanut recipes for guests at any special festival or any party, you can win your family's heart by making this Indian dessert at festivals like Holi, Diwali or Rakshabandhan.
There are many peanut recipes and are made differently; it is an excellent alternative to cashew nuts and mawa.
You can search for our other popular Indian dessert recipes. Gulab jamun, besan ki barfi, chocolate barfi, Rasmalai, doodh peda, etc.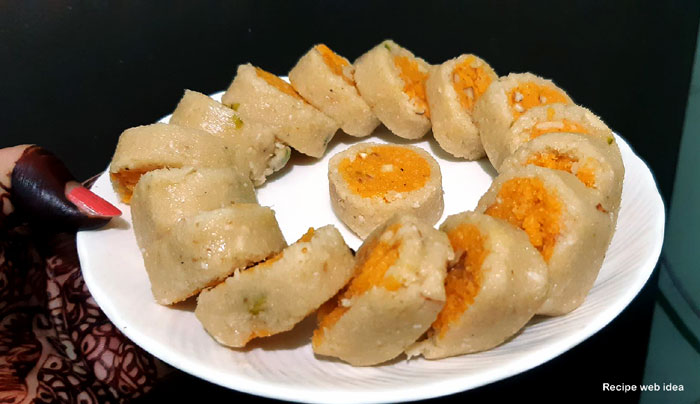 Preparation time          10 minutes
Cooking time                 10 minutes
Total time                        20 minutes
 Serve for                        06 members
Difficulty level               Easy
 Course                             Dessert or sweets
Cuisine                             Indian dessert
Ingredients for peanut rolls
Peanuts                           02 cups
Coconut powder          02tbsp
Milk powder                  01tbsp
Sugar                                 1/2 cup
Cashews                          10-12
Pistachio                          8-10
Almonds                          6-8
Ghee/ Butter                 01tsp
Water                               as needed
Peanut roll recipe
First of all, put the peanuts in the pan as per the quantity mentioned above and roast it, keep stirring continuously during this.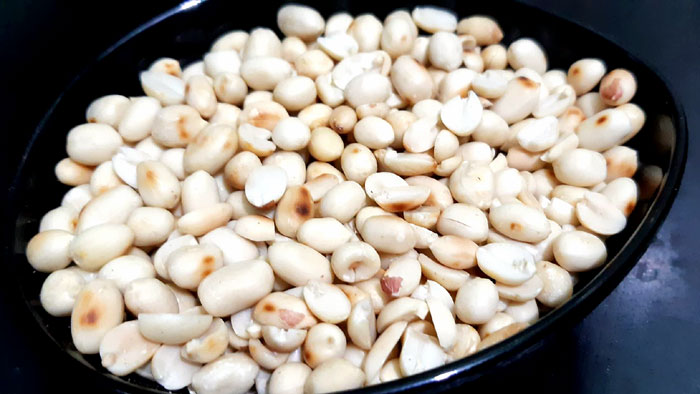 When the peanuts will fry well, remove the two grains, and rub them by hand. If the skin is able to peel, then your peanuts have been well roasted. And if there is deficiency then fry it a little more. Turn off the gas and allow it to cool, when it gets cold, rub all the peanut skin off.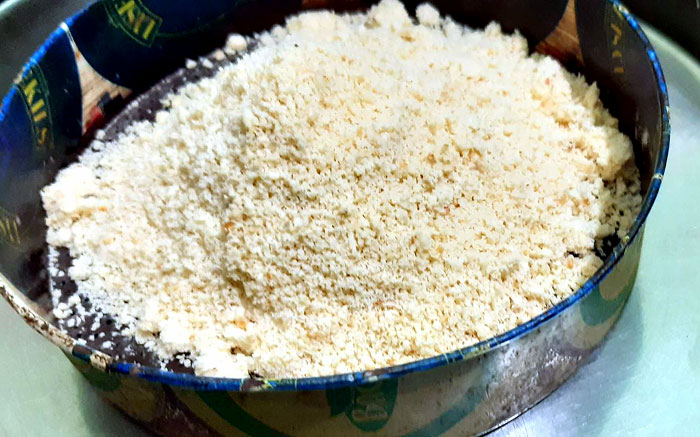 Now put the peanuts in the mixer jar and make a fine powder and sieve it with a sieve.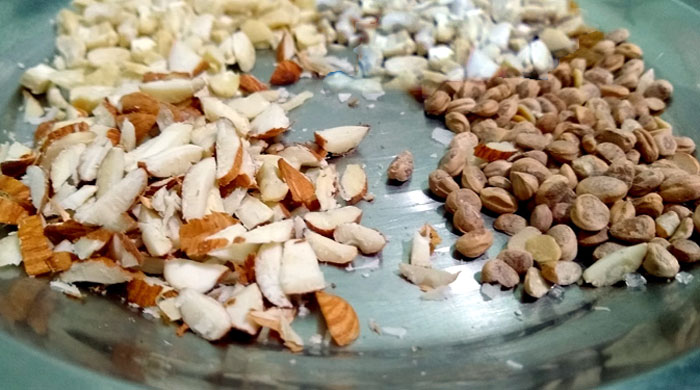 Cut almonds, pistachios, and cashews into small pieces and keep them in a plate.
Now take sugar and water in a pan and make a string syrup.
Add ground peanut powder, coconut powder, and milk powder and stir well. Add cardamom powder and mix well.
Now add 1 teaspoon of ghee (butter) to it and stir, the mixture will not stick in the pan after adding ghee.
Keep stirring it on medium heat and let the mixture thicken.
Divide this mixture into two parts, add eaten orange color and finely chopped cashews, almonds, and pistachios, in half part and mix well.
Spread the second portion on grease butter paper with ghee and level it with the help of a rolling pin.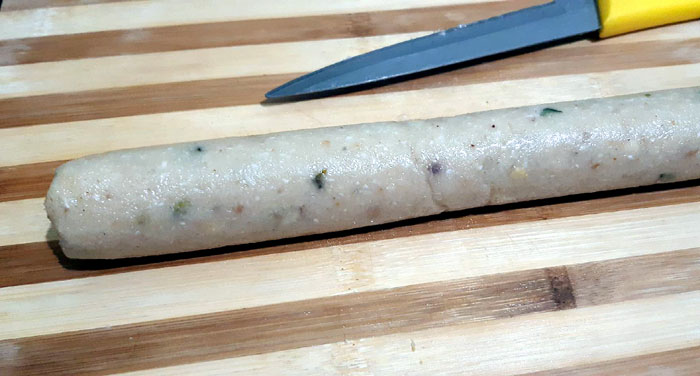 Spread and roll the orange mixture from the beginning to the end of this flat surface, and finally paste it.
Keep it in the fridge for a while to cool down.
Take out after cooling down and cut the horizontal with the help of a knife.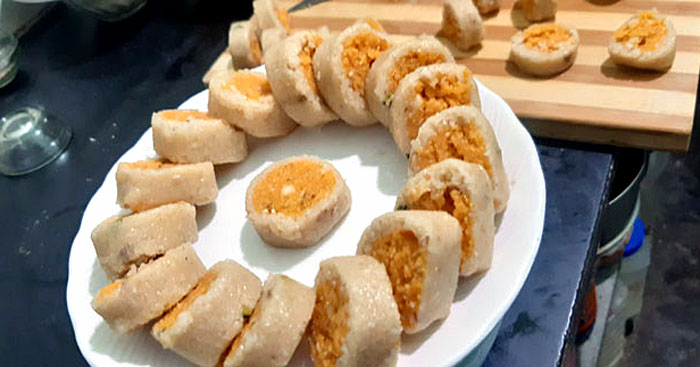 Now your delicious sweet peanut roll is ready, place it in a box and keep it in the fridge and enjoy it for 8-10 days. 

peanut recipes
Suggestions
Pour peanuts into the jar and fine powder Stop and make it, otherwise, it will stick to the jar. otherwise, it will stick on the side of the jar.
After making the peanut roll, you paste the silver leaf in it, it will look exactly like the market.
You can also add your favorite color and dry fruits.
Main ingredients
Peanuts, Coconut powder Milk powder, Sugar, Cashews, Pistachio, Almonds, Ghee/ Butter.
Keywords
Peanut roll, Peanut roll recipe, Sweet dish, Dry fruit stuffed peanut roll, stuffed peanut roll, Indian dessert, peanut recipes
Read also
How to make Habshi Halwa, Vermicilly recipe step by step. Chur chur naan recipe step by step. How to make Palak pakora. Lachha paratha recipe at home. Bread cake recipe step by step.  Vanilla cake recipe easy steps. Tandoori chicken recipe Dhaba style. Chicken 65 gravy recipe at home.  Veg Manchurian recipe step by step.
For pin