Lachha Paratha Recipe ( layered Paratha)
Lachha paratha recipe | Punjabi Laccha Paratha recipe | layered paratha. Layered Paratha ( Lachha paratha )is known by many names. Although it is a popular North Indian recipe, it is also very famous in Punjab. I ate it near New Delhi station when I went to Delhi during the year 2008-09. I liked it so much that I was standing near the kitchen of the hotel and seeing how to make it. When I reached home, I decided to cook it, it did not taste like that at first but later it became my family's favorite dish.
Some people make it Laccha Paratha from whole-wheat flour, some directly from all-purpose flour (maida) and some people make it by mixing whole wheat flour and maida. We are giving the method of mixing flour and maida, which is better from the health point of view. North Indian recipe

What is lachha paratha
It is a flaky Indian bread that has many layers. They are crispy flaky due to ghee in these layers, they are cooked on top of the griddle.
Serving idea
Lacha Paratha is multi-layered paratha, due to which you can serve it with any lentils (dal) or vegetables. I always make chickpeas curry (chole) with Lachha Paratha. You can serve it with any paneer vegetable (matar paneer, paneer butter masala, kofta) or dal makhani, dal tadka.
Preparation time                        20 minutes
Cooking time                               30 minutes
Total time                                      50 minutes
 Serve for                                      05 members
Difficulty level                             Medium
Course                                            Main
Cuisine                                          North Indian recipe
Ingredients for Lachha paratha recipe
(1 cup = 240 ml)
Wheat flour                                  1 1/2 cups
*Take 1/2  cup flour separately for dusting.
All-purpose flour (maida)        01 cup
Clarified butter                           03 tbsp
*You can also use ghee or oil.
salt                                                  to taste
Sugar                                               01 teaspoon (optional)
Milk                                                 1/2 cup
Water                                             as required
Lachha paratha recipe (Multi-layered Paratha)
For making dough
If all the ingredients are ready then we will first knead the dough. Take wheat and all-purpose flour in a large bowl as per the above-mentioned quantity, add a spoon of butter or oil to it, now add a little salt and sugar to it, mix it well.
To knead the dough, add 1/2 cup milk to this mixture and mix, add water slowly and keep kneading.
Knead it like roti dough, until the dough becomes soft and smooth. After kneading the dough, cover it with the damp cloth for about 15 minutes.
How to make Lachha paratha
Remove the cloth after about 15 minutes and re-fold to smooth. Now divide the dough into equal parts.
Take one part and give the size of the sphere from the palm, press it with both the palms and flatten it.
Dusting with dry flour and spreading it with the help of a rolling pin (like roti)
Spread it roughly the size of bread (about 10 inches).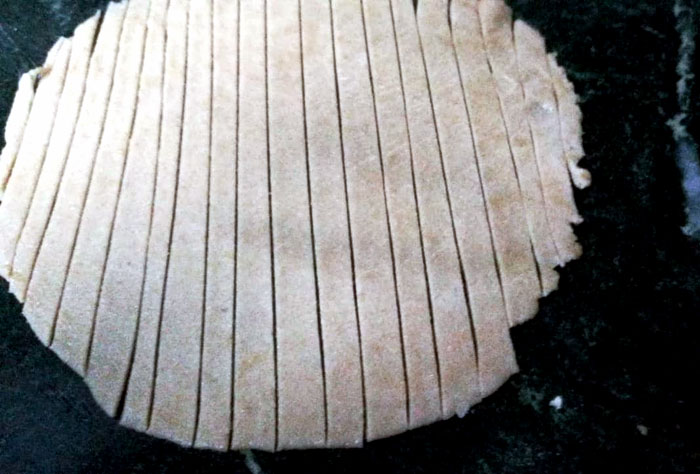 With the help of a knife cut the bread several strips lengthwise. (See picture)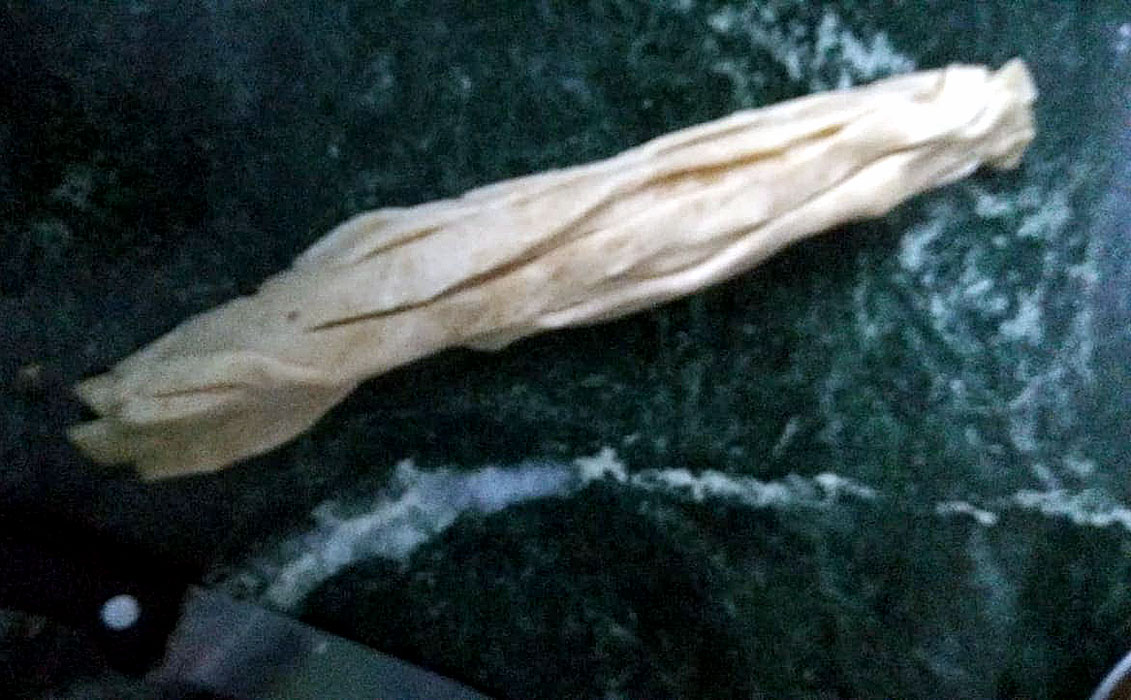 Connect the two ends of these strips separately.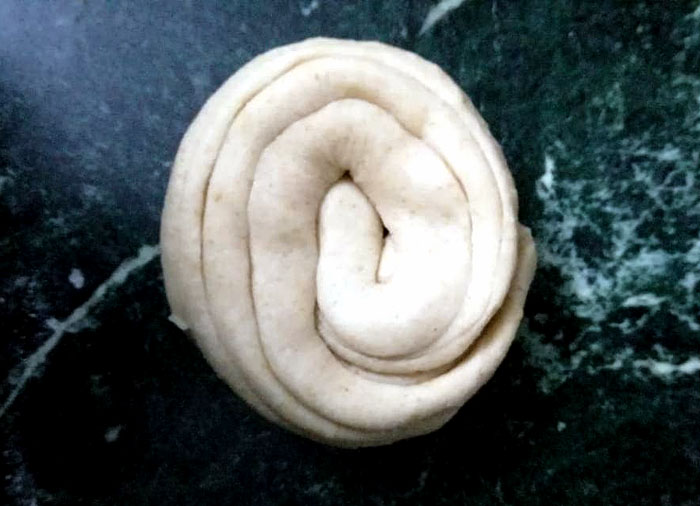 Lift both ends of the strips with hands and roll them out from inside to outside on a flat spot or rolling board (Chakla) and make a swiss roll.
Grease some ghee in between the strips.
The more layers are formed the more you roll, do not press it while rolling, otherwise, the layer will not be perfect.
Sprinkle a little flour on the rolling board and gently lift the swiss roll on the board.
Roll the paratha with the help of a rolling pin and spread the disc about 7 to 8 inches.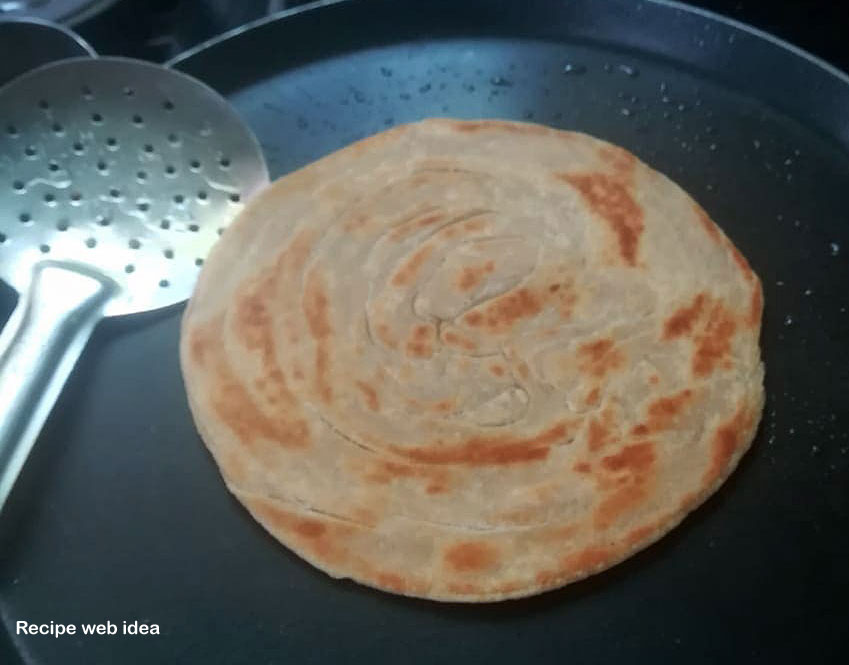 Now put the griddle on the gas and heat it, then lift the paratha on the hot griddle.
Once in awhile, light brown spots start appearing on the paratha. Turn the paratha to the other side. Now add butter to it, similarly, after cooking on the other side, add butter or ghee. During this, keep pressing it slightly with a flat ladle. Press it from both sides so that the layers open well.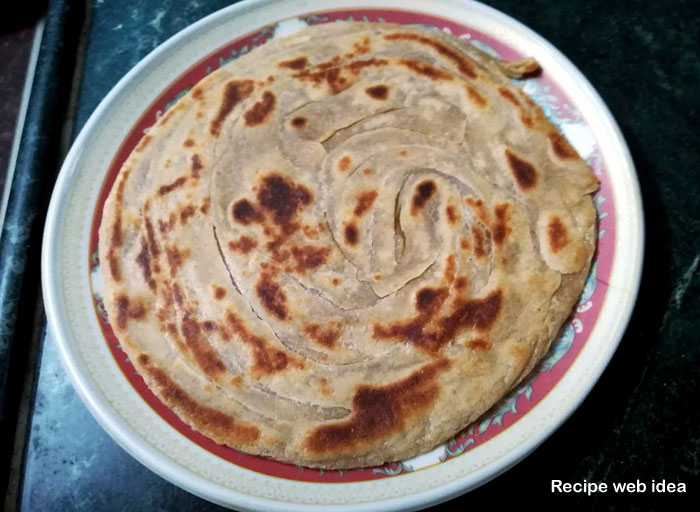 Main ingredients
Wheat flour, All-purpose flour,  butter or ghee or oil, salt, milk.
Keywords
Lachha Paratha, Lachha paratha recipe,  Multi-layered Paratha, Paratha recipe, North Indian recipe
Read also
Suji ka halwa recipe step by step. How to make Chakli at home. Vegetable pulao recipe step by step. Spinach masala puri recipe. Veg Manchurian: famous Indo Chinese dish. Banana pancake recipe easy steps. Famous Rajasthani dish Gatte ki sabzi. Badam halwa recipe step by step. How to make gujia recipe.
Pin it