Gujiya recipe
Gujiya is the most popular dessert in North India. It is made prominently in all special festivals. In North India, people also send it to their loved ones abroad. Holi is a festival and as such we are sharing with our readers the easy method of making Gujiya, a popular North Indian dessert. Learn How to make Gujia, Gujiya recipe, Mawa Gujiya and related suggestion to this recipe.
It is filled with crushed dry fruits and mawa (Khoya) inside a crunchy crust and is then fried with oil. We will introduce you to both fried and baked methods.

Ingredients for Mawa Gujiya
For dough
all-purpose flour  (Fine flour )                                     250 grams (02 cups)
Ghee                                                                                     for dough
Ghee                                                                                     for frying
For stuffing
Mawa (khoya)                                                                   100 grams
Cashews nuts                                                                    7-8 (finely chopped)
Raisins                                                                                  01 tbsp
Chironji                                                                                01 tbsp
Green cardamom                                                            5-6 (crushed)
Sugar                                                                                     80 grams (grind)
*You can use Sugar Powder 80 grams if you have.
How to make Gujia

For Dough
You should take 2 cups all-purpose flour in a large bowl as per the above-mentioned quantity. (You can also take 1 cup wheat flour and 1 cup flour)
Heat 2 tablespoons ghee in a small bowl, and mix in the flour. Use the amount of water required to knead the dough.
Keep in mind the quantity of water will determine the quality and texture of the flour.
Toughly knead the dough and divide it into equal parts and cover it with a moist cloth. Leave it at room temperature for about 30 minutes.
Prepare to stuff
Crush the mawa well and keep it aside on a plate.
Now heat a pan, add crushed mawa and roast it. Stir it continuously in medium flame till it becomes light brown.
When the mawa is roasted, keep it in a large bowl to cool at room temperature.
Mix the powdered sugar, coconut powder (boora) , cashews, raisins, and chironji well in the mawa.
Add crushed green cardamom, and mix well.
Gujiya stuffing is ready after all the ingredients are mixed well.
How to make Mawa Gujia
Make small round pieces of dough. Spread these round pieces with a rolling pin. Place them in a large plate.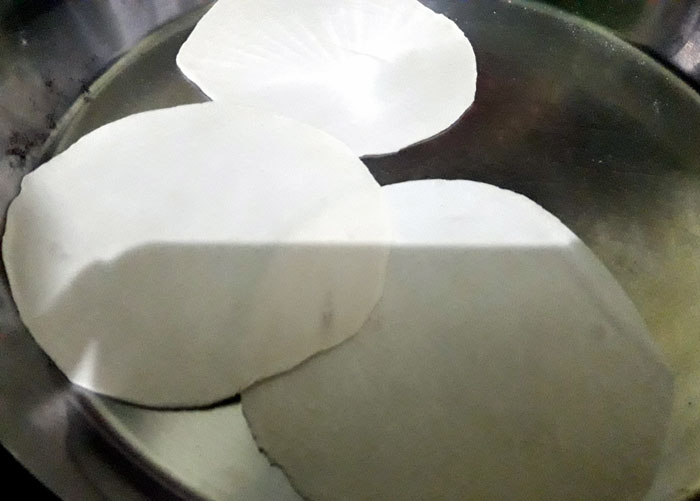 Place this flattened dough on the gujia mould and add the prepared mawa mixture. Turn the water on the edge of the mould with the finger, and take it from one end to the other. Flip the second portion of dough over it and paste it. 

Now press the mould by hand and separate the Ejected portion.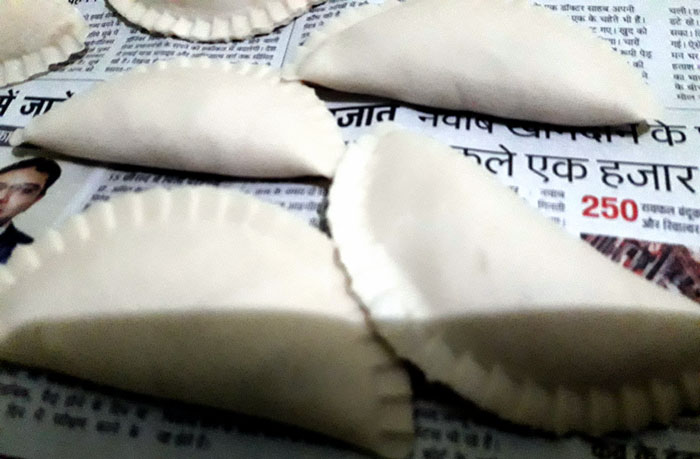 Gently remove the gujia and set aside on a plate.
Similarly, make all the gujia and keep it on a separate plate.
Frying Mawa Gujia
Heat the ghee in the pan and put as much gujiya in the pan as possible.
When the gujiya is done, reduce the heat to medium and fry till it turns golden brown.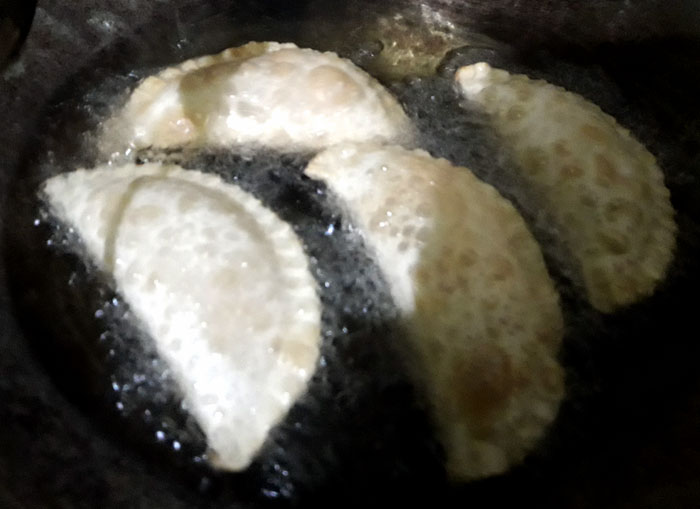 Now flip it over and fry it on the other side.
When it fry, put it in a paper napkin, which removes excess oil.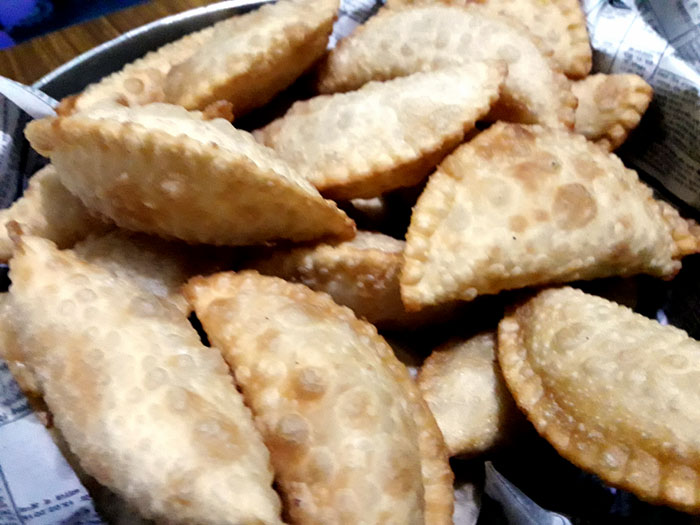 Take your delicious mawa gujiya ready, fill them in an airtight container and eat them when desired. You can use them for about 15 days. Read more.
Baking method
A very little oil and oven are used to make Gujiya from baking. Preheat the oven to 200 ° C. Brush oil or ghee evenly over the prepared gujiya.
Place these gujiyas in a baking tray.
Bake it at 200 ° C for about 20 to 30 minutes. Different oven temperatures vary, so take care when baking.
Place the tray and let them cool. After cooling, keep it in an airtight container.
Bake it at 200 ° C for about 20 to 30 minutes. Different ovens have different temperatures, so take care when baking.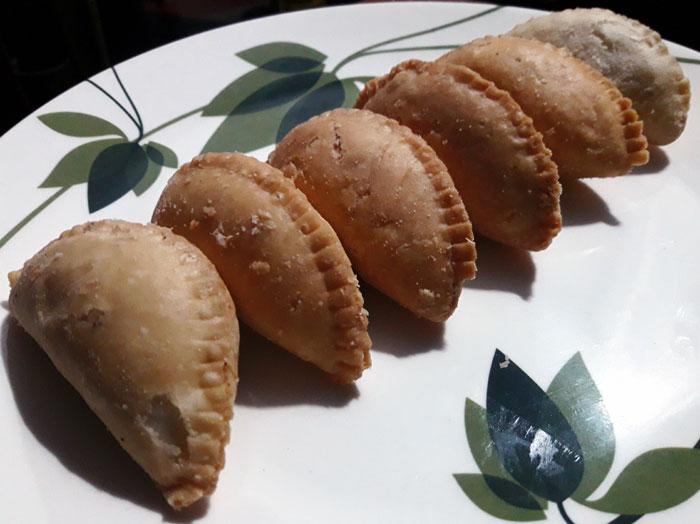 Place the gujias on a tray and allow them to cool. After cooling, keep it in an airtight container.
Suggestions
You can make use of other stuffing, besides using mawa, gram flour, semolina, etc.
When making gujiya, seal it well with water properly, otherwise the stuffing of gujiya may come out and all your oil will be spoiled.
Do not fill the stuffing too much otherwise, it may burst.
Do not fill the hot gujiya directly in the container, let it cool for a few hours.
Read also
How to make Spring rolls.  How to make Moong dal Mangode. Sabudana Vada recipe in Hindi. Traditional Dal Fara recipe.  Rasmalai recipe at home.  शाही पनीर कैसे बनाएं.  घर पर जलेबी बनाने की विधि. लिट्टी चोखा कैसे बनाये? ब्रेड रोल कैसे बनाये. गुलाब जामुन रेसिपी स्टेप बाय स्टेप। बालूशाहीकैसे बनाये (Balushahi recipe). पोहा कटलेट रेसिपी । ब्रेड पकोड़ाकैसे बनायें? How to make Mangode. 
For pin: