Chocolate barfi recipe
Chocolate barfi recipe| How to make chocolate burfi  | Indian sweet. Barfi is a top-rated recipe, which has its own place in all big events or festivals. Barfi recipe is made in many ways using different ingredients; today we are going to tell you chocolate barfi (two-layer) is one of my family's favorite recipes, which I often make in Diwali, Holi, or Rakshabandhan. However, this is a traditional recipe, in which mawa was used, and I have used milk powder and milk instead. This is a very easy, tasty, and quick recipe.
Chocolate barfi uses milk powder and cocoa powder, these children like it very much. In Chocolate Barfi, I have made two layers, a white layer and a dark brown layer with the addition of cocoa powder. After the barfi is ready, there is garnishing of silver varq, pistachios, and almonds on it, which is exactly like a sweet shop.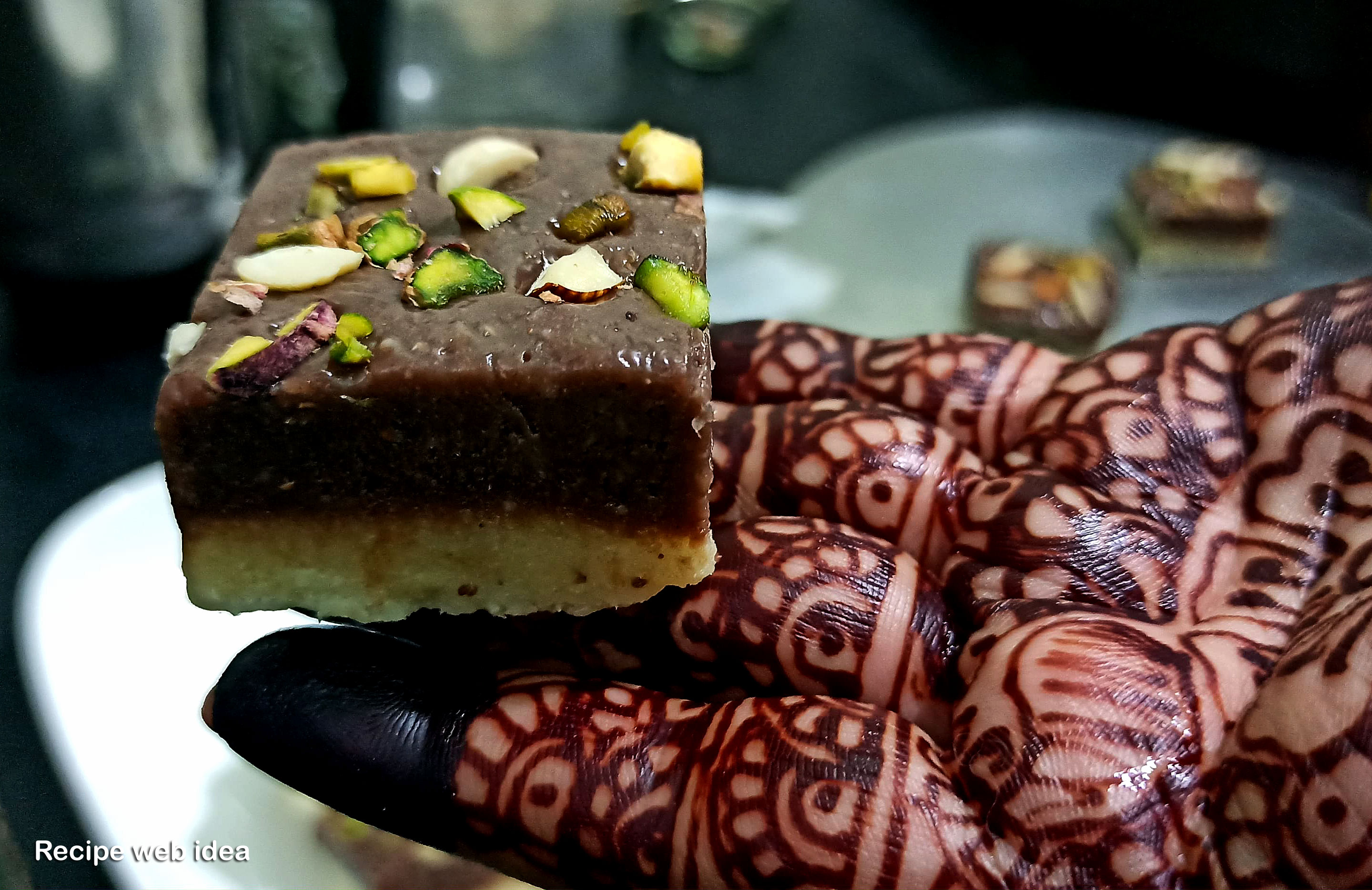 Check out our other popular barfi recipe, coconut barfi, Lauki ki barfi recipe, Mango barfi recipe, 
Preparation time                                              10 minutes
Cooking time                                                     20 minutes
Resting time                                                       15 minutes
Total time                                                            45 minutes
Serve for                                                             04 members
Difficulty level                                                   Easy
Course                                                                  Dessert or sweets
Cuisine                                                                 Indian recipe

Ingredients for Chocolate Barfi
To make the white layer
Milk Powder                                                      1 1/2 cup
Sugar                                                                     02 tablespoons (make powder)
Milk                                                                       1/4 cup
Ghee                                                                     01 tablespoon
Cardamom powder or green cardamom 01 pinches (crushed)
To make a chocolate crust
Milk Powder                                                      1 ½ cup
Sugar                                                                     02 tablespoons (make powder)
Milk                                                                       1/4 cup
Ghee                                                                     01 tablespoon
Cocoa powder                                                   03 tablespoons
For garnishing
Edible Silver Leaf (silver varq )
Pistachio (chopped)
Chocolate Barfi recipe
To prepare chocolate barfi, we have made it by dividing it into two parts.
For the white layer of barfi
For this, place a large pan on the gas, add milk, milk powder, and ghee according to the above-mentioned quantity and mix it well.
*You can also take unsalted butter instead of ghee.
Now add powdered sugar and cardamom powder and mix well, keep stirring it continuously so that the mixture does not stick to the surface.
Cook it on medium heat for 8-9 minutes and allow the mixture to thicken.
Grease a plate or barfi plate with ghee and when the mixture becomes thick, flip it over and spread the flat bottom spoon evenly.
Apply a little ghee in it before using the flat bottom spoon so that the mixture will not stick when it is spread.
Keep it aside and let it cool.
For Barfi's Chocolate Flake
Again you can use the same pan. Put the pan on the gas, add milk, milk powder, and ghee and stir well.
Now add sugar powder to this mixture and mix well.
Make a thick mixture, keep the flame medium, and stir continuously.
It takes about 5-7 minutes for the mixture to thicken.
When the mixture thickens, add cocoa powder and mix well.
Mix it until it becomes smooth and there are no lumps in it.
When the mixture is ready, pour it over the white layer spread on the plate.
Spread it evenly with a spoon with the flat surface, apply a little ghee on the spoon with a flat surface before spreading.
Now your chocolate barfi is ready, keep it in the freeze for 1-2 hours so that it sets well.
When kept in the freeze, the mixture becomes hard, apply silver varq to it and garnish with pistachio almond pieces.
Now cut it into square or diagonal shape according to your icon, and serve or store it. see also.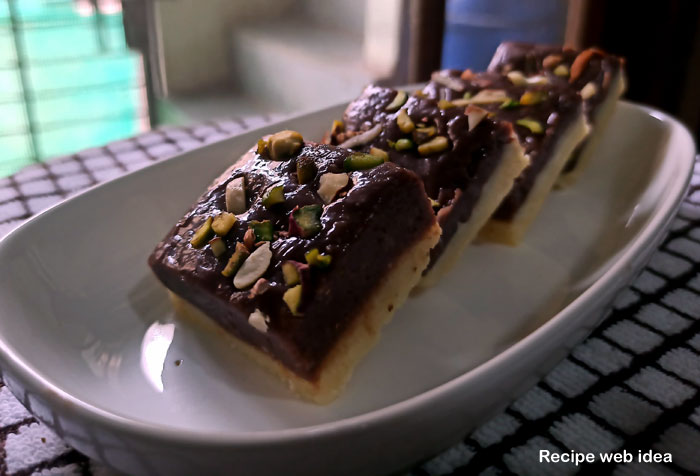 Suggestions
Keep the barfi in a cool place and you can use it for a week.
Cook the mixture on medium heat and stir continuously.
Grease the plate and spoon to avoid sticking to the mixture.
Instead of milk powder and milk, you can also use mawa for chocolate barfi recipe.
Main Ingredients
Milk Powder, Sugar, Milk, Ghee, Cardamom powder, Cocoa powder, Edible Silver Leaf, Pistachio
Keywords
chocolate barfi, barfi recipe, Indian sweets,
Read also:
How to make habashi Halwa.  How to make coconut barfi.  Mango barfi recipe step by step. Doodh peda recipe restaurant-style. Lauki ki barfi recipe step by step. Indian chicken curry recipe Dhaba style. Tandoori chicken recipe easy steps. Famous Chicken 65 recipe. Badam halwa recipe step by step. Stuffed eggplants curry recipe. Cheese balls recipe at home.
for pin