Chicken 65 Recipe
How to make Chicken 65 gravy recipe | Chicken 65 Recipe | chicken 65 masala. Chicken 65 is a very popular snack and spicy street food of South India. This delicious spicy chicken is marinated and deep-fried.  Red chili powder, curd, curry leaves, and tomatoes are used in the recipe. Chicken 65 masala is an easy recipe and all the things in use are available in your kitchen. If you are fond of non-vegetarian food then you can make it on small parties or special occasions. If you are fond of eating spicy non-vegetarian then you can make guests happy by making it at small parties or special occasions.
Although this dish is also made differently in the South Indian states, there is a slight in Andhra, Kerala, and Karnataka.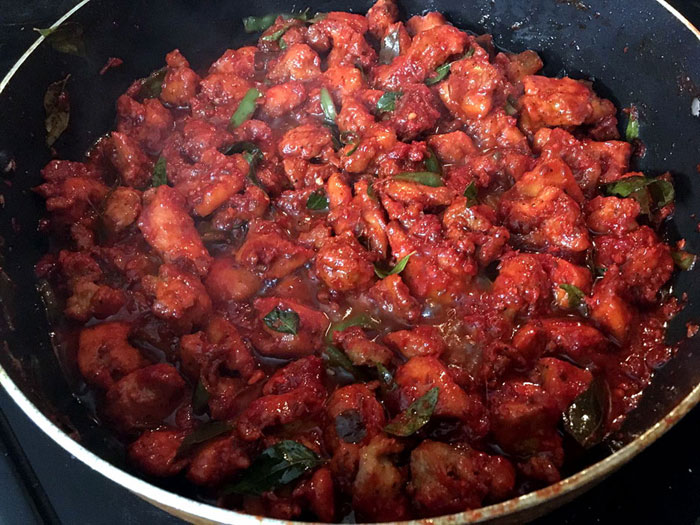 Preparation time                      10minutes
Cooking time                             30 minutes
Resting  time                              02 hours
Serve for                                     04
Difficulty level                           Easy
Course                                          main  (non-vegetarian food )
Cuisine                                         North Indian dish
Ingredients for chicken 65 recipe
for marinating chicken
Chicken boneless                     1/2 kg
Curd                                              04 tablespoons
Green  Chilies                            4-5 (Finely chopped)
Coriander powder                   02teaspoon
Kashmiri Red chili                     8-10 (make a paste)
Ginger garlic paste                   02tbsp
Curry leaves                               6-7
Chicken masala powder        01 teaspoon
Turmeric                                      01 teaspoon
Lemon juice                               01tsp
Edible oil                                      02 tbsp
Salt                                                as required
Spring onion                               for garnishing
Preparation for Chicken 65 masala
Wash the boneless chicken in hot water and cut it.
Soak Kashmiri red chilies in a bowl in hot water for 5-8 minutes, when softened, make a paste.
In a large bowl, add ginger garlic paste, Kashmiri red chili paste, curd, turmeric powder, coriander powder, and chicken masala powder and mix well.
Marinate the boneless chicken in this mixture and leave it for about 2 hours.
* You can also keep marinating chicken in the fridge for 12 hours, this will improve its taste.
How to make chicken65 recipe
Now heat the oil in a deep-bottomed pan over the gas, and slowly add two to three marinate chicken pieces and fry.
Do not put all the chicken pieces together in the oil and do not slow down the heat, otherwise, the chicken pieces will not be crispy.
When the chicken pieces are well fried on one side, flip it and fry it on the other side.
Take out the chicken pieces with the help of a skimmer and put in a paper napkin, which removes excess oil.
If you like it dry then dry chicken 45 is ready. Serve it with onion lemons and green chutney.
Chicken 65 Gravy recipe
Heat the oil in a deep bottom pan, when the oil is hot, add ginger, garlic paste and sauté it for about 2 minutes.
Now add curry leaves, chopped green chilies, and fry.
Add 2 spoons Kashmiri Red Chilli paste, add a little water, and mix.
After a little cooking, add lemon juice and salt and mix well.
Now add marinate fried chicken and stir well, so that the mixture is well wrapped in chicken pieces.
Add Chicken masala powder and cook for 2 minutes.
Take your chicken 65 gravy recipe is ready. Garnish it with spring onion and serve hot with onion rings, green chilies. read also.
Main ingredients
Chicken boneless, Curd, Kashmiri Red chili,  Ginger garlic paste, Edible Oil, and Salt.
Keywords
Chicken65, chicken 65 recipe, non-veg, chicken 65 gravy recipe, chicken 65 masala, non-vegetarian.
Read also:
Badam halwa recipe step by step. How to make Chakli at home. How to make Chicken Biryani easy steps. Vegetable Manchurian recipe. Famous south Indian dish Rava appam.  Doodh peda recipe step by step. Mango barfi recipe.  Rajsthani traditional recipe gate ki sabzi. Veg noodles recipe. Chicken masala recipe Dhaba style. Palak chicken curry recipe restaurant-style. Chinese food Spring rolls.
For pin