Veg Noodles Recipe (Vegetable noodles) 
Veg Noodles recipe  | Vegetable noodles | Veg Hakka Noodles Recipe. Vegetable noodles is an Indo Chinese breakfast, which has become a popular street food in India nowadays. Hakka noodles are a children's favorite snack, it is an ideal recipe for children's tiffin with breakfast in the morning or evening. Vegetable noodles are a healthy recipe and people make it in many ways. In this recipe noodles and sliced ​​veggies are cooked in light oil, sauce, and toppings to make it tasty and attractive. Vegetable noodles recipe (Veg Hakka Noodles Recipe) is a good choice of morning breakfast.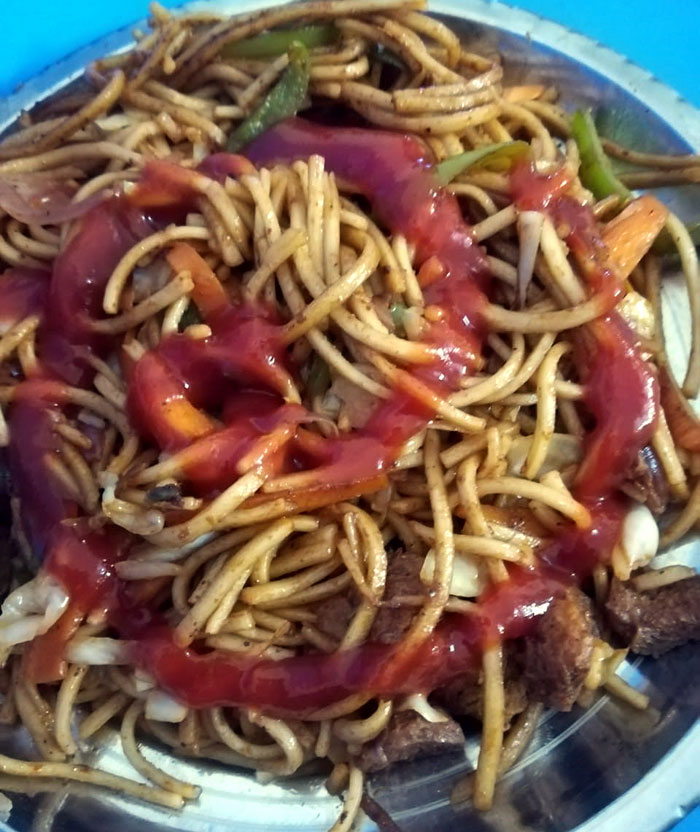 Preparation time                  10 minutes
Cooking time                         15 minutes
Total time                               25 minutes
Serve for                                 04
Difficulty level                       Easy
Course                                      Breakfast
Cuisine                                    Indo-Chinese Breakfast
Ingredients for Veg noodles
Noodles                                     150 grams
Soy nuggets                             100 grams
Garlic                                          3-4 cloves (finely chopped)
Ginger                                        01 inch (finely chopped)
Green chilies                           2-3 (finely chopped)
Onion                                         01 medium size (chopped)
Capsicum                                  01 (finely chopped)
Carrot                                         01 (finely chopped)
Green peas                              1/4 cup (Optional)
Cabbage                                    1/2 cup (finely chopped)
Spring onion                            1/4 cup (finely chopped)
Tomato Sauce                         02 Tbsp (Optional)
Soy Sauce                                  1 Tbsp
White vinegar                         01 tsp
Chili Sauce                                01 Tbsp
Oil                                                03 tbsp
Salt                                              as required
Preparation for veg noodles recipe
Heat the water in a large pan and when the water starts boiling add a little salt to it.
Now add the noodles according to the above-mentioned quantity and add one spoon of oil and mix well.
To cook the noodles well, try to check whether it is cooked or not by pressing some noodles. If not cooked, let it cook.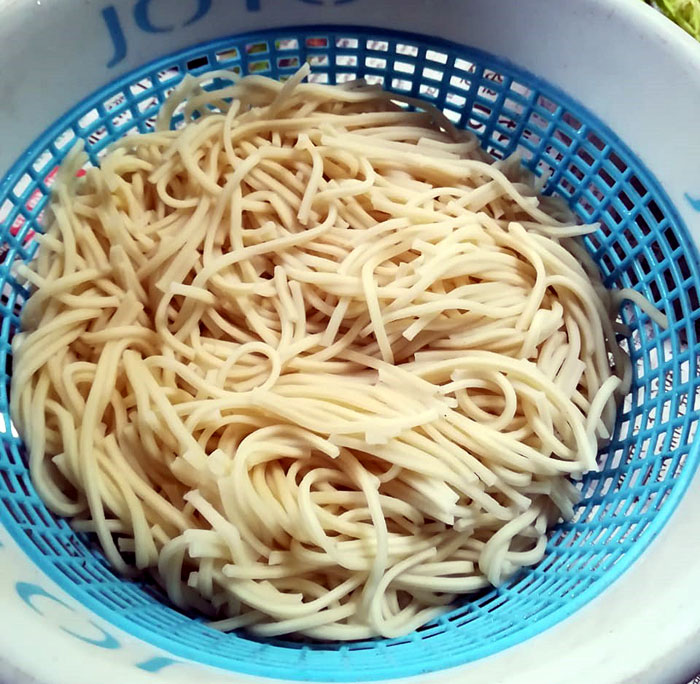 After cooking the noodles, flip it over the sieve to remove excess water. Now wash it twice with clean water.
Now keep it aside in a sieve and leave it for some time.
Rinse all the vegetables thoroughly and finely chop in a plate, keep it aside. Now your preparation is complete. Apart from these vegetables, you can also use other vegetables.
Finely chop garlic and ginger and keep aside in a bowl.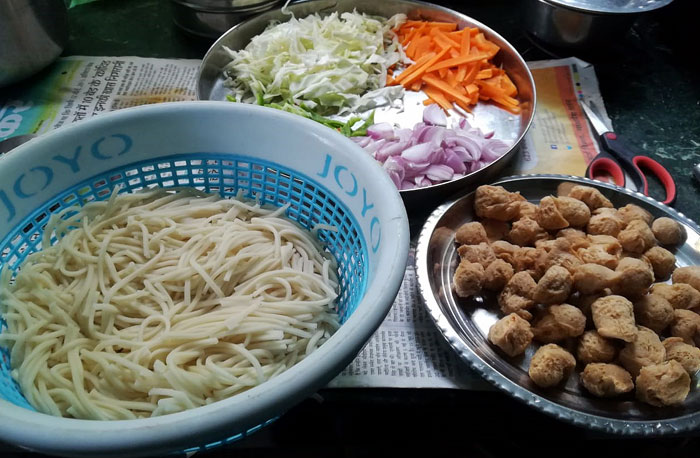 Heat the water well in a pan and add soy crunch100 grams, take it out after about 5 minutes and squeeze the water from the soy crunch by pressing it with the palm. After squeezing the water from the whole soy crunch, set aside.
Veg noodles recipe
Add oil to a pan and heat it. When the oil is hot, add finely chopped garlic and ginger, and reduce the heat to medium. Roast it for few seconds.
Now add chopped onions to the pan and stir continuously until it becomes light brown.
Add chopped veggies (carrots, capsicum, and cabbage) and fry for 2 to 3 minutes.
Toss it continuously and keep stirring, while keeping the flame medium to high.
Cook the vegetables until they become completely soft.
When the vegetables are fully cooked, add the soy sauce, and stir well. Now add black pepper powder and salt to it and stir well.
Now add cooked noodles and soy nuggets, and mix well.mix well. Continually tossing and stirring the noodles.
Cook for 1-2 minutes and add white vinegar, tomato sauce, and chili sauce and mix well.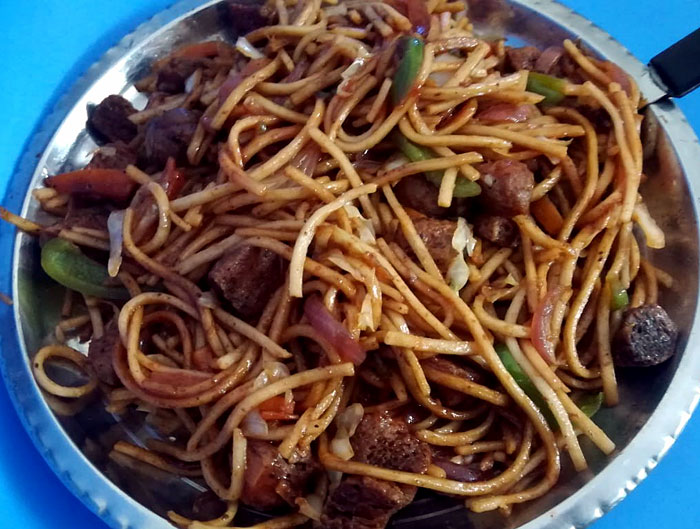 Now your veg noodles (Veg Hakka Noodles Recipe) are ready, add chopped spring onions to it, and serve.
* Adding tomato sauce gives a slightly sweet taste to the noodles, if you don't like don't add tomato sauce.
Main ingredients
Noodles, Soy nuggets, Garlic, Ginger, Green chilies, Onion, Vegetables, Soy Sauce, vinegar, Chili Sauce, Oil, and Salt.
Keywords
Veg noodles, Vegetable noodles, noodles, Breakfast, Indo-Chinese dish., Veg Hakka Noodles Recipe.
Read also
Upma recipe step by step. Veg kothe recipe at home. Rava appam recipe step by step. banana pancake recipe easy steps. Badam Halwa recipe for your birthday party. Pav sandwich recipe Mumbai style.  Raw mango chutney recipe. Doodh peda recipe step by step. Gatte ki sabzi: Rajasthani dish.
For pin