Chicken Curry Recipe
How to make Chicken Curry | Chicken Curry Recipe. Chicken curry is a popular North-Indian non-veg recipe. Spices like turmeric, coriander, cumin, cinnamon, and red chilies make it spicy. People use it on special occasions or at home parties. If you are fond of eating non-veg and spicy then this recipe is a good option for you.
In this recipe, chicken pieces are cooked in tomatoes, onions, and spicy curries, cardamom and cinnamon add to its aroma. This is my grandmother's favorite recipe, even today when the whole family gathers, we do not forget to make it.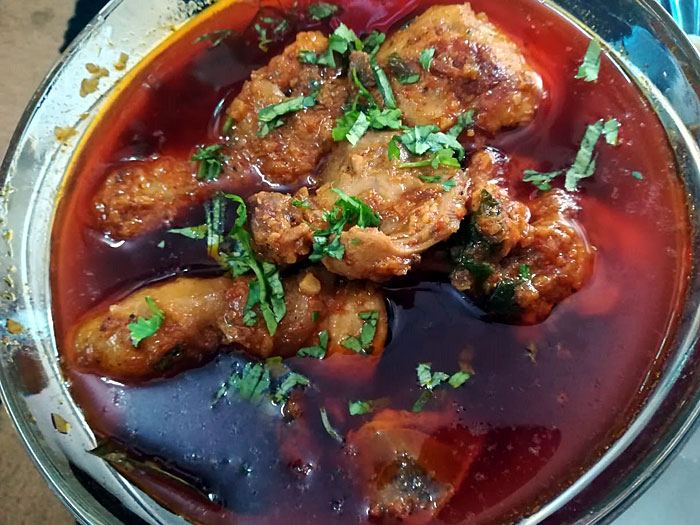 Preparation time                          15minutes
Cooking time                                 45 minutes
Total time                                        60 minutes
Serve for                                         05
Difficulty level                               Easy
Course                                              main  (non-veg recipe)
Cuisine                                             North Indian dish
Ingredients Chicken Curry
For marinade chicken
Ginger                                              01 inch long piece (make a paste)
Garlic                                                 4-7 cloves (make a paste)
Turmeric powder                         02 tsp
Salt                                                     to taste
Kashmiri red chili powder        02 tsp
Chicken                                            500 grams (cut into medium pieces)
Ingredients for curry
01 cup = 250 ml
Coriander seeds                           01 tsp (whole)
Cumin seeds                                  01 teaspoon
Kashmiri Peppers                         5-6
Cinnamon stick                             01 inch
Cloves                                               5-6
Black pepper                                  5-6
Bay leaves                                        2-3
Green chilies                                  4-5
oil                                                      04tbsp
Onion                                                01 big size (Finely chopped)
Preparation for Chicken curry recipe
Wash the chicken thoroughly with warm water and cut the medium pieces, and set aside in a bowl.
Make a ginger garlic paste and cut the onion, tomatoes and keep them aside.
Heat the 1 tbsp oil in a pan, then reduce the heat, add cumin seeds, coriander seeds, clove, Kashmiri chili, and cinnamon and roast it, let it cool down when the aroma starts coming from the spices.
When the spices cool down, grind it with a little water in a saucepot, when it is smooth, take it out in a bowl.
For Marinate Chicken  
In a large bowl, add 2 tsp turmeric powder, 2 tsp red chili powder, ginger-garlic paste, 1 tbsp oil, and salt as per taste and mix well (remember to add salt in curry too). Add chicken pieces to it and wrap it well, keeping it aside.
Chicken Curry recipe
Pour oil in a heavy-bottomed pan and heat it, when the oil is well heated, turn the flame to medium. Add bay leaves in hot oil, then add green chilies and sauté, now add onion and fry until light brown.
Add chopped tomatoes and sauté.
Then add spice paste to it and keep stirring, after some time the spices will start to smell and no oil will appear on the top.
Add marinated chicken pieces and mix well to the spices. Let it cook for about 5-7 minutes. Add a little water and mix well, keep the flame medium.
Now add salt and cover the lid and cook for about 15 minutes.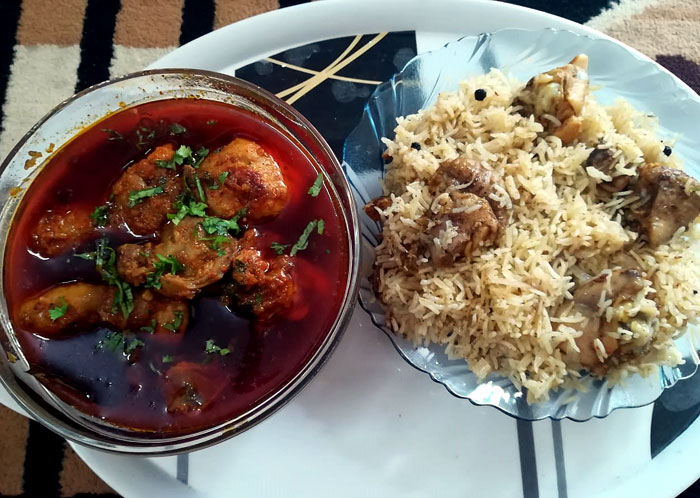 Turn off the gas Now your chicken curry recipe is ready, garnish with green coriander and serve hot with roti or rice.
Main ingredients
Chicken,  Ginger, Garlic, turmeric, Kashmiri red chili, salt, and oil.
Keywords
chicken curry recipe, chicken curry, non-veg,
Read also
How to make Spring rolls. Banana pancake recipe step by step. How to make Palak Chicken Curry recipe. Pav sandwich recipe. Moong daal Mangode recipe step by step. Doodh peda recipe at home. Tehri recipe: a traditional recipe of North India. Coconut Barfi recipe easy steps. Spinach broccoli saag recipe.  Gatte ki sabzi: a traditional food of Rajasthan.
For pin