Mathri Recipe (Salted Crackers)
Mathri Recipe | How to make mathri | Salted Crackers. It is a popular North Indian snack recipe, in the olden day's people used to like to eat it with tea, even today in India, they like it with tea. Crispy Mathri is prepared with suji, ajwain and hing and eaten with tea. Mathri is specially prepared in Diwali, Holi, or in other major festivals.
Click to see the recipe in Hindi.
Mathri is also called Matthi by many people, it is a popular Indian snack and does not deteriorate for long. Once you make it, keep it in an air tight jar and enjoy tea when there is a desire. Although it is very easy to make but to make it crispy and tasty it is necessary to know the right balance and method of ingredients.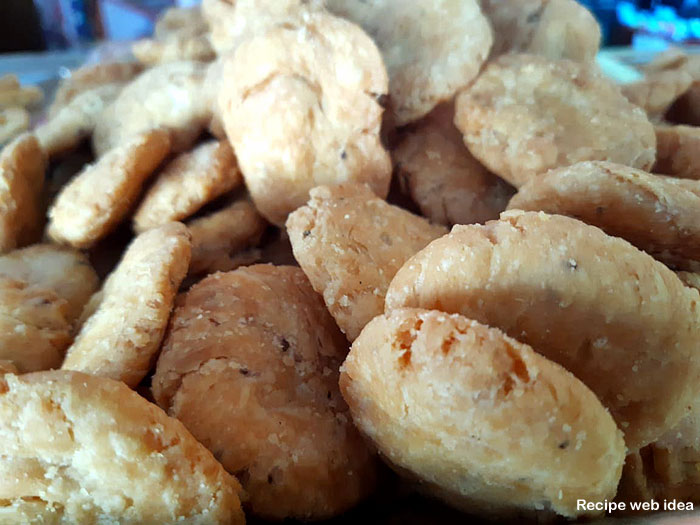 Preparation time                        15 minutes
Cook time                                     30 minutes
Total time                                     45minutes
Serve                                              06
Difficulty level                             easy
Course                                            Snacks
Cuisine                                           North  Indian
Ingredients for mathri recipe
All-purpose flour (maida)        01 cup
Refined oil                                    01 cups (for frying Matthi)
Red chili powder                        1/4 teaspoon
Semolina                                       02 tablespoons
Ajwain  (celery)                          1/2 Spoon
Asafoetida                                    01 pinch
Oil                                                     01tbsp (for dough)
Salt                                                   as needed
Water                                             as required
How to make Mathri
To make this popular Indian snack, first of all, mix all-purpose flour (maida), semolina, and ajwain in a large bowl and mix well.
Now add 1/2 teaspoon red chili powder, 1 pinch asafoetida, and salt as per taste, mix this whole mixture well. Semolina has been used to make it crisp.
Add one tablespoon of oil to this mixture and rub the mixture between the palms and mix well, mixing it well so that the oil gets incorporated into the entire mixture. You must add oil to the flour, otherwise, your mathris will not become crispy.
Now add water as required and knead the dough well, make sure a tight and stiff dough is prepared like a poori. Cover the prepared dough with a cloth and let it rest for about 30 minutes. you
Make small balls of dough and press them flat with your palm, do some holes with the help of a fork. Make a hole by flattening all the balls and keep aside.
Now heat the oil in a pan, reduce the heat when the oil is well heated. One by one slowly pour in some Matthi oil and deep fry.
Cook Mathris on low heat so that it cooks well inside. When their color starts to turn light brown then take it out and put it in a paper napkin so that the excess oil comes out.
Similarly, fry all the mathris and put them in paper napkins.
Now your crispy mathris are ready, eat it with hot-hot tea.
If you have prepared more mathris then cool it and keep it in an airtight box, it does not deteriorate for about 1 month.
When you want to eat, then make hot- hot tea and enjoy it with mathri.
Suggestion
Crispy Mathri is ready to be mixed with oil and semolina.
The oil should be hot enough to fry them, otherwise, they will drink the oil and the Matthi will not be good.
Knead its dough hard and fry on low heat.
Main Ingredients
All-purpose flour (maida),  Semolina, Refined oil, Red chili powder, Ajwain, Salt.
Keywords
Mathri recipe, Mathri, Matthi recipe, Indian snacks, Salted Crackers, Matthi.
Read also:
Paneer korma recipe step by step. How to make spring rolls. How to make tehri recipe easy steps. Palak chicken curry recipe step by step. Cucumber raita recipe easy steps. Famous street chaat : Aloo Tikki. double-layered chocolate barfi at home. Dry fruits stuffed peanuts roll. How to make Patiala aloo recipe .
For pin: