Double layer coconut Burfi recipe
Double layer coconut burfi recipe | Coconut barfi with milk powder | coconut barfi recipe. You must have tasted the old post of nariyal barfi. Today we are telling you how to make double layer coconut delicious barfi. This is an easy barfi recipe. We have made a slight change in the way of making. This barfi, made in white and green colors of coconut, is attractive to look at and children like it very much. Diwali is going to come, so you must make this recipe, you will not need to take from the market.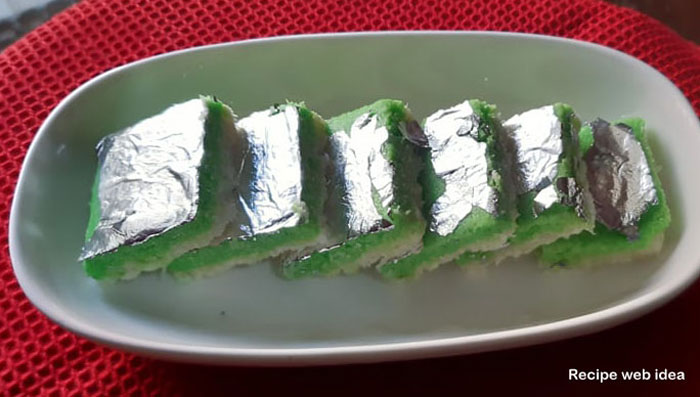 Preparation time                        10minutes
Cooking time                               30minutes
Total time                                      45 minutes
Serve for                                       21 pieces
Difficulty level                             Medium
Course                                            Sweet recipe
Cuisine                                           Indian dessert
Ingredients for Coconut Barfi recipe
To white layer
Coconut                                         100 grams (grated)
Milk Powder                                200 grams
Sugar                                               200 grams
Cardamom                                     3-4 (crushed)
For the green layer
Coconut                                         100 grams (grated)
Milk Powder                                200 grams
Sugar                                               200 grams
Cardamom                                    3-4 (crushed)
Rosewater                                   3-4 drops
Green food color                       3 drops
silver file                                        to decorate
How to make Coconut Barfi mixture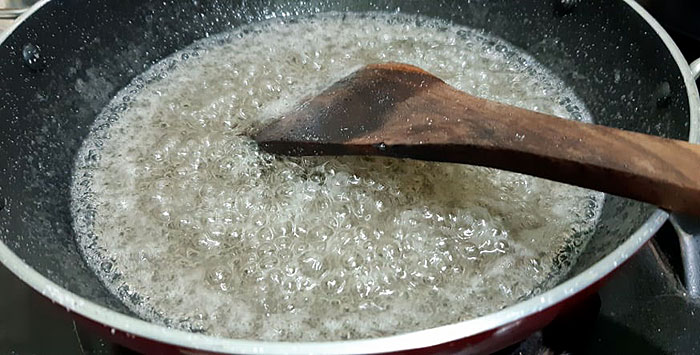 First, in a pan, mix sugar and water according to the above volume and turn on the gas. Keep stirring it until the sugar dissolves completely.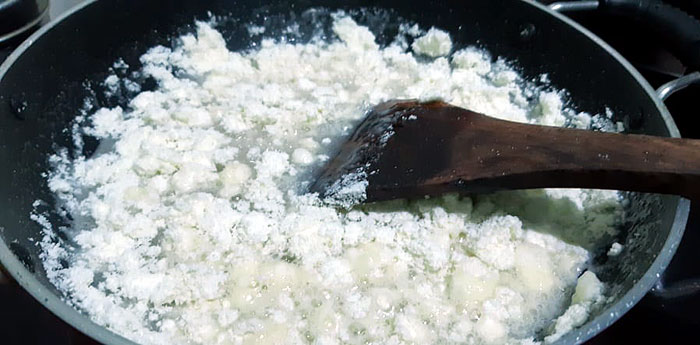 When the mixture becomes thick, add milk powder and stir continuously. Keep the flame medium at this time.
Now take coconut powder (narial powder) and pour it according to the above quantity.

The sugar mixture thickens in about 5 to 7 minutes.

After about 5-7 minutes, the mixture will separate from the pan. At this time the mixture will start to take shape due to being thick.

Add cardamom powder, rose water to it and keep stirring.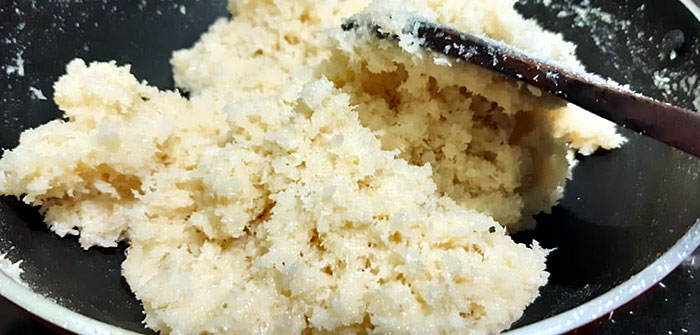 Now your burfi mixture is ready, grease the surface of a plate and transfer the mixture.
How to make double layer Coconut Burfi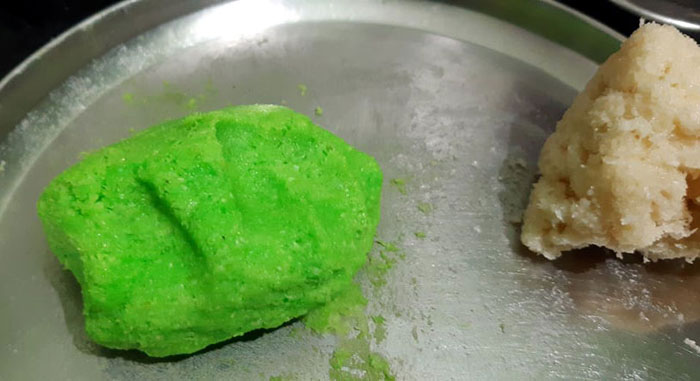 Divide the prepared mixture into two equal portions, add liquid green color to one part of it, and mix well.
Leave the second part white.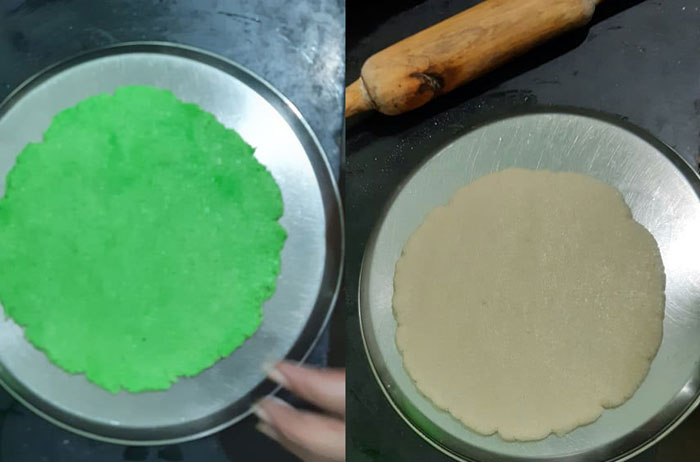 Grease a plate with ghee inverted and roll the first white colored mixture with the help of a rolling pin.
Grease another plate with ghee and roll the green-colored mixture with the help of a rolling pin.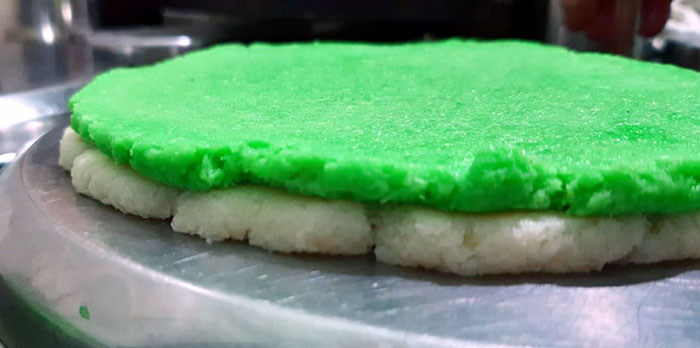 Now place the green layer on top of the white layer and press it lightly.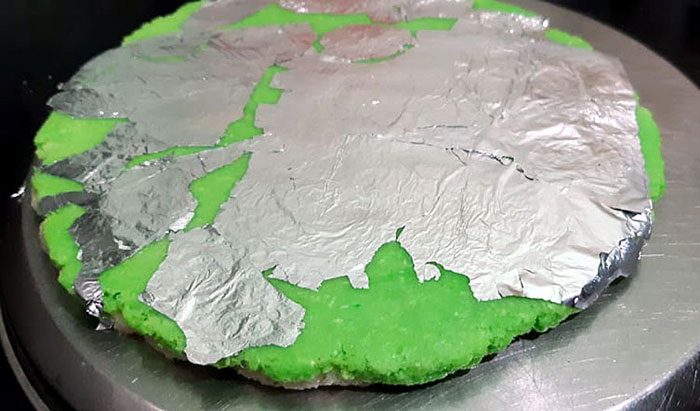 Spread the silver file above this layer and make a mark for cutting. Do not separate it.
Leave it for about half an hour to dry slightly in the open air.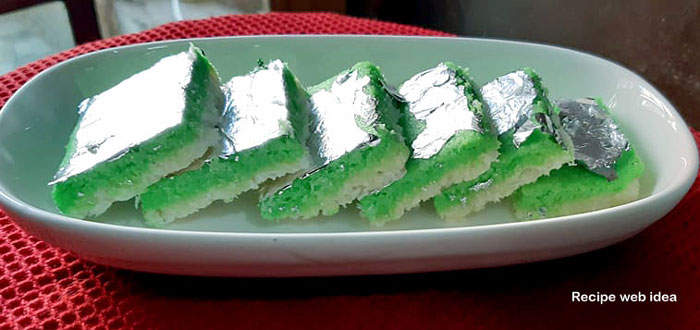 Now your double layered Coconut Barfi is ready, separate it and serve with Namkeen.
Keep Coconut Barfi in an airtight container, you can use it for about 8-10 days.
Suggestions
In double-layered Coconut Burfi we have used green color, you can use any color you like.
We have used a rolling pin to make burfi, you can also make it by shifting one layer over another.
If you use the appropriate method, then cook the mixture for 10-15 minutes so that it can be hardened well.
Main ingredients
Coconut powder, milk powder,  Sugar, cardamom,
Keywords
Diwali, Indian dessert, Narial Burfi, Sweet dish, Coconut barfi,  Double layer coconut Burfi
Read also
How to make milk peda. Punjabi Lachha paratha recipe step by step. Chocolate barfi recipe step by step. Dry fruits stuffed peanut rolls recipe. Punjabi chana chole recipe Dhaba style. kalakand recipe step by step. Mathri recipe: Diwali snacks. How to make mango barfi. Lab E Shireen recipe easy steps. Stuffed bharwa Bhindi recipe step by step.  Chle bhatoore recipe: Famous street food.
For pin: