Bharwa Bhindi (Stuffed bhindi recipe )
Bharwa Bhindi | stuffed bhindi recipe | Stuffed bhindi fry. All the stuffed vegetables have their own place in India, Stuffed okra (bharwa Bhindi ) is also a popular Indian spicy dish, to make it, the ladyfingers are cut from the middle and filled with spices. This spicy dish can be served with roti, paratha, or main meal. Stuffed bhindi fry does not deteriorate for 1 to 2 days, its contents are also easily found.
Bhindi (okra) made in a simple way is also very liked by people, I like both Stuffed bhindi fry and ladyfinger gravy. People make Bharwa Bhindi (Stuffed bhindi fry) in many ways, we are sharing an easy recipe for you.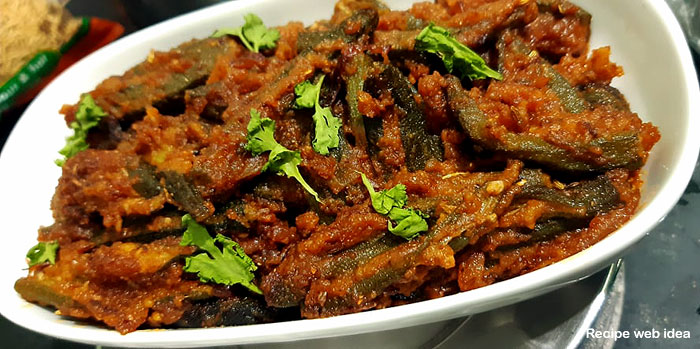 Although everyone makes stuffed bhindi fry (bharwa bhindi) recipe, it is a simple recipe, but some tips are required for the perfect taste and look. Okra should be very fresh and soft, it is not good to eat due to the fiber in a more mature ladyfinger. Often the ladyfinger vegetable becomes sticky, for this, wash the ladyfinger well in advance and keep it under the fan for 1 hour. We have filled the ladyfinger in big pieces; you can cut the entire ladyfinger in the middle and fill it with spices.
Preparation time                          25 minutes
Cook time                                       20 minutes
Total time                                        45 minutes
Serve                                                04
Difficulty level                               Easy
Course                                              Side dish
Cuisine                                             Indian
Ingredients Stuffed bhindi fry
Ladyfinger / Okra/ Bhindi         300 grams
Cooking oil                                      3 tablespoons
Cumin seeds                                  1 tsp
Green chilies 2-3 (cut into length)
Bay leaves                                       02
Onion                                                01 (finely chopped)
Seasoning for stuffing
Gram flour                                      02 tablespoons
Kashmir chili powder                  01 tsp
Turmeric powder                         01 tsp
Coriander powder                       01 tsp
Lemon juice                                   01tsp
Cumin Powder                              1/2 tsp
Garam Masala                              1/2 teaspoon
Asafoetida                                      a pinch
Salt                                                     to taste
Ginger                                              01 inch piece (make a paste)
Garlic                                                 4-7 cloves (make a paste)
Oil                                                       01tbsp
How to make stuffed okra ( Bharwa bhindi recipe)
Wash the ladyfinger and spread it in the paper and keep it under the fan.
you can also wipe it with a clean cloth and leave it for some time, make sure that the lady's finger has dried well.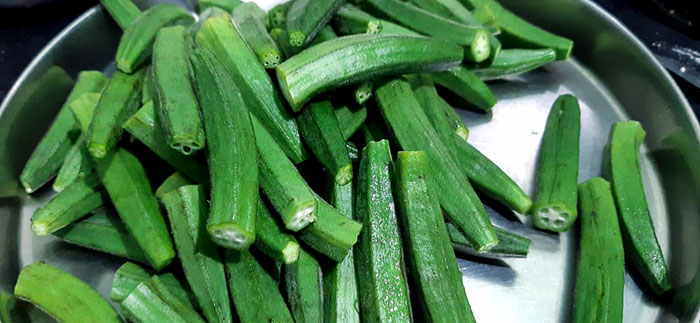 When the okra is dry, cut the front tip and the back of the ladyfinger and separate it.
Likewise, cut all the okra, now cut the okra in the entire length from the middle, and should be combined at the other end. Cut all the ladyfingers and keep them aside.
Make a paste of ginger garlic and set aside in a bowl.
Now add coriander powder, turmeric powder, cumin powder, Kashmiri red chili powder, lemon juice, asafoetida, garam masala, and salt in a large bowl and mix well.
Mix all the spices together with a spoon, add Gram flour 2 tablespoons and 1tablespoons oil to it and mix well. Now the stuffing is ready for the lady's finger.
Now lift the ladyfinger one by one and stuff it with the prepared spices. Similarly, fill all the ladyfingers and keep them aside. Fill a generous amount of spice, not too much or less.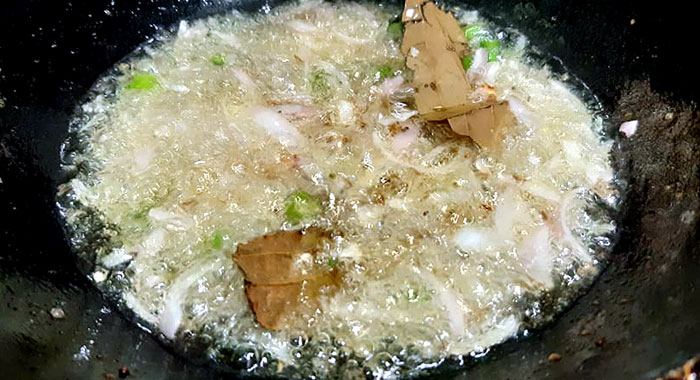 Heat 3 tablespoons of oil in a pan, when the oil is hot, reduce the flame to medium, add cumin seeds, then add bay leaves and cook. Add chopped onions and green chilies and stir until light brown in color.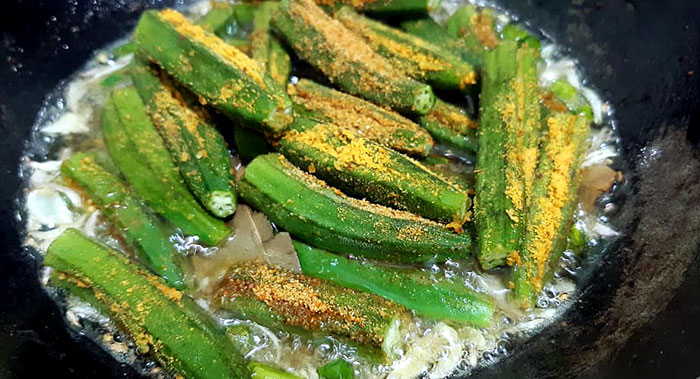 Now add stuffed ladyfinger to it and cook it for 2 minutes, turn the ladyfingers and let it be two minutes.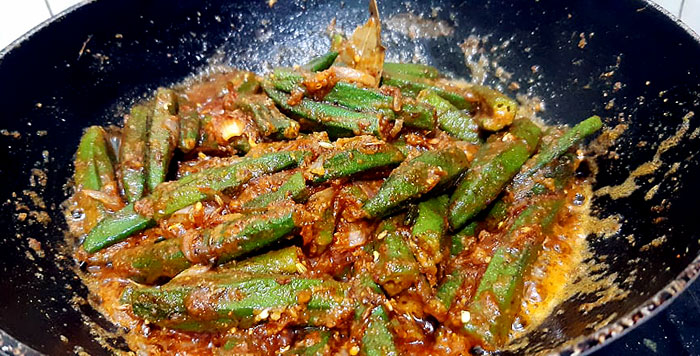 Cooking for 4 to 5 minutes, see the ladyfingers become soft or not. Take it out in a bowl.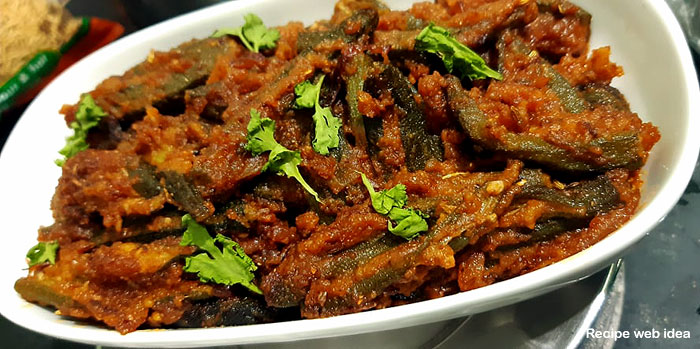 Now your stuffed bhindi (Bharwa bhindi recipe) is ready, garnish it with green coriander and squeeze the lime juice and serve hot-hot with roti, paratha, or rice-dal.
You can also use mint leaves and lemon wedges to decorate.
Suggestion
After washing the okra, dry it well or wipe and cut, then fill the masala.
You can also make stuffing without gram flour.
You can also add mango powder (dry mango powder) instead of lemon juice.
Main ingredients
Ladyfinger / Okra/ Cooking oil, Onion, Gram flour, Lemon, Ginger Garlic paste, and Salt.
Keywords
Stuffed okra recipe, Bharwa Bhindi, Okra recipe, stuffed bhindi recipe,  stuffed okra fry, Stuffed bhindi fry.
Read also
How to make Mangode. Tandoor chicken recipe Dhaba style. How to make Chakli recipe. Spinach masla poori recipe. Punjabi lachha paratha recipe step by step. Chicken 65 recipe step by step. Veg Manchurian recipe easy steps. Cheese balls recipe: easy morning breakfast. Bharwa baingan recipe step by step. Vanilla cake recipe easy steps. Poi pakoda recipe step by step. Cabbage kofta recipe at home.
For pin