poi pakora recipe (Malabar spinach fritters)
How to make poi pakora | poi pakora recipe | Malabar spinach fritters. Poi leaves of Malabar spinach are very easily available in the Asian market. You must have tasted the pakoras made from spinach leaves, the way to make it is almost the same. You can enjoy this delicious freighter during the rainy season. Besan batter with poi leaves is deep-fried, which can be eaten with green coriander chutney or tomato sauce.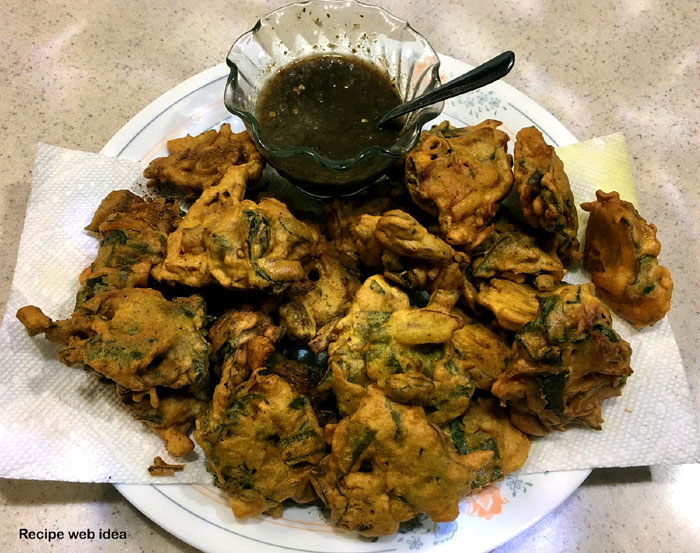 Preparation time                          15 minutes
Cooking time                                 25 minutes
Total time                                        40 minutes
 Serve for                                        04 members
Difficulty level                               Easy
Course                                              Appetizer, Snack
Cuisine                                             Punjabi traditional recipe

Ingredients for Poi pakora (poi Fritters ) 
Poi leaves                                        01 bunch (about 200 grams)
Besan                                                200 grams
Rava or semolina                          1/2 cup
Rice flour                                         01tbsp
Red chili powder                          01 teaspoon
Turmeric powder                         01 teaspoon
Chaat Masala                                 01 teaspoon
*You can also add garam masala 1/2 teaspoon.
Baking Powder                              1/4 teaspoon
Ginger garlic paste                       02 tablespoons
Salt                                                     to taste
Edible oil                                          for frying
Check out other popular pakora recipes that you can enjoy during the rainy season.
Palak pakora recipe,  moong dal mangode recipe,
What is poi
Poi is also known as Malabar Spinach, its two varieties are found green and red. Its leaves are used in food. Poi (Basella alba) is a fast-growing soft vine, it grows to a length of about 10 meters. Its leaves are thick and succulent, heart-shaped. The leaves are rich in vitamins A and C, iron and calcium. It also has antioxidant properties.
Preparation for Poi pakora
Wash poi leaves thoroughly with running water.
Remove the stem from the leaves and cut its thick leaves and keep them in a bowl.
Make ginger garlic paste and keep aside.
How to make poi pakora (Malabar spinach fritters)
Take gram flour (Besan), rice flour in a large bowl as per the above-mentioned quantity, and mix well.
Add this mixing bowl chili powder, turmeric powder, and garlic paste, and mix well.
Now add baking powder and salt as required and slowly add water and make a medium consistency batter. Allow this mixer to rest for 10 to 15 minutes.
After about 10 to 15 minutes your batter is ready, mix it well once again.
Heat the oil in the pan, once the oil is hot, turn the flame to medium.
Pour the poi leaves in the batter and with the help of the palms, make round balls into the hot oil. When the pakoras turn light golden brown on one side, fry them.
Take out the fried pakoras and place it on tissue paper, so that its excess oil comes out.
Likewise, fry all the poi pakoras. Poi pakoras are ready, sprinkle chaat masala over it and serve hot with green, red chutney or tomato sauce.
Suggestions
Allow the poi pakoras to get hot enough to fry, otherwise, the pakoras will drink oil and will not taste good.
Using baking soda will make you crispy.
Main ingredients
Poi 01 bunch, Besan, Rava,  Rice flour, Baking Powder, Salt, oil.
Keywords
poi pakora, Malabar spinach fritters., Pakora recipe,
Read also
How to grow banana pancakes. Bread cake recipe step by step. How to make chakli recipe. Cheese balls recipe step by step. Chicken 65 recipe step by step.  Cucumber raita step by step. Bread cake recipe step by step.  Anarse: The traditional recipe.  Moong dal mangode recipe easy steps.  Cabbage kofta recipe Dhaba style. Fara recipe: most favorite traditional snacks. Poha recipe step by step. Rava appam recipe easy steps. Chicken curry recipe Dhaba style. Spinach broccoli recipe.
For Pin: