Poha recipe
How to Make Poha recipe | Kanda Poha recipe | Indian snacks. On hearing Poha's name, I am reminded of Indore and Bhopal in Madhya Pradesh, I think people in Indore and Bhopal start day with the breakfast of Poha and Jalebi. Poha is an easy, tasty, and quick-to-prepare street food. In Maharashtra, it is known as Kanda Poha recipe.
In this, the beaten rice is soaked in water and tenderized with onions, potatoes, green chilies, and curry leaves, later poha masala, lemon juice, and garnished with green coriander. This is a quick recipe that you can make immediately when there is a sudden arrival of guests or if there is no breakfast, you can make it immediately.
Preparation time                              05minutes
Cooking time                                     20minutes
Total time                                            25 minutes
 Serve for                                            04 members
Difficulty level                                   Easy
Course                                                  Breakfast
Cuisine                                                  Indian Food
Ingredients for Poha recipe
Poha                                                      250 grams (beaten rice)
Onion                                                    01 Medium Size (Chopped)
Potato                                                  01 medium size (chopped)
Green Chillies                                    2-3 (chopped)
Green peas                                        1/2 cup  (fresh /frozen)
Sugar                                                     01 spoon
Groundnut                                         01 tbsp (you can add cashew lentils to make it rich)
Turmeric powder                             01 tsp
Coriander powder                           01 tsp
Curry leaves                                       5-6
Edible oil (soybean or other)       02 tbsp
Lemon juice                                       01 tsp
Salt                                                         to taste
poha masala                                       01tsp
To garnish
Fresh coriander leaves                  1/2 cup (chopped)
Lemon wedge                                   6-7
How to make poha
Prepareation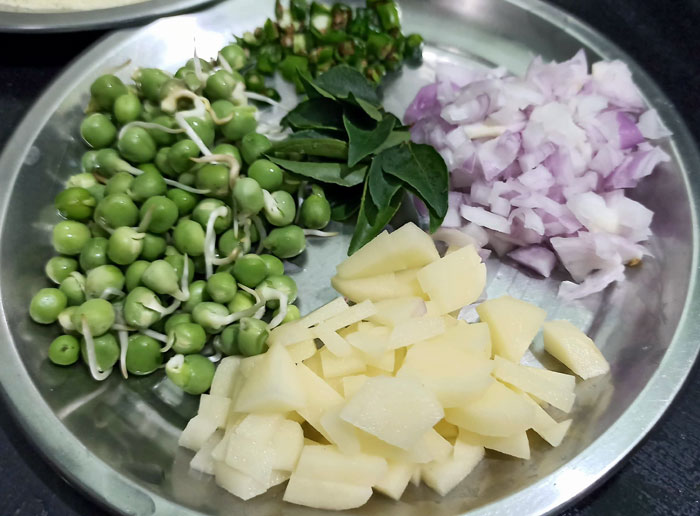 Cut potatoes and onions and keep them in separate pieces, cut green coriander leaves in another bowl.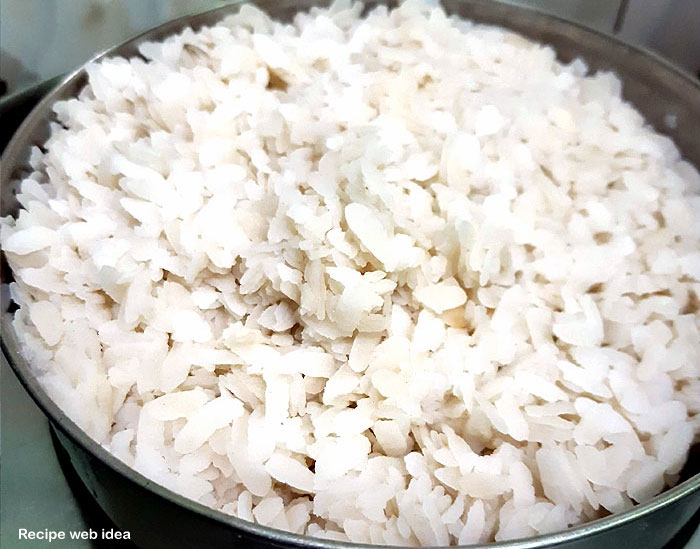 Rinse 250-gram Poha in a sieve with running water, wash 1-2 times, do not get too wet otherwise the beaten rice will become sticky. Leave the soaked poha for 7-8 minutes, so that the excess water is removed.
Heat 2 tablespoons oil in a pan, add 1 tsp mustard seed. When the mustard starts to crackle, add chopped potatoes to it and cook for two minutes. Put the potatoes in the oil first because potatoes take longer to cook in oil.
Cut the potato in any size, but do not cut too big a piece otherwise it will remain raw inside.
Now add chopped onions, green peas, and green chilies and cook for 2 minutes.
When the onion starts to turn slightly brown in color, add onions, peanuts according to the quantity above, and fry well.
Now add curry leaves and roast, after roasting for about 2 minutes, add turmeric powder and coriander powder to it and mix well.
Cook the potatoes and the onions in a medium flame.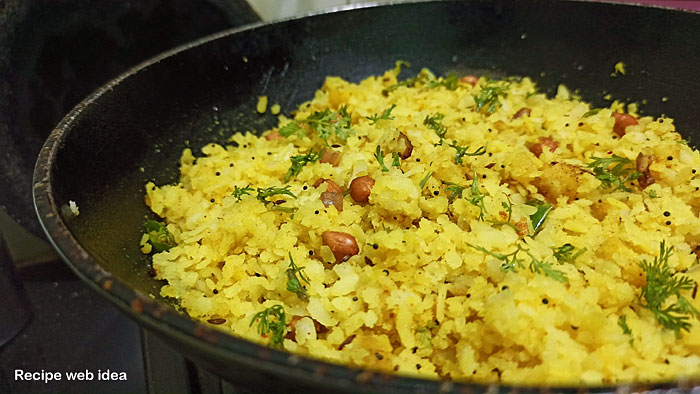 Now add soaked beaten rice to the water and add salt, 1 tsp sugar, and stir well. Cook it on medium heat.
Now add lemon juice and stir well. Now your poha is ready.
Serving idea poha recipe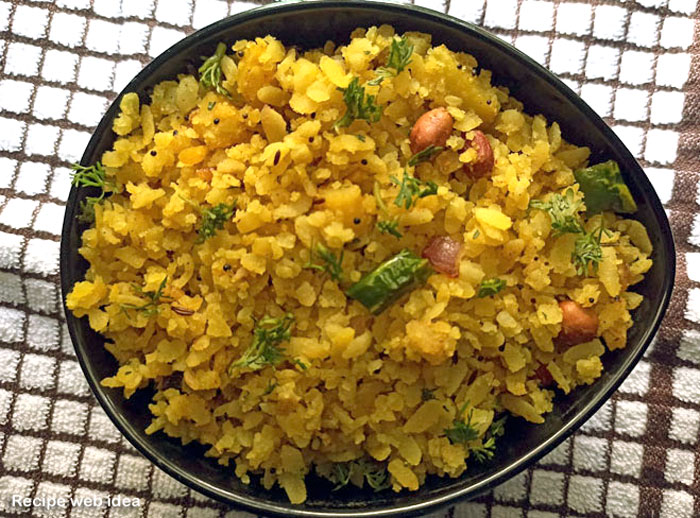 Remove it in a separate bowl and garnish with chopped green coriander and lemon wedges and serve hot.
Suggestions
Do not soak the poha in water for too long otherwise, it will become wet.
Poha masala comes in the market for beaten rice, if not, then chaat masala can also be pulsed.
Thin, thick, and medium types of poha are available in the market, medium type of poha is best for this recipe.
Main ingredients
Poha (beaten rice), Onion, Potato, Groundnut, turmeric, coriander powder, Edible oil, and salt.
Keywords
poha recipe, poha, Indian breakfast, street food, Kanda Poha recipe, Indian snacks.
Read also
Vegetable pulao recipe.  Paniyaram recipe step by step. North Indian special Tehri recipe. Bharwan baingan recipe step by step. How to make Chicken 65 recipe at home. Aloo Tikki Chaat recipe step by step. How to make Cheese balls recipe. Badam Halwa recipe step by step.  Coconut barfi recipe easy steps. cabbage kofta recipe. Mumbaiya Pav sandwich recipe.
For pin