Keema Karela Recipe (karela qeema )
You can reduce the bitterness to a great extent by cooking bitter gourd with minced meat. If you like bitter gourd then you will definitely like Keema Keema Karela Recipe (karela qeema ) or Bitter gourd Curry Keema Recipe. This is a very popular recipe made with meat and vegetables, but very few people know this recipe. This bitter gourd recipe is a spicy dish, you can enhance its taste by adding coriander, lemon, and green chilies. Karela qeema is the main course recipe serve with roti, naan, or rice dal.
The combination of bitter gourd and spicy masala with meat will make you feel irresistible but this is what makes it unique. Bitter gourd also has its health benefits. If you try this recipe, you will love it.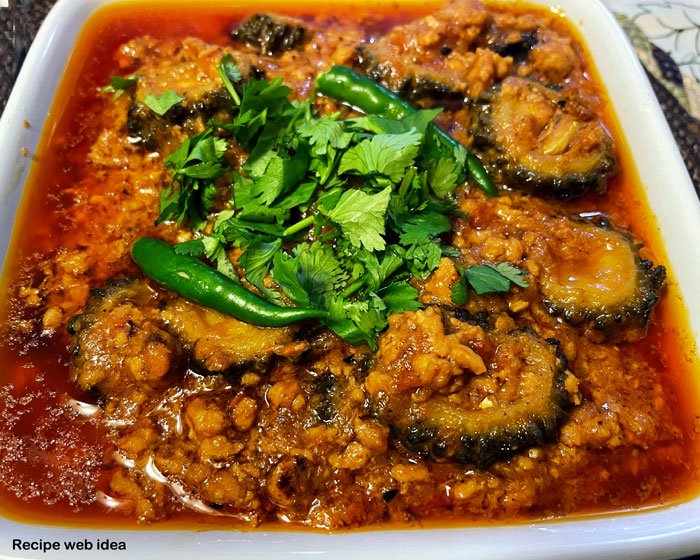 Click here to know our popular Italian recipe.
Bitter gourd curry recipe (Bitter gourd recipe )
Eggplant Parmigiana Recipe (Aubergine Parmigiana) Bharwan karela recipe. ,
Italian peperonata recipe at home.
How to make Vegan eggplant risotto.  
Preparation time                  15 minutes
Cook time                               40 minutes
Total time                                55 minutes
Serve                                        04 members
Difficulty level                       Easy
Cuisine                                     Pakistani food
Course                                      Main Course
Ingreidents for Keema karela
Mutton mince                       1/2kg
Bitter gourd                            03 (chopped)
Kashmiri red chili powder             01 tsp
Coriander Powder               01 tsp
Turmeric Powder                 01 tsp
Black pepper                          1/4tsp (make powder)
Onion                                        2 – 3 (large) chopped
Olive oil                                    04 tbsp
Cloves                                       3-4
Ginger                                      01 inch piece (make a paste)
Garlic                                         4-5 long (make a paste)
Cumin seeds                          01 tsp
Cumin powder                      01 tsp
salt as per taste
Tomato                                    03 (chopped)
Green chilies                          3-4 (chopped)
Coriander leaves                  for garnish (chopped)
Green chilies                         2-3 for garnish
Preparation for Karela Qeema recipe
Wash and clean the bitter gourd thoroughly, cut it into rounds and remove the seeds with the help of a knife. The thickness of bitter gourd cut into rounds should be about 3 mm.

Now put the chopped bitter gourd in a bowl and sprinkle a spoonful of salt on it. Let this bowl rest for about 15-20 minutes. Now wash it thoroughly in running water by rubbing it with your palms.

By doing this the bitterness of bitter gourd gets reduced.

Its outer skin also becomes a little soft. Now squeeze the bitter gourd by pressing it with a fist, so that the excess water is removed from it. Avoid breaking the bitter gourd while pressing.

Now put the pan on the gas, spread some oil, and fry the bitter gourd till it becomes light brown, keep it aside.
Keema karela recipe
Heat oil in another pan, add chopped onions, then add cumin seeds and fry.

Fry the onion till it becomes translucent, now add minced meat and fry till it turns brown.

When the meat is fried, add ginger garlic paste to it and mix well. Now add cumin powder, turmeric powder, coriander powder, and Kashmiri red chili powder and mix.

Add black pepper powder and salt as per taste and cook. Cook it till the aroma of spices starts coming.

Now add finely chopped tomatoes to the mixture. Stir it well and close the lid. Turn the heat to medium and cook for about 10-15 minutes or till the meat is tender.

Now add the roasted bitter gourd to the meat and add about 1 cup of water and mix well. Close the lid and cook again for about 15-20 minutes and simmer.

When the gravy becomes thick and a little oil starts appearing on the edge, then remove it from the flame. Now your minced bitter gourd is ready, garnish with chopped coriander leaves, green chili, and serve hot.
Suggestions
You can use any minced meat of your choice in this recipe.

I have added Kashmiri red chili powder to bring red color to the recipe. You can also add red chili powder or chili flakes as per your availability.
Main  Ingredients
Mutton mince, Bitter gourd, red chili powder, Coriander Powder, Turmeric Powder, Black pepper, Onion, Olive oil, Cloves, Ginger garlic paste, Cumin seeds, Tomato, Green chilies, Cumin powder,  salt, Coriander leaves. read also.
Main keywords
Karela Qeema, Keema Karela Recipe, Karela with Minced Meat,  minced meat with bitter gourd, Keema Bitter gourd Recipe, Bitter gourd Curry Keema Recipe, bitter gourd recipe.
Read also:
How to make Idli, Soth Indian recipe. Bengali Begun Bhaja recipe step by step. Masala Pasta recipe step by step. Pad Thai noodles recipe easy steps. Rajasthani Mirchi vada recipe step by step. Spring roll recipe at home. Vegan Pumpkin meatballs recipe. How to make Masala kaju namkeen recipe. Chicken shish kabob recipe at home. Sweet sesame chicken wings recipe at home. Chicken curry recipe at home.
For Pin: