Baingan Bhaja recipe  (Begun Bhaja)
To make Baingan Bhaja (Begun Bhaja recipe), you choose a slightly larger-sized round eggplant, which is used for Baingan Bharta. This is a very easy recipe, in which spices are wrapped over the round rings of brinjal and fry the salo in the griddle. This baingan recipe is a very tasty recipe which after cooking it is like lightly sweet and tender flesh. Read also.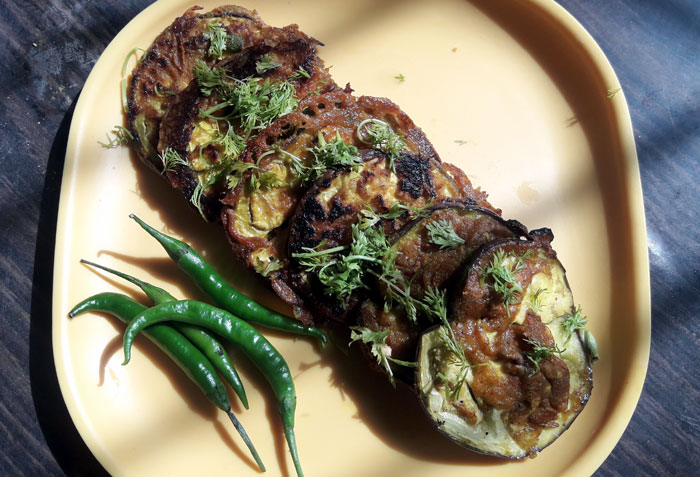 Preparation time                      20 minutes
Cook time                                   25 minutes
Total time                                    45 minutes
Serve                                            03 members
Difficulty level                           Easy
Cuisine                                         Bengali recipe
Course                                         Side dish
Ingredients for Baingan Bhaja recipe
Brinjal                                           250 grams (about 2 brinjals)
Gram flour                                  02 tbsp
Mustard Oil                                for Shallow Frying Baigan Katri
Ginger                                          01 inch
Garlic                                             4-5 clove
Green chili                                  02
Coriander Powder                   01 tsp
Lemon juice                               01 tsp
Chaat Masala                             1/2 tsp
Turmeric Powder                     1/2 tsp
Red chili powder                      1/2 tsp
cumin powder                           1/2 tsp
Asafoetida                                  01 pinch
Green coriander                       03 tbsp (finely chopped)
Salt                                                 as per taste
How to make Begun Bhaja
First of all, prepare a paste of ginger garlic, and green chilli.
Now mix gram flour, ginger-garlic, and green chili paste on a plate. Add coriander powder, turmeric powder, red chili powder, cumin powder, and lemon juice and mix well according to the above-mentioned quantity.
Add salt, chaat masala, asafoetida, and finely chopped green coriander to it and mix well.
Leave the whole mixture for about 10-15 minutes.
Wash the brinjal thoroughly and clean it, now separate the stalk from it, and take it round cut with the help of a knife. The thickness of chopped brinjal should not be too much otherwise it will take longer to cook and may remain raw inside.
Now pick up the round pieces of brinjal one by one and wrap it on both sides with the prepared mixture.
Due to the surface of the eggplant being wet, the mixture sticks well to it. Seasoning with a piece of wrapped brinjal
Place it on a plate, similarly wrap the mixture in all the brinjals.
Shallow fry Baingan Bhaja
Baingan  Bhaja is shallowly fried, for this, heat the griddle. When the griddle gets hot, spread a little oil all over the griddle.
Now put pieces of brinjal on the griddle to fry. Turn down the heat and fry until golden brown. Now flip the Brinjal Katri and let it roast till it becomes golden brown. If this oil is needed while frying, spread some more oil around it.
Now your Baingan Katari is ready, take it out on a plate, similarly, fry all the Brinjal pieces and keep them aside.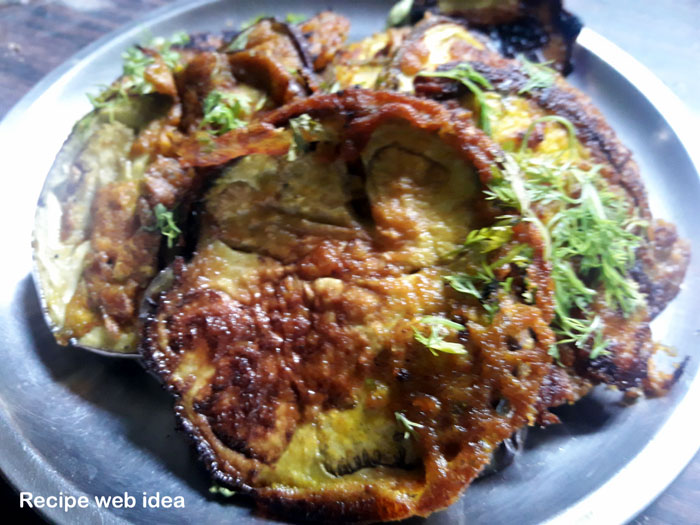 Now your Baingan bhaja (Baingan Katari) is ready, garnish it with green coriander leaves and serve hot with rice, roti, or paratha.
Suggestions
The traditional Baingan bhaja recipe is made in mustard oil, if you do not have mustard oil, you can make it in other edible oil.
Do not cut the slices of eggplant too thin and too thick.
Main Ingredients
Brinjal, Gram flour, Mustard Oil, Ginger-Garlic paste,  Green chili, Coriander Powder, Turmeric Powder, Red chili powder Salt.
Main Keywords
Begun Bhaja, Baingan Bhaja, Baingan Katari,  Bengali recipe, Traditional recipe, Baingan recipe.
Read also:
Mathri recipe step by step. Gatte ki sabzi recipe easy steps. How to make Besan sev.  Green peas Nimona recipe step by step. Rajasthani Mirchi Vada recipe. Onion fritters recipe easy steps. Grilled chicken shish kebab recipe Dhaba style.
For Pin: