Grilled Chicken shish kabob recipe
Want to eat something different? So you try my Grilled Chicken Shish Kebab recipe (shish kabob). Although this recipe is completely different and comes from Turkish, it is also very popular in Britain, America, India, Pakistan, etc. The chicken (thigh or breast) cubes are wrapped in a mixture of yogurt, garlic ginger paste, and spices, and the cubes are grilled for cooking.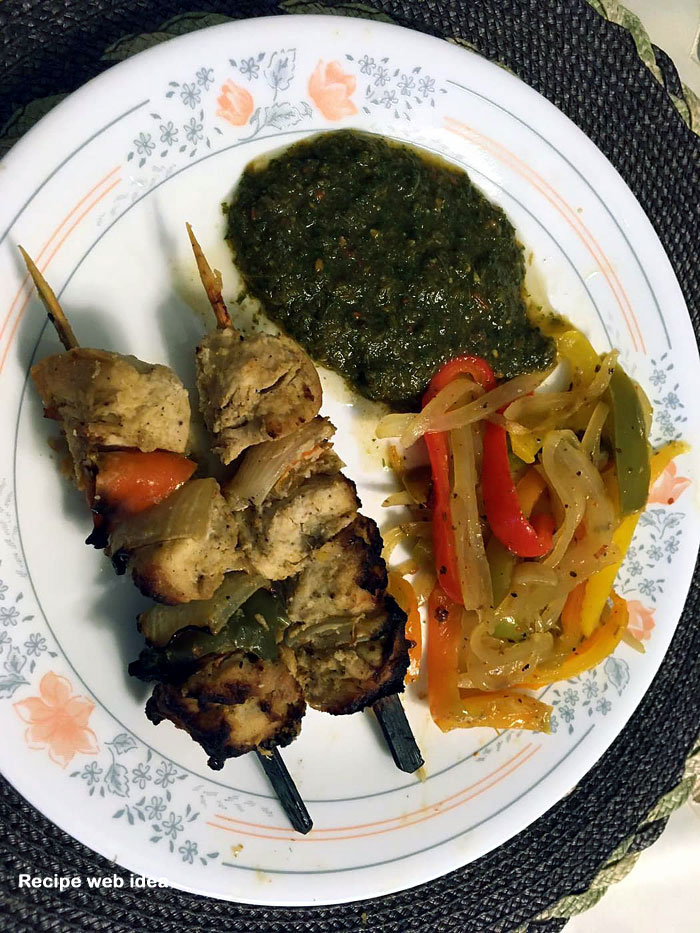 Chicken Shish Kebab is an international dish and is popular all over the world. Although its recipe is easy people are not able to make it and their kebabs are not known to be juicy and tender. We have made it easy and tasty in our recipe with very simple suggestions and simple words.
See one of our famous chicken recipes: Chicken seekh kabab recipe.
Keep these things in mind
There are some challenges to making chicken shish kebabs good. With a few simple tips, you can make it tasty and soft,
for this.
Marinate the meat properly and choose the right size
marinade correctly.
Soak the wood skewers well.
4.Remove less the skewer on both sides.
Indirect temperature.
Soaking your wood skewers
Soaking your wood skewers is an important part of the recipe. Soak your wood skewer in water for a while before grilling, this helps eliminate burnt skewers.
Marinate chicken cubes
Mix yogurt, spices, lemon juice, garlic ginger paste, chili flakes, plain salt, and pepper together and prepare a mixture and coat the chicken cubes well. Keep these marinate cubes in the fridge for 2 hours or 24 hours, then prepare the recipe.
Preparation time                              15 minutes
Cooking time                                     10 minutes
Total time                                            25minutes
Resting time                                       02 hours or 24 hours
Serve for                                             08 members
Difficulty level                                   Medium
Course                                                  Main
Cuisine                                                 Turkish recipe
Chef                                                      Qutub Siddiqui


Ingredients for Chicken Shish Kebabs
Boneless Chicken                             01 kg. (cut into similar cubes)
Yogurt                                                   200 grams
Capsicum (Red & Green)              03 (Cut into large pieces and remove seeds)
Onion                                                   02 medium size (cut into large pieces and separate the layer.)
Red chili powder                             02 teaspoon
Cumin Powder                                   02 tsp
Cinnamon Powder                          1/2 teaspoon
chili flakes                                           01 teaspoons (if preferred hot)
White Pepper Powder                    01 teaspoon
Black Pepper powder                     01 teaspoon
Ground nutmeg                               01 teaspoon
Lemon juice                                       01 teaspoon
Garlic and Ginger Paste                  02 Spoon
mustard oil                                         1/2 cup
Salt                                                         to taste
Wooden Skewer                             15-20 (Soak in water for a while)
Grilled Chicken Shish Kabab recipe
First of all, mix yogurt, mustard oil, spices, chili flakes, garlic ginger paste, lemon juice, salt, Ground nutmeg, white pepper, and black pepper in a large bowl.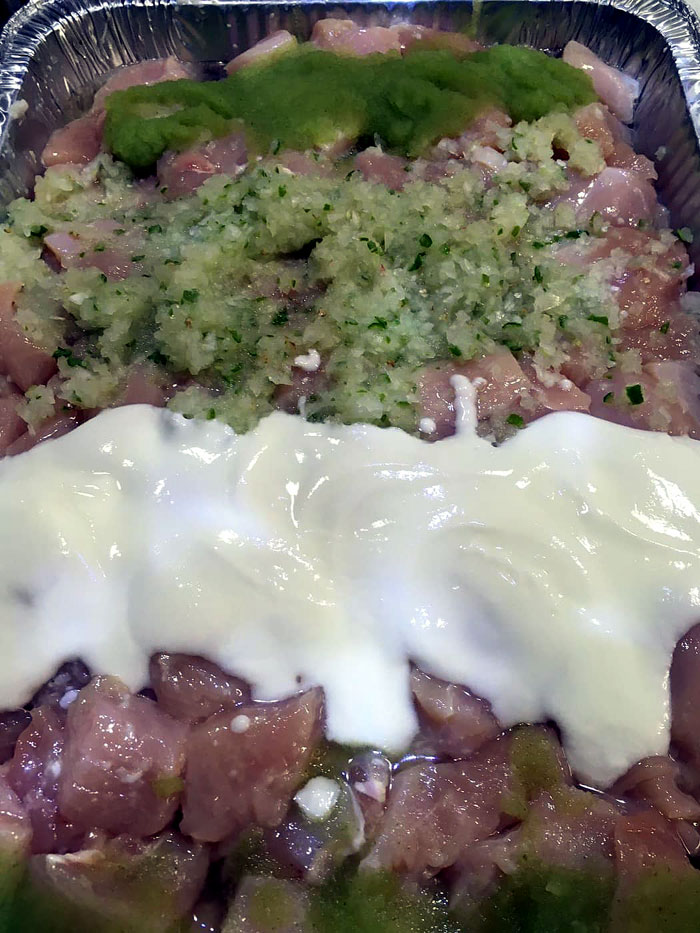 Now add the diced chicken (1/4 "squares) into this bowl and coat well.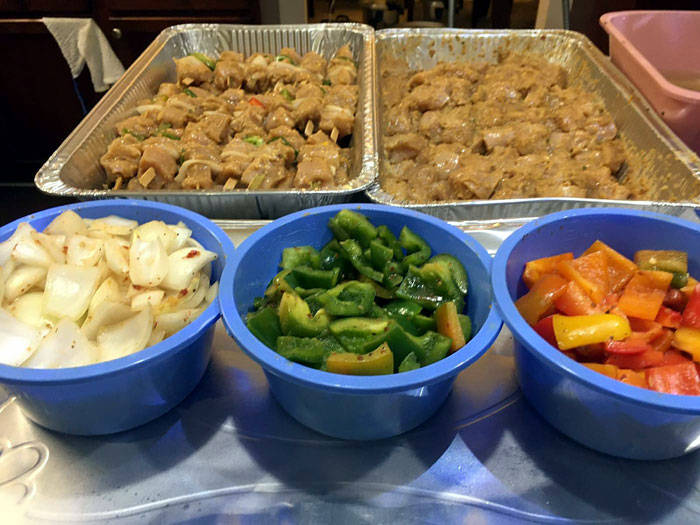 After properly coat the diced chicken, marinate it in the fridge for 02 hours or 24 hours. If you have less time, then marinate it for 2 hours.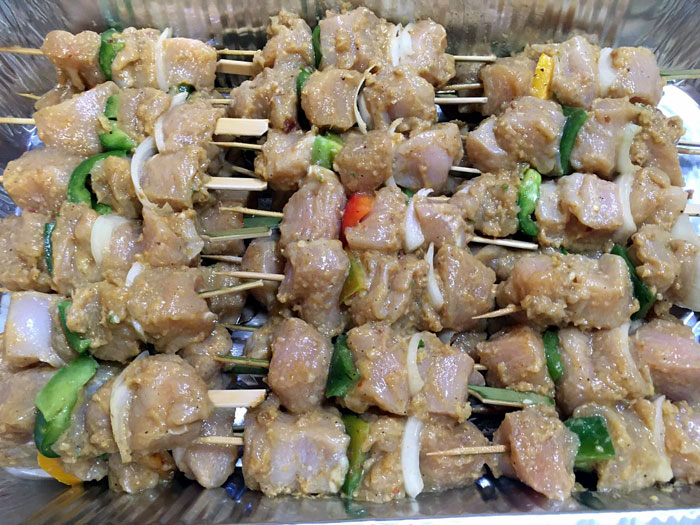 Remove the soaked wooden skewers and thread the Marinette chicken onion and capsicum diagonally.
Likewise, prepare all the kebabs. Now prepare your barbecue or heat the grill.
Sprinkle salt, white pepper, and black pepper on the kebabs.
Preheat your grill to about 400 degrees, and make sure that there are two zones a heated area and an indirect heat zone.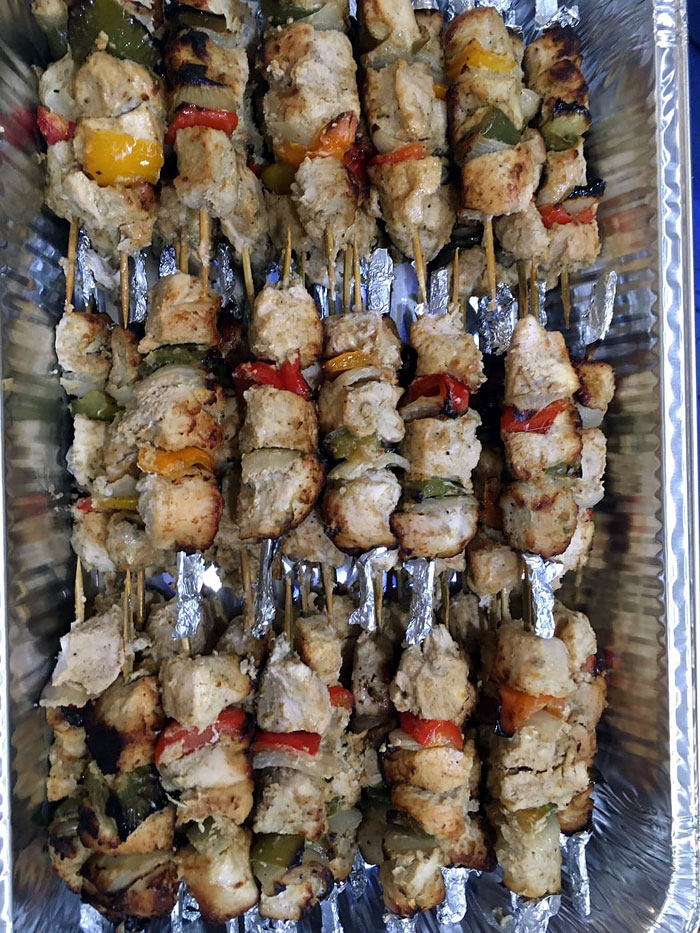 Cook the chicken kebabs for about 10 minutes in an indirect heat zone.
Turn the kebabs and cook for about 10 minutes with the lid closed, but keep the temperature at 185 degrees and check in between.
If the internal temperature is not at 185 degrees, then flip the kebabs and cook for about 5 minutes.
Remove it from the grill and allow it to rest at room temperature for 5 minutes.
Notes
You can choose onion, chili mushroom, or vegetables of your choice on the skewer to apply with a piece of meat.
Main ingredients
Boneless Chicken, Yogurt, Capsicum,  Onion, Red chili powder, spices,  Garlic and Ginger Paste, oil, salt, and Wooden Skewer.
Main keywords
Chicken Shish Kebabs, Shish Kebabs, Shish Kabab, Kabab recipe, Chicken Shish Kabab. shish kabob, grilled chicken.
Read also:
How to make Tehri at home. Tandoori chicken recipe step by step. How to make Poha recipe. Mutton korma recipe Dhaba style. Roasted mushroom with the vegetable recipe. Masala kaju namkeen recipe.  Rava besan laddoo recipe step by step. Homemade french fries recipe.  Stuffed Bhindi Fry recipe. Masala pasta recipe Indian style. Poi pakora recipe.
For pin: