Roasted cremini mushrooms with vegetables
How to make roasted mushrooms with vegetables | Roasted cremini mushrooms | mushrooms vegetables. This is an easy recipe that even fresher cooks can make very easily. In European countries, this dish is made in summer. It is a great side dish made on a grill and is very tasty.  This healthy recipe is prepared in Mix carrots, peas, red peppers, celery juices make it juicy and delicious.
Preparation time                                                    10 minutes
Cooking time                                                           20 minutes
Total time                                                                  30 minutes
Serve for                                                                   4-5
Difficulty level                                                         Easy
Course                                                                        Starter recipe
Cuisine                                                                       French cuisine
Ingredients for Cremini mushrooms with vegetables
Frozen vegetables.                                               02 cups Mix carrots, peas, red peppers, celery.
Cremini Mushroom (button mushrooms)  300 gms (wash and dry it)
olives                                                                           7-8
Onion                                                                          01 (cut into large pieces)
Garlic clove                                                               4-6 (finely chopped)
Dry basil                                                                     (oregano, mint, thyme, rosemary, and sage (a little of each )
Black pepper                                                            1/4 tsp
Sea salt                                                                       as per taste
Vinegar                                                                      01 tbsp
olive oil                                                                       02 tbsp
Fresh green coriander or parsley for garnish (optional)
How to make roasted mushrooms with vegetables
First, you preheat your oven to 420 degrees Fahrenheit (216 degrees Celsius).
In a large bowl, add chopped mix carrots, peas, red peppers, celery, Ceremony mushrooms, and large onion pieces.
Add finely chopped garlic, dried herb, salt, and pepper powder to this mixture and mix well.
Now add olive oil and white vinegar to it and toss it well and mix. So that the mixture is well coated in oil and vinegar.
Put the mixture on the baking sheet of the oven and arrange the mushrooms in a single layer.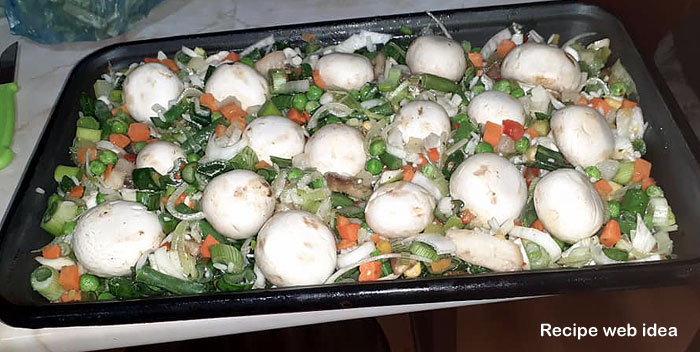 Now put the vegetables and mushrooms in the preheated oven and fry for about 20-25 minutes.
Check once in the middle when the zucchini becomes slightly soft and the mushroom becomes darker.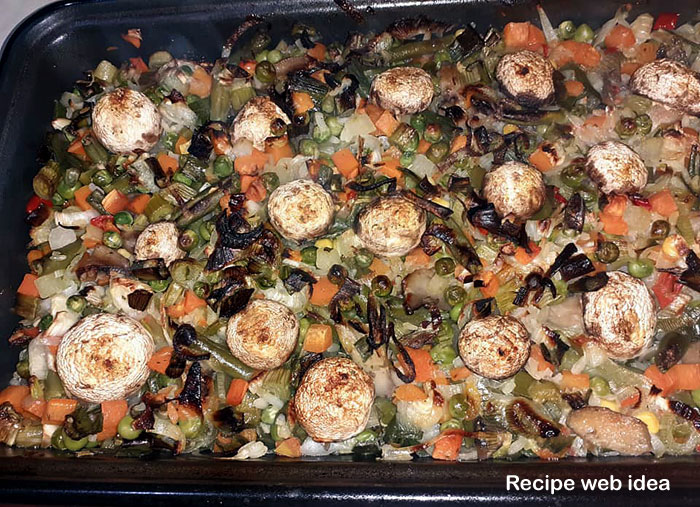 Garnish it with freshly chopped coriander or parsley and serve hot. Enjoy it with a burger, roasted meat, or another main dish!
Suggestion
You can take your favorite vegetables in this recipe.
Both Cremini mushrooms and button mushrooms are almost the same, the button mushrooms are slightly white and the Cremini mushrooms are slightly brown in color. You can use any mushroom.
Main ingredients
Cremini Mushroom, Zucchini, Cherry tomato, Onion, Garlic clove, Dry basil 01, Black pepper, Sea salt.
Keywords
Roasted mushrooms, mushrooms vegetables, roasted cremini mushrooms, cremini mushrooms recipe.
Read also
How to make cabbage kofta. Veg Manchurian recipe step by step. How to make Homemade French fries. Bharwa Bhindi recipe step by step. Dry fruits stuffed peanut rolls. Healthy Laddoo recipe for your family. Tomato soup recipe at home. Punjabi chole recipe Dhaba style. Mathri recipe: Easy Diwali snacks. Instant vegetable appam recipe.  Mutton korma recipe step by step.
For pin