Tomato soup recipe
Tomato soup recipe | Homemade tomato soup with cream. Soup is a nutritious and delicious food, you can prepare it in a very limited time. It is a complete appetizer and also beneficial from a health point of view. There are many methods to make tomato soup but we are going to tell you an easy and nutritious recipe, for this you need to follow the steps given below.
The Tomato soup recipe is a very famous soup recipe, it is liked almost all over the world. Today we are telling you the recipe of making tomato soup recipe in the Indian way. Fresh tomatoes are boiled in it with onions and ginger, and puree is made by adding fresh cream, and bread cubes are served with mint leaves.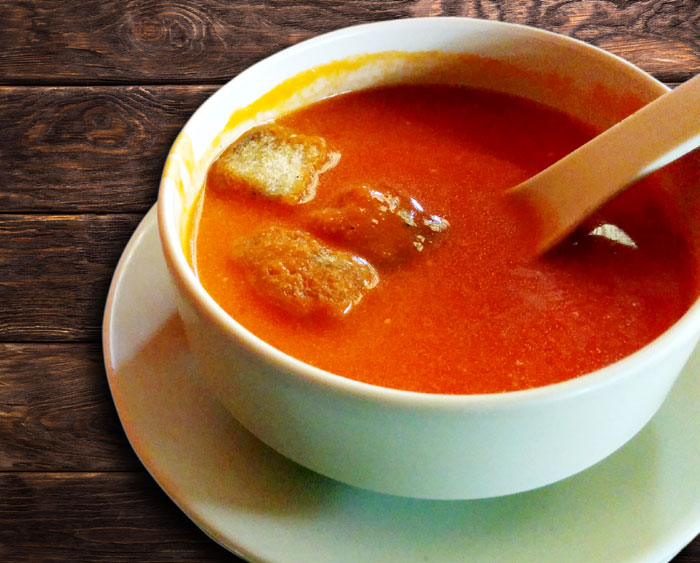 Preparation time                              10 minutes
Cooking time                                     15 minutes
Total time                                            25minutes
 Serve for                                            04 members
Difficulty level                                   Easy
 Course                                                Soup
Cuisine                                                 Indian cuisine
Ingredients for a tomato soup recipe
Tomatoes                                            06 (chopped) (200 grams)
Carrot                                                   01(grated)
Cabbage                                              1/2 cup (finely chopped) (optional)
Onion                                                    01 (finely chopped)
Bread cubes                                       8-10
Cloves                                                   2-3
Butter                                                   01 tsp
Bay leaves                                           01
Black pepper                                      1/2 teaspoon (crushed)
Ginger                                                  01 inch (grated)
Sugar                                                     01 tsp
Black salt                                              1/2 tsp
Fresh cream                                       02 tablespoons
Mint leaves/ coriander leaves        01tbsp
Salt                                                         as required
Water                                                   as required
Homemade tomato soup with cream recipe
To make tomato soup, first, heat the butter in a pan and when the butter melts, add bay leaf, cloves, grated ginger, and chopped onion and sauté.
When the onion color turns light brown, add chopped tomatoes, grated carrots and salt to taste and cook.
When the tomatoes are cooked and turn tender (change color), then add water and close the lid.
Let it cook for about 10 minutes. Boil it well so that tomatoes become soft and mushy.
Now take the mixture down and separate the bay leaves, let the mixture cool down.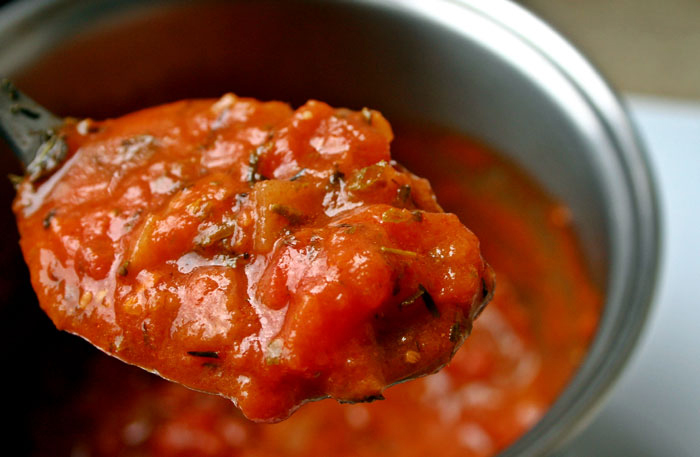 Blend the mixture and now filter it by putting it in a sieve, so that the tomato peel is removed.
If the mixture is thick, add water as needed.
Pour the mixture into the pan and bring it to a boil, now add 1 tsp of sugar, crushed black pepper, and salt as required.  Allow cooking on medium heat.
Make sure all the mixture is well mixed, now turn off the gas.
Add 2 tablespoons fresh cream to it, and mix well.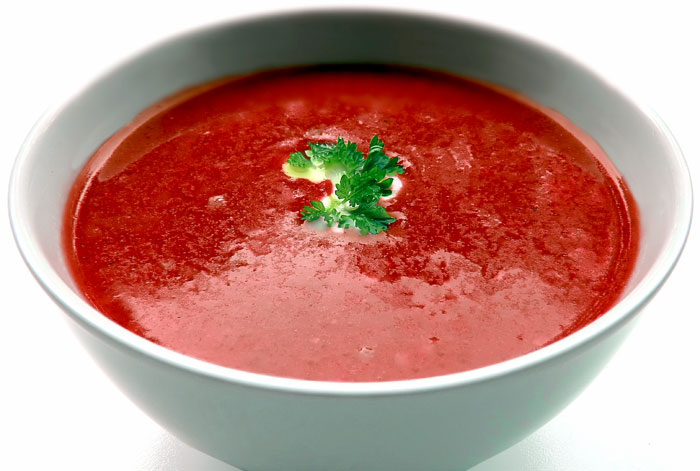 Your tomato soup with cream recipe is ready. Pour it into a soup bowl and add mint leaves or coriander leaves, Bread cubes, and little black salt powder over it and serve hot.
Suggestions
You can also make tomatoes by boiling them by adding beans, cabbage or other vegetables.
If you do not like too spicy then do not add cloves and reduce the amount of black pepper.
You can garnish this simple soup with crushed Italian herbs.
Main ingredients
Tomatoes, Carrot, Onion, Bread cubes, Butter, Black pepper, Ginger, Black salt, Fresh cream, Salt.
Keywords
Tomato soup, Tomato soup with cream, homemade tomato soup, Tomato soup recipe, soup recipe.
Read also:
Veg Kothe recipe easy steps.  How to make Suji upma. Palak pakora recipe: enjoy the monsoon. Paniyaram recipe step by step. Cucumber Raita recipe step by step. Tandoori chicken recipe step by step. Punjabi Laccha paratha recipe Dhaba style. Veg Manchurian recipe step by step. Dal Fara recipe easy steps. Poi pakora recipe step by step. Paneer korma recipe easy steps.
For pin­