Mutton Korma Recipe (Mutton curry)
Mutton Korma recipe | How to make Mutton Korma | Mutton curry | mutton recipe. Mughlai Mutton Korma is a wonderful Awadhi mutton recipe, full of health and taste. The first time I came to Lucknow, I tasted it at a friend's party, from the same day it is one of my favorite recipes. I think it has a different place in nonveg cuisine since the Mughals ruled here.
There is a different way to make this popular mutton curry of North India, this curry is made with cashew, onion, curd, and spices and saffron and kewra together make its taste memorable.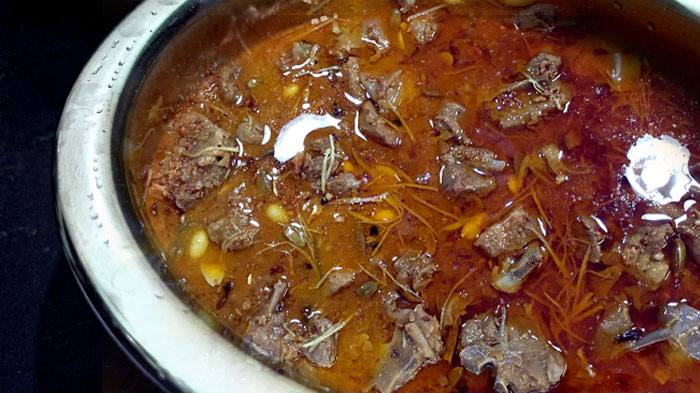 Preparation time                              10 minutes
Cooking time                                     25 minutes
Total time                                            30 minutes
Serve for                                             06 members
Difficulty level                                   Medium
Course                                                  main dish
Cuisine                                                 Indian, Awadhi recipe, Mughlai
Chef                                                      Qutub Siddiqui
Ingredients for Mutton Korma 
Mutton Peace                                   1 kg
Onion                                                    02 medium (chopped)
Curd                                                      01 cup
Ginger-garlic paste                          04 teaspoon
Cashew nuts                                      01 tablespoon
Ghee                                                    04 tablespoon
Edible oil                                              04 tablespoon
Kewra Extract                                    02 drops
saffron water                                    01 teaspoons (optional)
Water                                                   as required
Dried Masala
Turmeric powder                             01 teaspoon
Kashmiri red chili powder            02 teaspoon
Garam Masala Powder                  1/2 teaspoon
Cinnamon stick                                 02 inches (make powder)
Bay leaves                                           03
Black Pepper                                      1/2 teaspoon
Cumin Seeds                                      01 Spoon
Large Cardamom                              02
Green cardamom                            5-6
Cloves                                                   3-4
Salt                                                         to taste
How to make Mutton Korma (Mutton curry recipe)
Onion Cashew paste
Add 1 tsp ghee to a pan and heat, add cashews to it and fry it a little. Keep it separate.
Put a little ghee and onion in the same pan and fry them till they turn lightly golden brown and keep them aside.
When both the ingredients have cooled down, put it in a blender jar and add the curd according to the above-mentioned quantity and make a thick paste.
Take it out in a bowl and keep aside.
Mutton Korma recipe
You can use the same pan again, for this you can also use the cooker.
Heat 2 tablespoons oil or ghee in the cooker.
Now it has dried spices (Bay leaves, Cumin seeds, Black Pepper, Cinnamon, Large Cardamom, Green cardamom, and Cloves)
Add and saute 1 second, keep on medium heat to roast.
Add mutton pieces to it and fry for about 2-3 minutes on medium heat.
Now add cumin powder, turmeric powder, and Kashmiri red chili powder and mix well.
Add ginger, garlic paste and saute well.
Now add cashew and onion paste to this mixture, and fry for about 3 minutes, keep the flame medium.
Keep stirring it continuously, add salt and garam masala as needed, and mix.
Add water as required and let it cook for about 3 minutes, when oil starts to appear on the side, mix well, and turn off the gas.

Serving idea
Serve hot-hot mutton korma (mutton recipe) with roti, paratha, naan, tandoori roti, plain rice, cumin rice, or pulao.
Suggestion
Be sure to use Kewra water in your recipe, it is necessary for royal taste.
You can use ghee or butter for a more rich flavor.
Make Mutton Korma Recipe in a slow cooker instead of the cooker, time will be longer, but it will have different tastes.
Add water before closing the lid of the pressure cooker, as the mutton releases its own water after cooking, in which case the curry will become very thin.
Main Ingredients
Mutton Peace, Onion, Curd,  Ginger-garlic paste, Ghee, Edible oil, salt, Dried Masala.
Keywords
Mutton Korma, Mutton Korma recipe,  Mutton curry, mutton recipe
Read also:
Badam halwa recipe.  How to make a cabbage kofta curry recipe.  Chicken 65 recipe step by step.  How to make palak pakora. Punjabi chana chole recipe easy steps. Stuffed Bhindi recipe. Spinach broccoli saag recipe at home. Chicken biryani recipe Dhaba style. Punjabi laccha paratha recipe. Suji Ke twister tea-time snacks.
For pin