Masala Kaju namakpara (namkeen saloni)
How to make masala Kaju namkeen | Masala Kaju namakpara | namkeen saloni | Diwali snacks. Masala cashew snack is a cashew-shaped namak para made from maida. It is a popular tea time Indian snack. People also make it during Diwali Holi or other festivals. It is crispy in food, after cooking, chaat masala is sprinkled over it, which adds to its taste. I have made this crunchy snack in the shape of cashew nuts. You can make it round, square, or any other shape of your choice.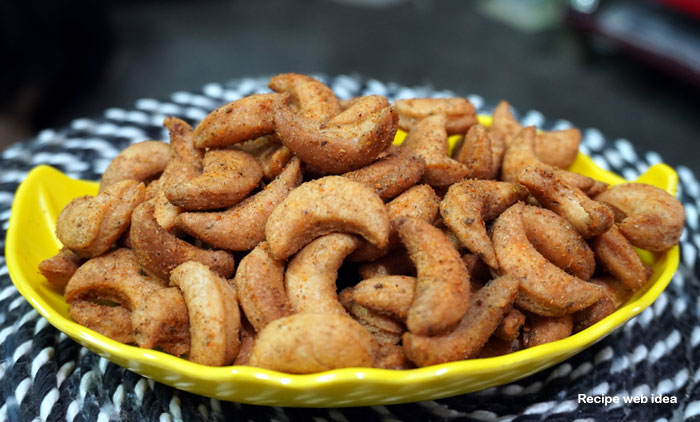 To make a cashew shape, I have used a bottle cap. This is a straightforward recipe and can be used for several days by putting it in an airtight container. I definitely make this recipe every Diwali and Holi. This is a perfect snack, you must try it this Diwali.
Preparation time                              40minutes
Cooking time                                     30 minutes
Total time                                           01 hour  10 minutes
Serve                                                   02 big bowl
Difficulty level                                   Easy
Course                                                  Snacks
Cuisine                                                 Indian
Ingredients for Masala Kaju namakpara
All-Purpose Flour (Maida)             3 .5 cups
Semolina / Rava                                 1/2 cup
Ajwain seeds                                     01 teaspoon
Red chili powder                              02 teaspoon
Salt                                                         to taste
Chaat masala                                     01 tsp
Oil                                                           03 tablespoons
Water                                                   To make the dough
Oil                                                           To fry
How to make Masala Kaju recipe
Prepare dough
Collect all the ingredients in one place.
Now take maida, semolina, in a big bowl, add celery, red chili powder, chaat masala and salt as needed. Mix all these ingredients well.
Pour 3 tablespoons of oil over this mixture and mix well with the palms.
To see if the mixture is properly mixed, press it with the palm and make it look like breadcrumbs and tie.
Now add water to the mixture and make a tight and stiff dough (Like puri).
Cover the dough with a cloth and allow it to rest for 15-20 minutes.
How to make Kaju shape
After about 15-20 minutes, knead the dough once again with some oil.
Now divide it into 4 equal parts and make a round shape.
Roll a portion of it evenly with a rolling pin.
Now cut it into a cashew design from a bottle lid, cut the cashew shape from the entire surface and keep it aside in a plate.
Now similarly, make the cashew snacks by leveling the rolling pins with the second, third, and fourth parts. Cut the remaining cuttings after cutting the cashew nuts, roll them again into cashew shape and keep them on a separate plate.
Fry Kaju snacks
Now your snacks are ready to be avoided, heat the oil in a deep frying pan or wok, turn the heat to medium after the oil is hot.
Add some cashew snacks to the hot oil and bake until it becomes light brown.
Do not reduce the heat too much, otherwise, the snacks will drink oil and do not keep the flame too high, it will turn brown soon and will remain raw from inside.
After cooking on one side, flip it and cook till it turns light golden brown on the other side.
After frying a batch, take it out with a slotted spoon and put it in a paper napkin to remove excess oil.
Similarly, take all the cashew snack palate and put it in a paper towel.

How to make namkeen saloni
Allow the snacks to cool for a while. It will become very crispy after cooling. Now sprinkle chaat masala on top of it, if you want to eat spicy then sprinkle a little red chili.
Now your delicious crunchy cashews are ready to eat, eat it and keep the remaining snacks in an airtight container, it does not go bad for 15 days.
Main ingredients
All-Purpose Flour, Semolina,  Ajwain seeds, Red chili powder,  Salt,  Chaat masala,  Oil
Keywords
masala Kaju namkeen, indian snacks, Diwali snacks, namakpara, namkeen saloni.
Read also:
How to make homemade French Fries.  How to make Cabbage kofta.  Aloo tikki chhat recipe. step by step. Suji snacks recipe step by step. Eggplant in Tomato sauce recipe: Famous Romanian recipe.  Roasted green beans recipe. Gujia recipe step by step. Paneer korma recipe step by step. Healthy ladoo recipe step by step. Patiala aloo recipe at home.  Chicken curry recipe Dhaba style.
For pin