Vegan eggplant risotto recipe
The advent of the risotto dish dates back to about the tenth century, at which time the Arabs in Sicily prepared a dish combining rice, eggplant, and artichokes. After this the Jewish adopted it. At that time it was served as a delicious dish in all special celebrations.  Some cooks add broth to rice and cook it by covering it in low flame. vegan risotto is a traditional dish, but people nowadays have started making it in many other ways. Today we are telling you about the Gluten-Free Rice with Eggplant risotto recipe, you can enjoy this vegan eggplant risotto recipe (Risotto Con Le Melanzane recipe) this weekend.
Risotto is a rich savory recipe that makes an excellent recipe when paired with eggplant. Some people add tomatoes and white wine to make it different.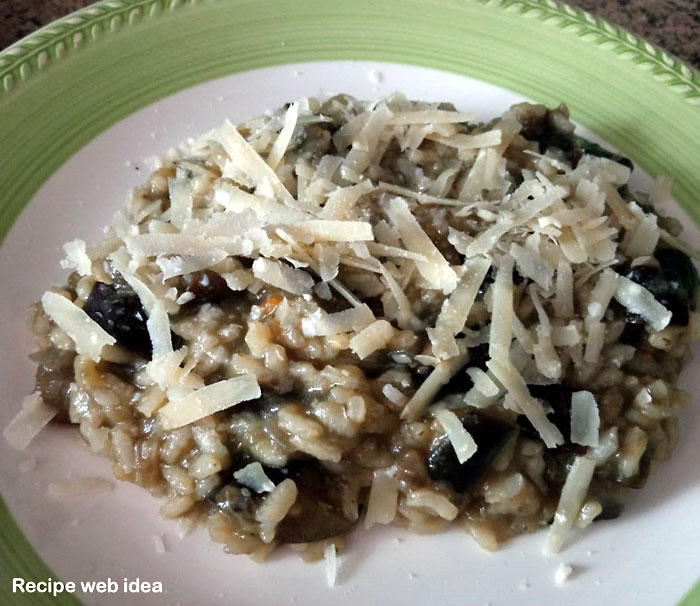 Our other popular Italian recipes.
How to make White Sauce Pasta recipe.
Eggplant parmigiana recipe (popular Italian recipe)
Spaghetti with Tomato Sauce.
Italian Semolina Pancakes recipe.
Polpette di Ceci (Chickpea balls recipe)
Preparation time                  15 minutes
Cooking time                         30 minutes
Total time                                45 minutes
Serve for                                 04
Difficulty level                       Easy
Course                                      Main course
Cuisine                                     Italian Cuisine
Ingredients for

Risotto Con Le Melanzane recipe 
Eggplant                                   01 Pound (peeled and cut into 1-inch pieces)
Arborio Rice                           02 cups
Vegetable broth                   05 cups
Olive oil                                    02 tbsp or (can be taken as required)
Garlic                                         3-4 cloves (peeled and finely chopped)
Fresh Parsley                         03 tbsp (chopped)
salt                                             as required
Parmesan cheese                for garnish (grated)
Vegetable risotto recipe (Eggplant risotto)
First, wash the eggplant thoroughly and cut it into dice, place it in a food strainer cheaper and let it dry in the room by sprinkling salt on top.

Let it dry at room temperature for about 25-30 minutes. After drying, wash it again and wipe it dry.

Put the saucepan on the gas and add the vegetable broth and bring it to a boil, adjust the heat as needed to bring it to a light boil.

Now pour olive oil in a large and deep surface nonstick pan and heat it on medium flame.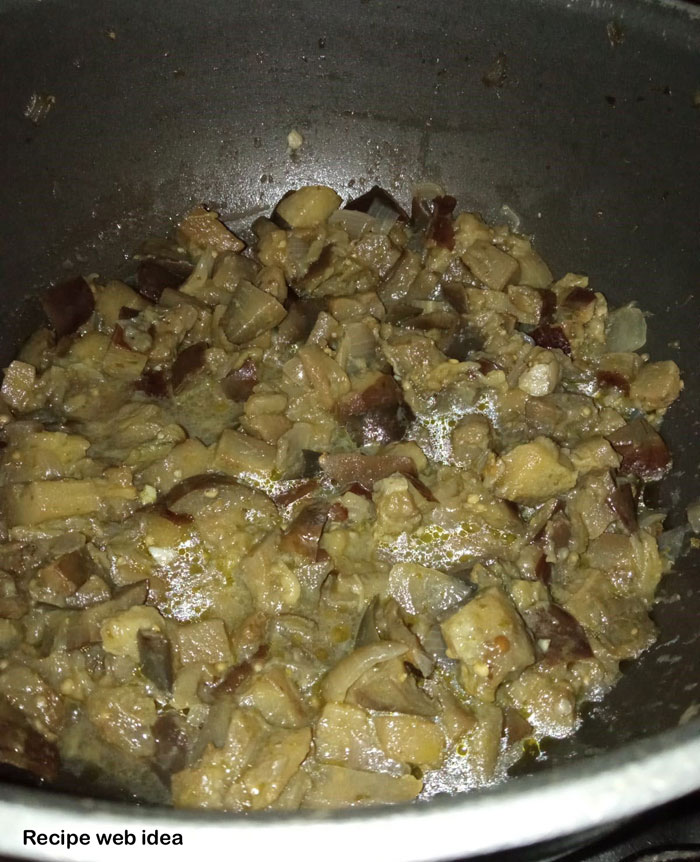 Add chopped brinjals to it and cook for about 8-10 minutes (till it becomes soft). Now add chopped garlic and parsley and cook, while stirring well.

In about 5 minutes it cooked well and mixed.
Now add rice to it and stir well and cook till it becomes opaque. Add about 1 cup of boiled broth to it and cook, stirring, for 4 to 5 minutes.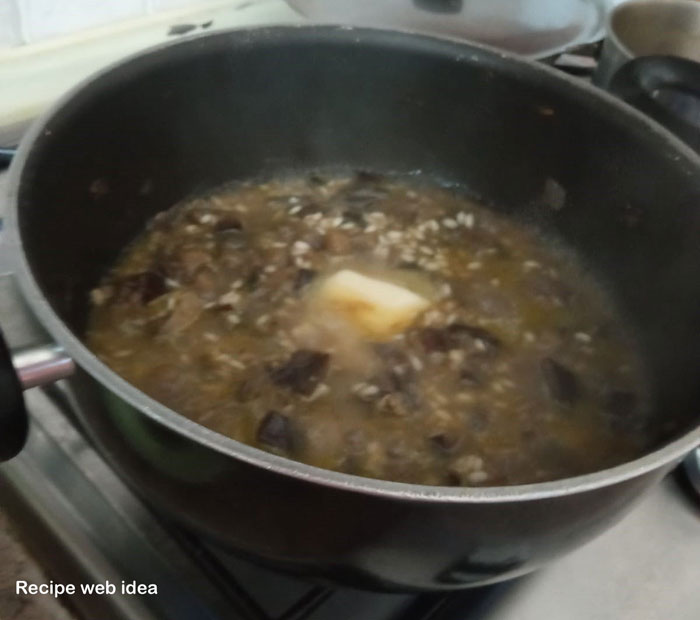 After some time the broth is well absorbed into the rice.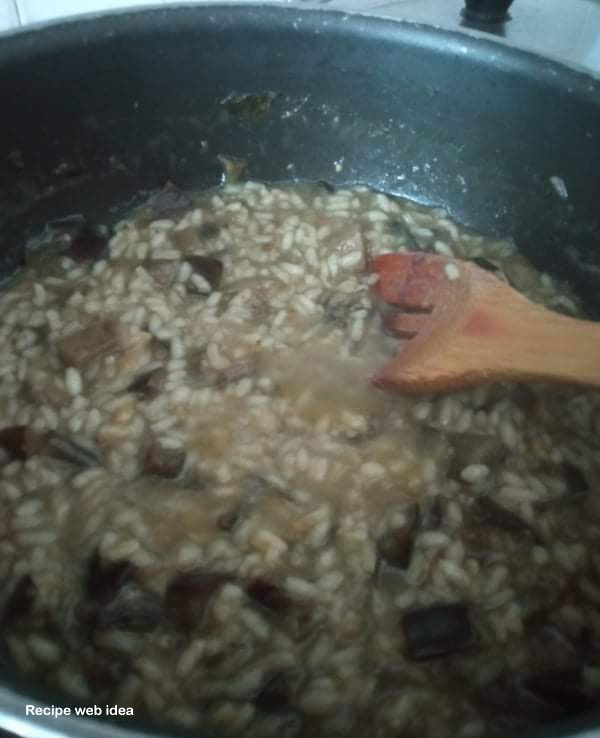 Lower the flame and again add a ladle of broth and let it get absorbed. Add the broth again and let it absorb until the rice kernels are collected in the center and look creamy from the outside. It takes about 15 to 20 minutes.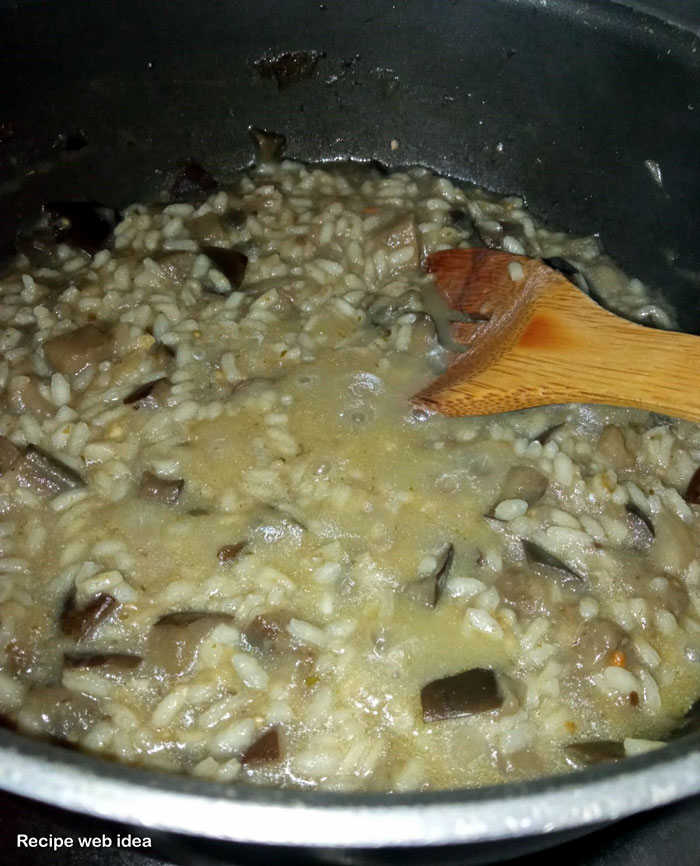 Now your Risotto Con Le Melanzane recipe is ready, remove it from the flame and transfer it to a serving dish.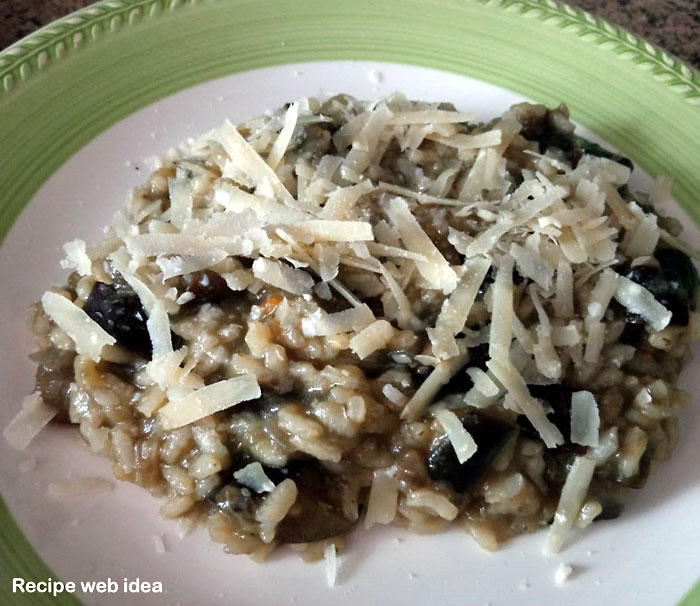 Garnish with Parmesan Cheese and Fresh Parsley just before serving and serve immediately. Read also.
Main Ingredients
Eggplant, Arborio Rice,  Vegetable broth, Olive oil,  Garlic, Fresh Parsley, salt,  Parmesan cheese.
Main keywords
Risotto Con Le Melanzane recipe,  Risotto recipe with eggplants, Rice with Eggplant recipe, Italian recipe,  Main Course, Vegan eggplant risotto recipe, vegetable risotto, Eggplant risotto, Gluten-free, Vegetarian recipe. risotto recipe.
Read also:
How to make tehri recipe.  Traditional Frittata recipe at home. How to make Chicken Biryani recipe. Mutton Pulao recipe Dhaba style. Vegetable Pulao recipe step by step. Peperobnatta recipe at home. Cheese balls recipe: an ideal breakfast. Lab E Shireen recipe step by step. Vegan meatballs recipe.  White sauce pasta recipe.  Italian bean pie recipe.
For Pin: