Chicken Pizza recipe
Pizza is made with lots of toppings and sauces! If you are a non-vegetarian then the chicken pizza recipe is better for you, try our easy recipe of chicken pizza made at our bbq today. There are many pizza recipes available all over the world and this is the most favorite dish. This time you make Spicy Chicken Pizza Recipes for your weekend, your family will definitely like this Italian dish. You'll love the chicken with cheese, and Italian seasonings in it. Add this delicious recipe to your dinner and serve with any drink.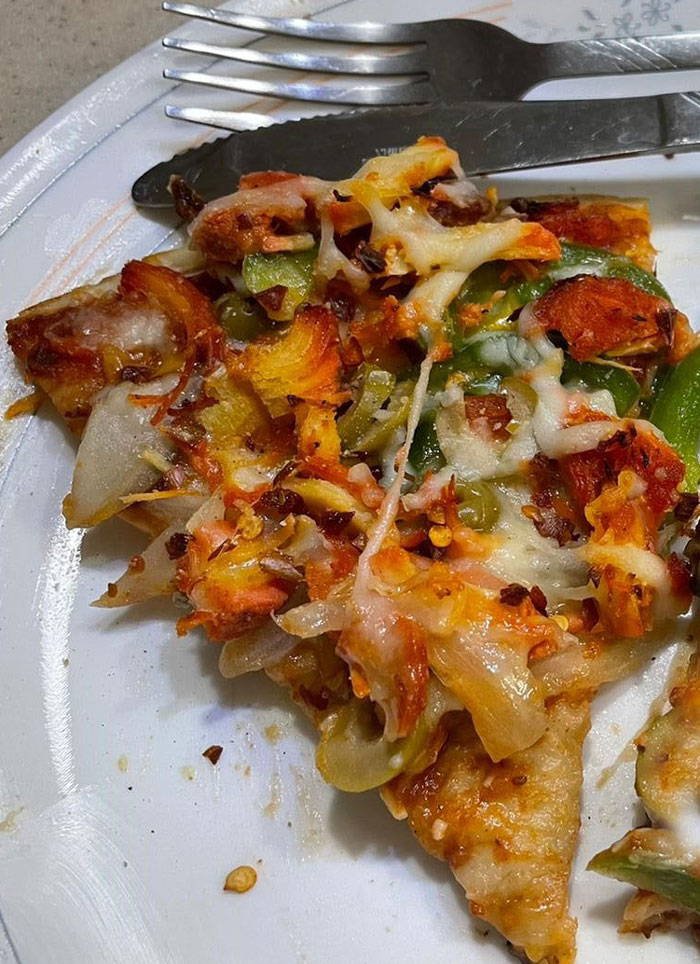 Click for other popular Pizza recipes.
How to make Mushroom pizza recipe. Veg Pizza Recipe step by step.  
Author                                           Qutub Siddiqui
Preparation time                          15minutes
Cook time                                      30 minutes
Total time                                     45minutes
Serve                                             08 serving
Difficulty level                               Easy
Cuisine                                          Italian dish
Category                                       Main dish
Ingredients for Chicken pizza
Boneless chicken skinless breast  01 pounds (cubed into 1-inch pieces)
Extra virgin olive oil                      01 tbsp
Prebaked Pizza Crust                    01 (12-inch )
Pesto                                             1/4 cup (Prepared)
Tomato                                          01 big (chopped)
Bell pepper                                   01 big (chopped)
Black beans                                   1/2 cup canned (washed and drained)
Mozzarella Cheese                       01 cup (shredded)
Parmesan Cheese                         1/2 cup (shredded)
Chicken pizza recipe
First of all, preheat your oven to 200C.

Heat a large pan, spread oil over the pan and cook the chicken till it turns light brown, keep the heat medium while cooking. Chicken takes about 10-15 minutes to cook.

Grease the pizza crust lightly, place it on the pizza pan.

Spread pesto evenly over the crust, now spread chicken, tomato, bell pepper, beans on it.

Now spread the shredded cheese at the top.

If you want to prepare fresh pesto, then mix basil and make it. It is a versatile sauce that you can enjoy in many different dishes. You can make it using pine nuts, garlic, parmesan cheese, and extra virgin olive oil.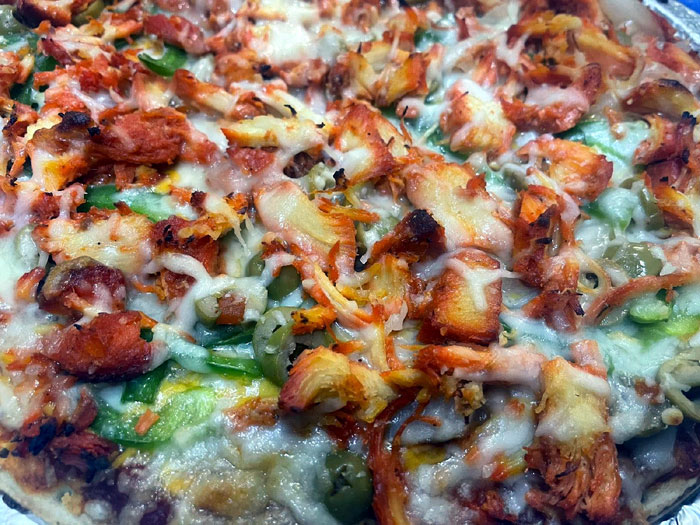 Bake the pizza crust for about 10-12 minutes or Until the cheese has melted.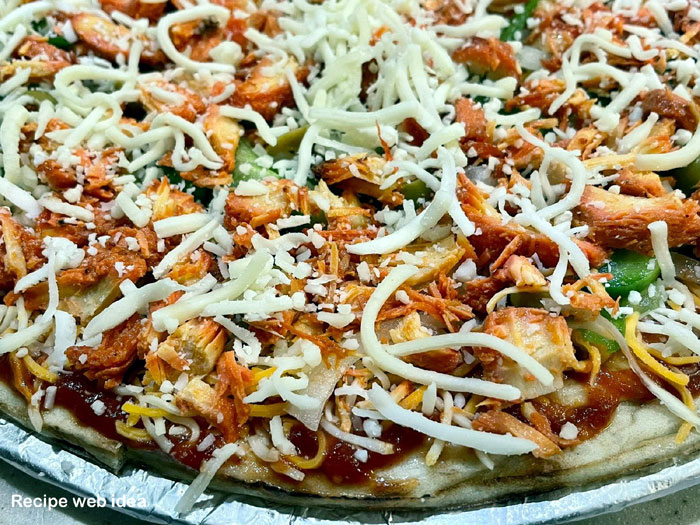 Remove the pizza from the oven and let it cool for about 3-4 minutes. garnish with cheese, cut into the desired shape and serve.
Main Ingredients
Boneless chicken breast, Olive oil, Pizza Crust,  Pesto, Tomato, Black beans, Mozzarella Cheese, Parmesan Cheese.
Main keywords
Chicken pizza, Chicken pizza recipe, Italian dish, bbq, pizza recipes.
Read also: 
Sweet sesame Chicken wings recipe. How to make cheese balls.How to make Mawa jalebi recipe. Namak pare recipe steep by step. Masla pasta recipe Indian style. Eggplant Parmigiana recipe at home. Eggplant in the tomato sauce recipe. Vegetable Pilaf recipe. Rice flour chakli recipe.
For Pin