Semiya Upma recipe (Vermicelli Upma)
You must have eaten semiya made in milk, but few people know about the salty semiya upma recipe. It is a delicious vermicelli upma, made with vermicelli mixed with vegetables, spices, cashews, and herbs. This is a popular South Indian breakfast recipe, also known as Semiya Upma. This vermicelli recipe is popular for its unique taste and is rich in nutrients.
This is a quick and healthy breakfast recipe, which you can make easily in less time. You can compare this upma recipe with Italian spaghetti.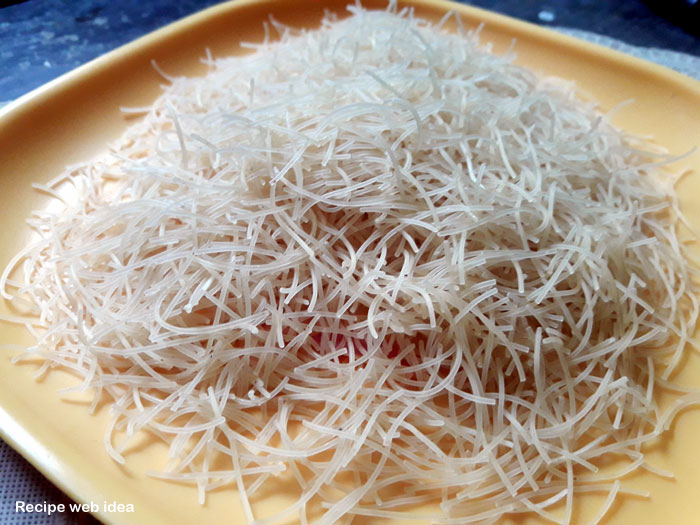 Thick and thin vermicelli is available in the market, it is available roasted and unroasted everywhere. In this upma recipe, you have to take thick vermicelli. I have used unroasted vermicelli, it needs to be roasted before making. If time is less then you can use roasted vermicelli.
See other delicious breakfast recipes
How to make Vegetable Patties recipe
Veg Kebab Paratha recipe at home.
How to make milk sewai.
How to make homemade french fries.
Batata Vada or Aloo Bada recipe step by step.
Preparation time              15 minutes
Cooking time                     15 minutes
Total time                            30 minutes
Serve                                    02 members
Difficulty level                   Easy
Course                                  Appetizers, Breakfast
Cuisine                                 South Indian
Ingredients for Vermicelli Upma
Vermicelli (semiya)         100 grams
Olive oil                                02 tbsp
Mustard seeds                  1/2tsp
Green chilies                      2 (finely chopped)
Red Onion                           01 (finely chopped)
Capsicum                             01 (chopped)
Carrot                                   1/4 cup (chopped)
Tomatoes                            02 medium-sized (chopped)
Ginger                                  01 inch piece (grated)
Curry leaves                       6-7
Cashews                              5-6
Urad dal                               01tsp
Salt                                         as needed
Coriander leaves              02 tbsp (chopped)
lemon wedges                  (while serving upma)
How to make Vermicelli Upma
Roasting Vermicelli
Firstly, put 2 teaspoons of olive oil in a pan and heat it on medium heat.

When the oil is hot, add vermicelli and fry till it becomes light brown.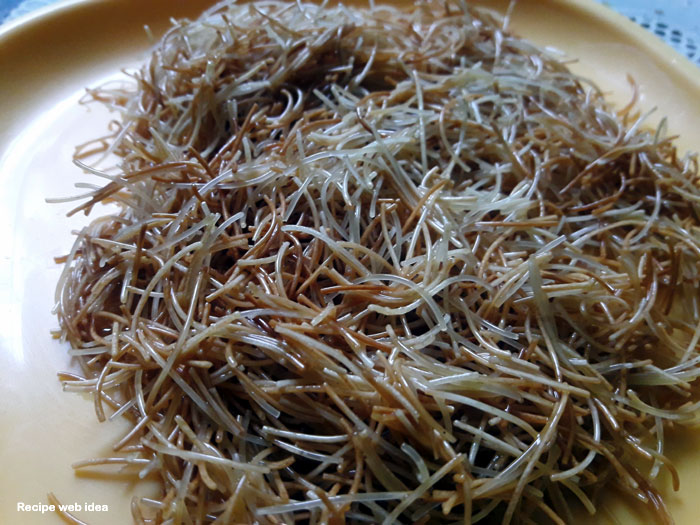 After roasting the vermicelli, take it out on a plate and keep it aside.
(If you have less time then you can use ready-made roasted vermicelli.)
Vermicelli Upma recipe
You use the remaining oil in the pan again, heat it on medium flame, now add mustard seeds and fry.

When mustard seeds start crackling, add urad dal and fry till it turns brown. Add

cashews

and fry till golden brown.

Now add green chilies, grated ginger, and 5-6 curry leaves and fry for some time, add onion to the pan and cook till it turns light brown.

Add chopped vegetables, add salt as per taste and mix well, cook it till the vegetables become soft.

Now add water to it and boil, after a boil, add roasted vermicelli and mix.

Close the lid and cook for about 6-7 minutes, or until the water gets absorbed.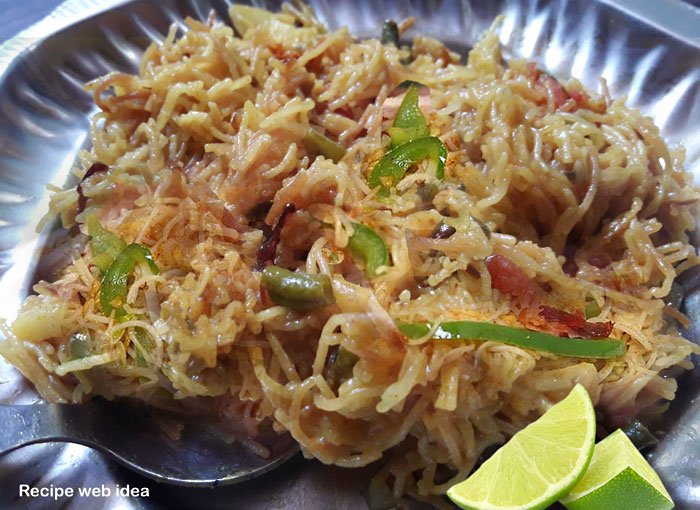 Remove the lid, add chopped coriander leaves and serve hot with lemon wedges.
Main Ingredients
Vermicelli, Olive oil, Mustard seeds, Green chilies, Onion, Capsicum,  Tomatoes, Ginger,  Curry leaves, Cashews,  Urad dal,  Salt,  Coriander leaves, lemon wedges..read also. 
Main Keywords
Semiya Upma,  Vermicelli Upma, breakfast recipe, Upma recipe, Vermicelli Upma recipe, Vermicelli recipe., upma recipe.
Read also:
How to make Poha recipe.  Suji upma recipe step by step. Homemade Pico de Gallo recipe at home. Rava appam recipe at home. Vegan eggplant risotto recipe.  White sauce pasta recipe at home. Traditional Turkish kebab recipe. Onion fritters recipe. How to make Baingan Bharta recipe. Traditional Fritta recipe. 
For pin