Batata Vada (Aloo bada)
Batata Vada or Aloo Bada is a popular Indian street food snack. From Maharashtra to Madhya Pradesh you will find it everywhere. People's day in Mumbai starts with Vada Pav, which is the favorite street food here. You can make batata vada (aloo vada, Aloo Bonda recipe) very easily at your home.
In this recipe, the spicy potato masala balls are a coat in gram flour batter, then fried in hot oil. It is served hot with green chutney, red chutney, or fried green chilies.

Check out our other popular snacks Recipes
How to make vada pav at home.
How to make Mangode fritters.
Onion fritters recipe step by step.
Poi pakora recipe (Malabar spinach fritters)
Preparation time                    20 minutes
Cook time                                 30 minutes
total time                                  50 minutes
Serve                                          08 members
Difficulty level                         easy
Cuisine                                       Indian recipe
Course                                        Breakfast, Street food, appetizer
Ingredients for Batata vada
For potato masala
Potato                                        250 grams
Green chilies                            3-4
Ginger                                        01 inch piece
Garlic cloves                             5-6
Green Coriander                    02 tbsp (chopped)
Lemon juice                             01 tsp
salt                                               as needed
Potato masala tempering
Oil                                                 0 1 tbsp
Cumin                                         1/2 tsp
Mustard seeds                        1/2 tsp
Turmeric Powder                   01 tsp
Asafoetida                                01 pinch
Curry leaves                             5-6 (chopped)
To make batter
Gram flour                                200 grams
Kashmiri red chili powder   01 tsp
Turmeric Powder                   01 tsp
Baking soda                              01 pinch
salt                                               as needed
Olive oil for frying                  as needed
How to make Batata vada (aloo bonda recipe)
Boil potatoes
First of all, wash the potatoes and put them in the pressure cooker, add 1 1/2 glasses of water and keep it boiling.

Cook the potatoes on a medium flame for about 5 minutes or for 2-3 whistles. If the potatoes are big, then cook them in 2 or 3 pieces.

Cook the potatoes well, so that they get mashed well. To check whether potatoes are cooked

, opening the lid of the cooker, if the potatoes are not cooked well, then take 1-2 more whistles.

Remove the cooker from the gas and take out the potatoes, let them cool down a bit.

When the potatoes cool down, peel them off.

Now mash it well with a potato masher, do not mash or greasy too much.

Add chopped coriander and salt as per taste to the mashed potatoes and keep aside.
Make a ginger-garlic paste
While your potato is cooking, make a paste of ginger-garlic and green chilies with a mixer, keep the paste aside in a bowl.
Make potato masala
Put 1 tbsp olive oil in a pan and heat it.

Keep the flame medium, add mustard seeds, when it starts crackling, add cumin seeds and let it crackle. When cumin seeds turn light brown, add curry leaves, turmeric powder, chili powder, and asafoetida. Mix it well.

Now add ginger garlic paste to it and stir well.

Sauté the paste well in low flame.

Now add mashed potatoes to it and mix well. If you want to add sourness, add 1/2 teaspoon lemon juice.

Your potato stuffing is ready, take it out in a bowl and let it cool.

When the potato stuffing cools down, make it into 2-inch balls with the help of palms.

Flatten the potato balls by pressing them with the palms, similarly make all the balls and keep them aside.
How to make the batter
In a large bowl take 2-gram flour, add 1 tsp turmeric powder, and 1 tsp red chili powder.

Now add baking soda and a little salt to it and mix well.

Slowly add water and whisk.

Add water little by little to the pan and mix it well to make a batter. Do not make the solution too thin or thick. If the batter is too thin, add a little more gram flour.
Frying Batata Vada
Put oil in a pan and heat it, at this time keep the flame on medium.

To check whether the oil is hot or not, but a small part of the batter in the oil, if it comes up slowly, then the oil is hot enough.

Now dip the potato ball in the gram flour batter and coat it well and put it in the hot oil.

Similarly, coat 2-3 potato balls and drop them in hot oil.

Do not put too many balls in the kadhai (pan) otherwise, they will stick to each other. Fry it on medium flame and let it become light golden.

When one side is cooked, flip it with a slotted spoon and fry the other side.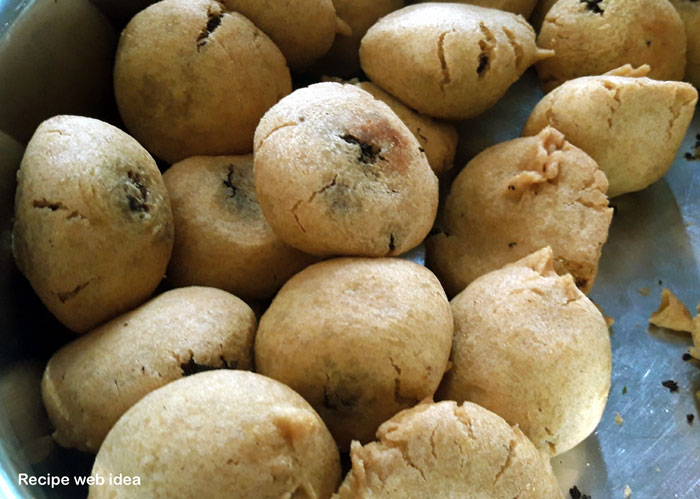 Let it turn light brown from the other side. Scoop out the potatoes with a slotted spoon and put them in a paper napkin.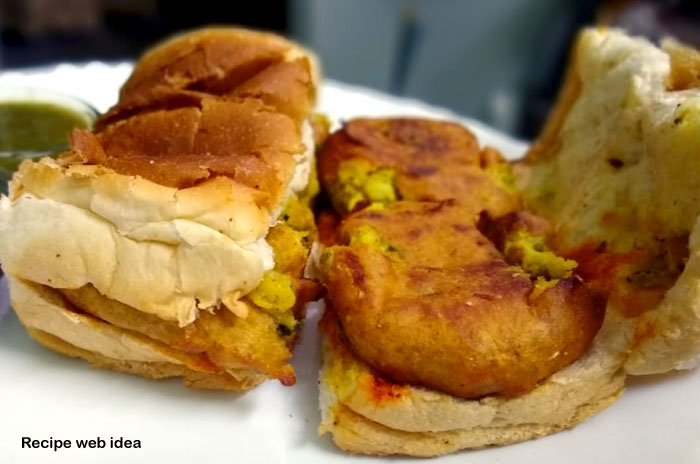 Now your batata vada (aloo bonda)is ready, serve it hot with pav, green chutney, red chutney, or fried green chilies.
Main Ingredients
Potato,  Green chilies, Ginger, Garlic cloves, Green Coriander, Lemon juice, salt, Oil, Cumin, Mustard seeds, Turmeric Powder,  Asafoetida, Gram flour, red chili powder, Baking soda.
Main keywords
Batata vada, Aloo vada, aloo bonda, Potato bonda, Aloo Bada, Bonda recipe. 
Read also:
Green peas nimona recipe step by step. Hoe made Pico de gallo recipe. How to make a Spaghetti recipe at home. Baingan Bhaja recipe step by step. Italian White Sauce Pasta recipe. Pumpkin meatballs recipe. How to make cabbage Kofta recipe.  Sweet sesame chicken wings recipe.
For pin