Kesar Kaju Katli Recipe
Kesar Kaju Katli (Kesar Burfi Recipe) is an apt dessert to make at festivals and special occasions. It is a popular North Indian dessert and is loved by people of all ages. There are very few ingredients to make this delicious dessert and can be easily made at home. Saffron and cashew are mainly used in this sweet. Although it is easily available at sweet shops you can easily make it at home.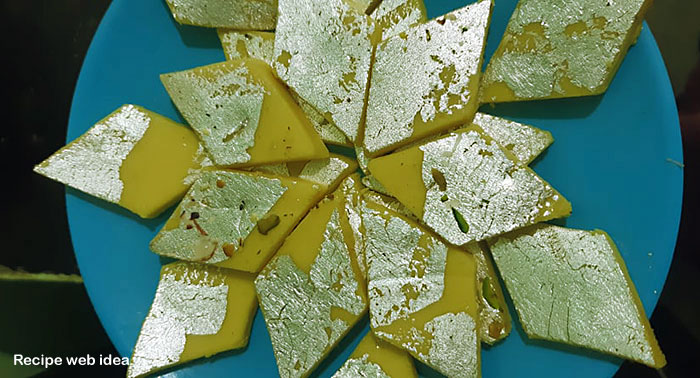 Other popular Diwali recipes
How to make mathri (Salted Crackers).
Coconut Barfi (Nariyal barfi) step by step.
How to make Khoya gujiya recipe (karanji recipe).
नारियल के लड्डू कैसे बनायें, (Coconut Ladoo recipe).
Preparation time          10 minutes
Cook time                       30 minutes
total time                        40 minutes
Serve                                06 members
Difficulty level               Easy
Cuisine                             North Indian Cuisine
Course                              Indian dessert
Ingredients of Kesar Kaju Katli
Sugar                                 150 grams
Cashew                            150 grams (grated)
Saffron                             1/4 teaspoon (grated)
Water                               1/4 cup or as required
Rose essence                5-6 drops
Silver Vark                       as required
How To Make kesar kaju katli
Clean and dry the mixer jar thoroughly, add cashew nuts and grind them to make a fine powder. Take out 1 cup full of cashew powder and keep aside.
Now take 150 grams of sugar in a pan, add water and mix it well. Keep this solution on medium flame and make a string syrup.
When your syrup attains consistency, then add saffron (grated) and rose essence to it and stir well.
Now add crushed cashew powder to it and mix well.
Keep the flame medium and cook the entire mixture for about 4-5 minutes. When the mixture becomes soft and a homogeneous thick batter, then you turn off the flame. Take care not to cook it too much, it becomes hard and brittle if cooked too much. read also.
When the mixture is slightly warm, then knead it like a dough. It takes around 6-7 minutes to knead well.
Place butter paper on a flat surface, then place a small piece of cashew dough and place butter paper on top. Now with the help of a rolling pin, roll it into a round shape with about 1/4″ thickness.
Spread Silver Vark and over it and cut it into the desired shape with the help of a knife.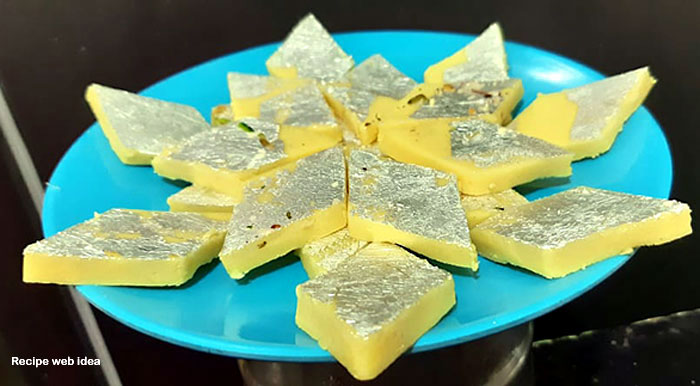 Your Kesar Kaju Katli is ready, serve it as per your requirement.
Main Ingredients
Sugar, Cashew, Saffron, Water, Rose essence, Silver Vark.
Main keywords
Kesar katli,  Kesar Kaju Katli, Kesar Barfi, Barfi recipe, Indian dessert.
Read also:
Sweet Boondi recipe step by step. How to make Mutton pulao recipe. Badam halwa recipe easy steps.  How to make Mawa jalebi recipe.  Sweet sesame chicken wings recipe. Vegetable soup recipe at home. Instant Kesar peda recipe. Authentic traditional Neapolitan Pizza recipe at home.  How to make Mango Barfi recipe.
For pin: