Neapolitan pizza recipe (Pizza Napoli)
Neapolitan pizza recipe (pizza Napoli) is a style that originated in Italy. Naples, a city in southern Italy, is known for its simple and fresh pizza recipes. Neapolitan pizza has its own specialties, with fresh mozzarella pieces and sauce toppings adorning the entire pizza. Pizza Napoli is a famous Italian food and is popular all over the world, It also has many differences. In its traditional recipe, the pizza has very few ingredients, this pizza is made of water, yeast, salt, and oil, etc. In this article, you will learn the Pizza dough recipe also. Read also.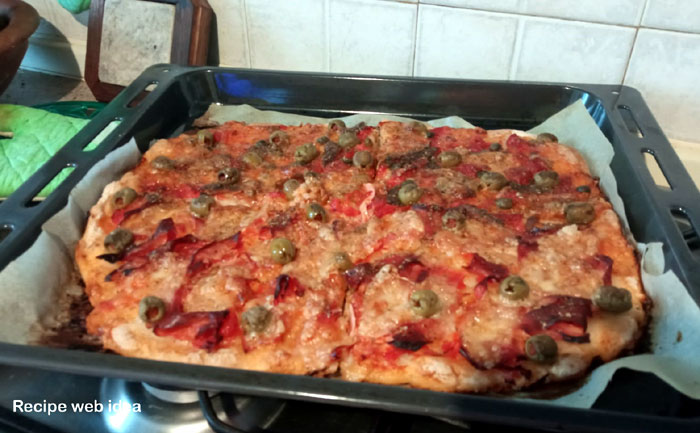 Features of Neapolitan Pizza
This pizza consisted of tomatoes, mozzarella cheese, and oregano, and the pizza sauce had only tomatoes and garlic. These both tasted simple: and were simple.
The pizza was thin and soft and was cooked in a very hot oven. Neapolitan pizza was formerly baked in a wood-fired pizza oven, but nowadays the oven is 400 to 800 degrees Fahrenheit.
Our other popular Italian recipes
Grilled Tilapia Fish with Asparagus (Tilapia recipe with Lemon)
Traditional peperonata recipe with peppers and onions.
Italian Semolina Pancakes recipe.
Polpette di Ceci (Chickpea balls recipe)
How to make an Apple Pie recipe at home.
Preparation time                          30 minutes
Cooking time                                 10 minutes
Rising Time                                     12 hrs
Total time                                        12 hrs  40 minutes
Serve for                                         8-10 servings
Difficulty level                               Easy
Course                                              Main course
Cuisine                                             Italian Food
Chef                                                  Eufrasia Burzio
Ingredient Neapolitan Pizza Recipe
Ingredients for Dough
Pizza Dough                                    02 cups
All-purpose flour                          02 cups
Instant Yeast                                  01 tbsp
sea ​​salt                                             as per taste
Hot water                                        3/4 cup
Olive oil                                            02 tbsp
For applying Oiling Bowl & Pizza top – 01 tbsp
White wine (dry)                          1/2 cup
You can make about 4 balls with this dough)
for the toppings
Tomato sauce                               01 cup
Mozzarella Cheese                      02 cups (shredded)
salted capers                                 02 tbsp (washed)
Dried oregano                                01 tbsp
Anchovies Small                           10-12
Ham                                                   3-4 slices
sea ​​salt                                             as per taste
Chili Flakes (optional)                 01 pinch
Pizza dough recipe 
In the morning, mix both all-purpose flour and flour in a big bowl, add yeast, salt, wine, and olive oil and mix well.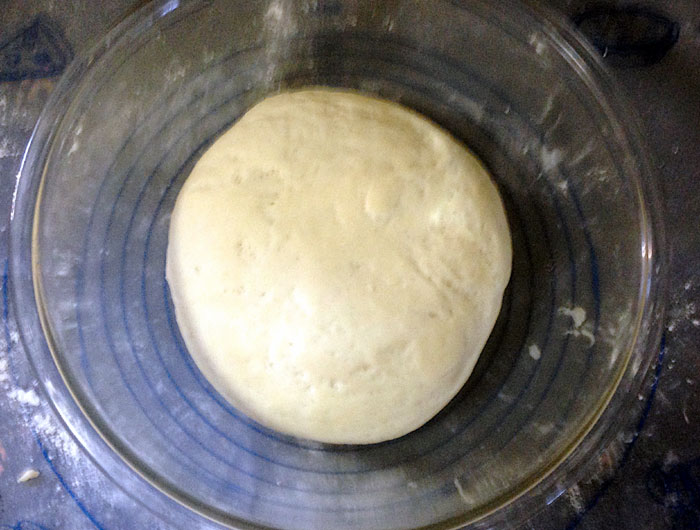 Slowly add hot water to this mixture, and make a ball while mixing it well.

Now dust the ball with light powder and knead it with the help of hands until it becomes smooth. It takes you around 6-7 minutes.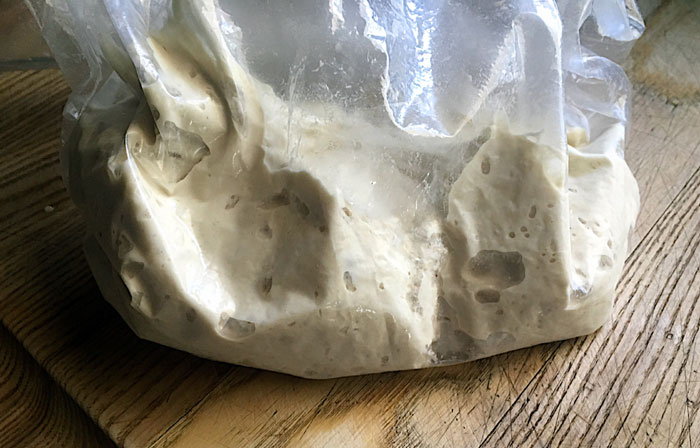 Now cover the dough with plastic wrap and let it rest for about 2 hours. Now your dough doubles in size due to yeast.

Divide the kneaded dough into 4 equal portions, and roll out a ball.

Place two balls on a lightly oiled plate and wrap it with a plastic sheet, cool it for enough time. (Try that the dough to be used is kneaded about 48 hours in advance)

You can also freeze the leftover dough in the same way for future use.

Remove the used dough from the refrigerator about 2 hours before need, so that it comes to room temperature.

You preheat the oven to about 400 degrees Fahrenheit.
Neapolitan Pizza Recipe
Press each ball on a flat surface with light hands to form a circle of about 12 inches.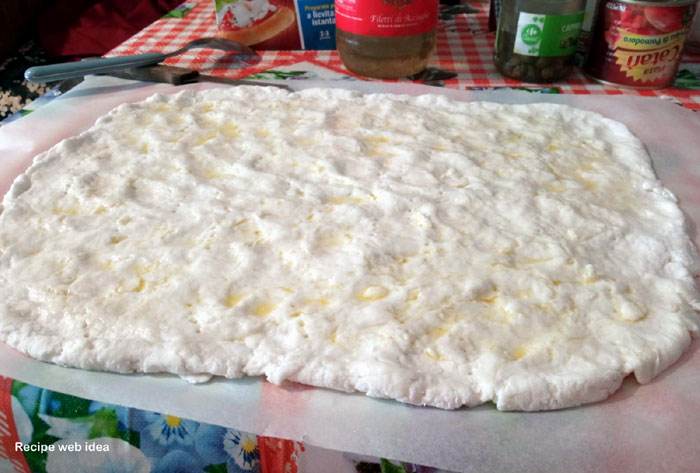 Apply olive oil on it and pat it lightly, brushing its outer edges lightly with oil.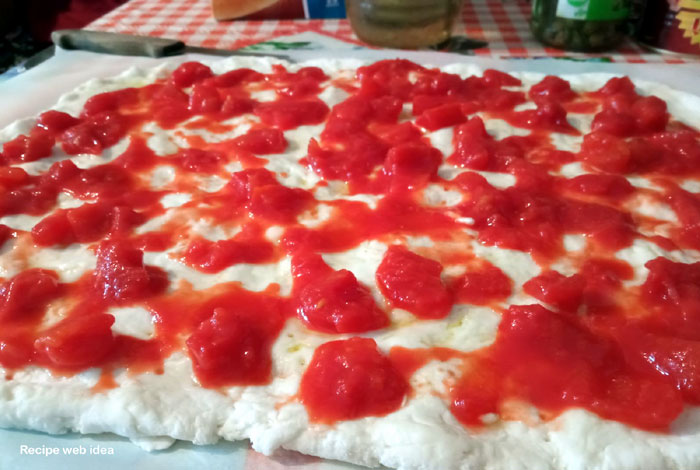 Spread tomato sauce, leaving about a 1-inch border of dough.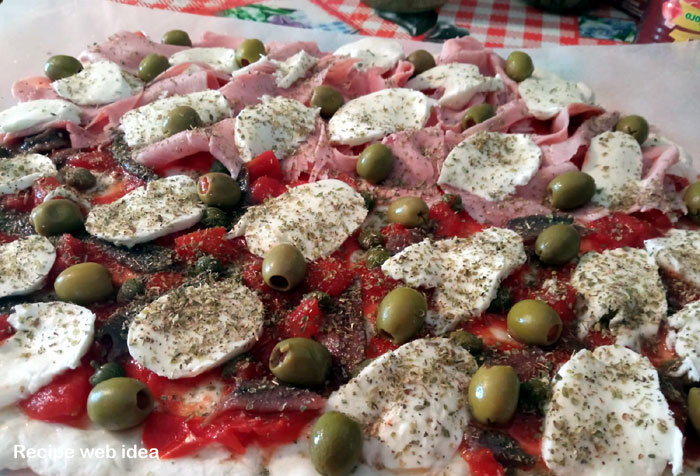 Now sprinkle mozzarella cheese over the pizza rolls, top with pieces of ham, and add

Spread mozzarella cheese over the pizza rolls, arranging ham pieces on top.

Now put Anchovies and capers on top of it.

Add sprinkle dry oregano and chili flakes and salt over the pizza. Slide it on the pizza stone and bake till it turns golden brown. Or bake for about 15 – 20 minutes.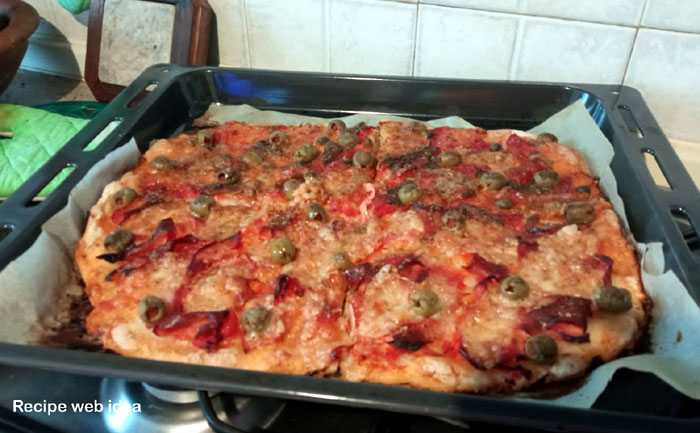 Your Neapolitan pizza recipe is ready, slice it and serve.
Main Ingredients
Pizza Dough, All-purpose flour, Instant, salt, Hot water, Olive oil, White wine, Tomato sauce, Mozzarella Cheese, salted, Dried oregano, Anchovies, Ham,  Chili Flakes.  
Main keywords
Pizza recipe, Neapolitan Pizza Recipe, Pizza Napoli, Italian food, pizza dough recipe. 
Read also:
Suji snacks recipe step by step. How to make Veg Manchurian at home. Mushroom Pizza recipe Morning snacks. Vegan Pumpkins Meat Balls.  How to make Masala Pasta recipe. South Indian Recipe Idli at home. Vegetable soup recipe easy steps.
For pin: