Grilled Tilapia Fish with Asparagus (Tilapia recipe with Lemon)
Grill tilapia fish recipe and asparagus together when you're looking for an easy-to-prepare dinner in minutes, your meal is easy and delicious. A combination of chili powder lemon and black pepper in the tilapia recipe makes a delicious, healthy grilled fish dinner. All you need is to fire up the grilled tilapia fish or toss it on the pan. grilled tilapia recipe with Asparagus cooks easily and quickly dinner will be ready in minutes. Serve fish and asparagus hot with lemon and cocktail sauce. 
We have used fresh thyme along with asparagus to make the recipe delicious. This recipe can actually be a good option for your favorite dinner. Anyway a delicious, simple, and great recipe from a healthy point of view. Make sure you try this recipe for dinner this time around and take advantage of our amazing and easy recipe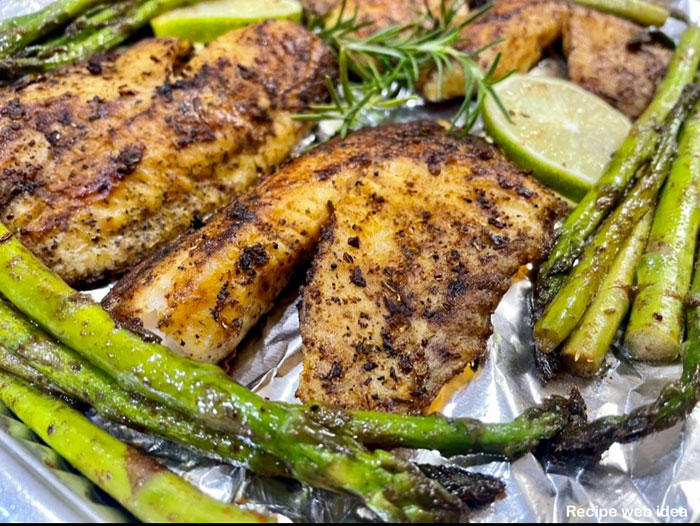 Preparation time                  05 minutes
Cook time                               10 minutes
Total time                                15 minutes
Serve                                        04 members
Difficulty level                       Easy
Cuisine                                     Italian recipe
Course                                      Main Course
Ingredients for Grilled Tilapia with Asparagus
Tilapia fish                               04
Red wine vinegar                 01 tbsp
Garlic Powder                        02 tsp
Chili Powder                           02 tsp
Olive oil                                    02 tbsp
Asparagus spears                 01 bunch (trimmed)
salt                                             to taste
Black pepper                          1/2 tsp (grated)
Lemon juice                           01 tsp
Bread Crumbs                       01 cup
Seafood seasoning              02 tsp
Lemon                                      01 (cut into wedges)
Egg                                             02
Preparation for Grilled Tilapia recipe
Preheat grill rack to medium heat, and lightly oil.

While your grill rack is hot, add the olive oil, lemon juice, red wine vinegar, Chili Powder, black pepper powder, garlic powder, and salt to a small bowl and mix together.

Add cracked eggs and mix well, now add bread crumbs and seafood seasoning and mix well.

Separate the hard parts of the asparagus and keep them aside.

Pour this mixture into a shallow dish and add the asparagus and coat well.

Take out the marinated asparagus and keep it aside.

With the help of your fingers, apply the mixture lightly on both sides of the fish. Spray the fish lightly with the brush.
How to make Grilled Tilapia with Asparagus
Place fish and marinade asparagus together on the grill grate, sprinkle lightly with cocaine spray, and grill for 3-4 minutes.

After about 4 minutes, test the fish with a fork and turn. Now grill the asparagus for about 8-10 minutes, but keep turning it over and over again, till it becomes tender.

Once cooked properly, take out the fish and asparagus in a plate and serve hot with lemon wedges and sauce.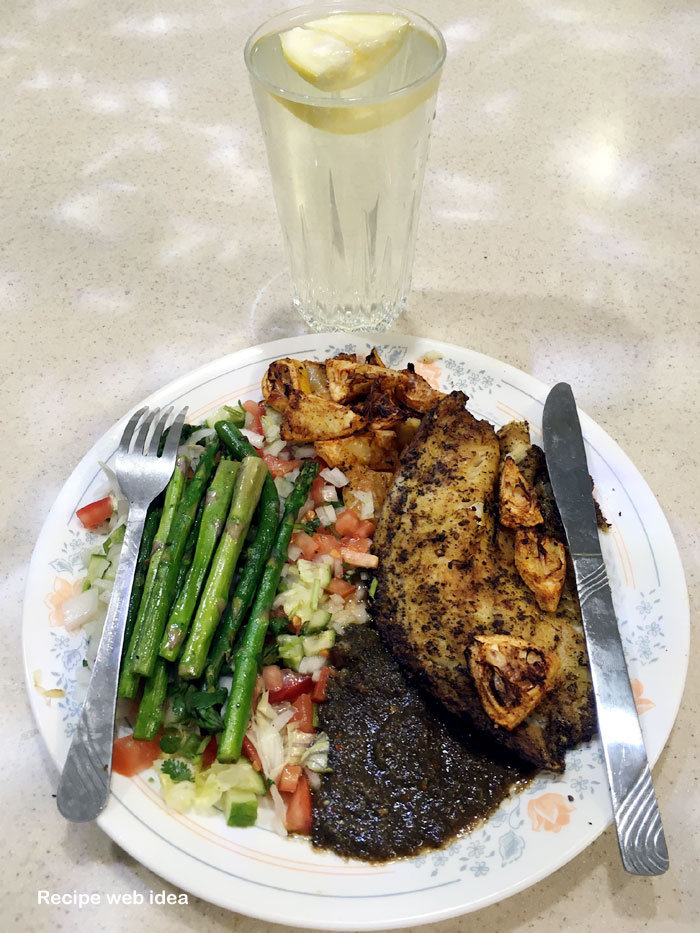 Suggestions
Cook the asparagus on the grill by turning it two or three times.

Asparagus cook until it is easily pierced with a fork, this should take about 10 minutes.
Main ingredients
Tilapia fish, Red wine vinegar, Garlic Powder, Chili Powder, Olive oil, Asparagus spears, Salt,  Black pepper, Lemon, Bread Crumbs, Seafood seasoning, Egg.
Main keywords
Grilled Tilapia with Asparagus,  Fish recipe, grilled tilapia, grilled tilapia recipe, fish recipe, tilapia recipe
Read also
Traditional Turkish kebabs recipe. How to make a chicken curry recipe. Masala pasta recipe step by step. How to make Baingan Bharta recipe. Eggplant in the tomato sauce recipe.  Traditional Chicken Karahi recipe. Sweet sesame chicken wings recipe. Green peas nimona recipe easy steps. Chicken Pizza recipe at home. Mushroom Pizza recipe at home.
For pin: