Traditional Chicken Karahi recipe
Traditional Chicken Karahi is a ginger, garlic and tomato mixed spice curry, the gravy is very thick, delicious. This chicken recipe is a traditional recipe of Khyber Pakhtunkhwa. However, over time, there is a lot of change in it. If you see this recipe in the market, more onions have been added to it, whereas the traditional method did not contain onions. Some people also use capsicum along with red onion in it. So you can't rule out variations. Today we are sharing with you the Chicken Karahi recipe. read also.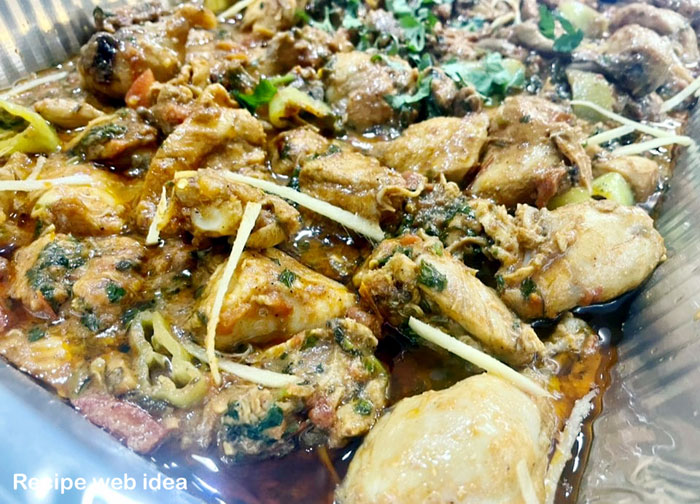 Click for our other popular chicken recipes
Grilled Chicken Shish Kebab recipe (shish kabob)
Chicken seekh kabab recipe step by step.
Tandoori Chicken recipe.
Chicken 65 gravy Recipe.
Preparation time              20 minutes
Cooking time                     30 minutes
Total time                            50 minutes
Serve for                             04 members
Difficulty level                   Medium
Course                                  Main course
Cuisine                                 Pakistani recipe
Chef                                      Qutub Siddiqui
Ingredients for Chicken Karahi
500 grams                            Chicken (cut into pieces for curry)
Ghee or butter                 02 tbsp
Garlic cloves                       08 -20 (peeled and minced)
Tomatoes                            500 grams (finely chopped)
Ginger                                  02 tbsp (grated)
Kashmiri red chili              02 tsp
Black pepper                      01 tsp (grind)
Chilli Flakes                         01 tsp
Coriander Powder           01 tsp
Cumin Powder                  01 tsp
Green chilies                      2-3 (cut in half)
Kalonji seeds                     01 tsp (optional)
Green Coriander              02 tbsp (chopped)
Ginger                                  01 tbsp (cut lengthwise like a matchstick)
salt                                         to taste
How to make Chicken Karahi
First of all, heat oil in an iron skillet heavy-bottomed karahi, heat the oil in high flame.
Now slowly add the chicken pieces to the hot oil. stirring continuously with the help of a spoon
When the chicken is fried, then add grated ginger and garlic to it and stir well. Fry it while stirring continuously, being careful not to burn it.
Fry ginger and garlic well so that its raw smell ends.
Now add Kashmiri Red Chillies, Coriander Powder, Cumin Powder, Chilli Flakes, and finely chopped tomatoes.
Mix it well and cook on high flame. But make sure that the surface of the pan does not get burnt in high flame.
Cook the mixture for about 15-20 minutes, or till the oil starts to separate on the sides.
When the mixture is cooked, coat the chicken pieces well. With this, the chicken will get wrapped well in tomato gravy.
After some cooking, holes will appear in the gravy, it should be cooked till then.
Lower the flame and add chopped green chilies, Black pepper, and coriander leaves and mix,
Cook it for about 5 minutes more, do not close the lid.
Now your chicken karahi is ready, garnish with matchsticks, chopped ginger, and coriander leaves and serve hot.
Suggestions
Many times the chicken is not cooked, in such a situation, cook it with a lid, and keep it on the flame for some time.
You can also add garam masala for optimum taste and aroma.
If you prefer to eat onions, finely chop 1 large onion and cook till it turns brown before adding the chicken.
Main Ingredients
Chicken, Ghee or Butter, Garlic, Tomatoes, Ginger, Kashmiri red chili, Black pepper, Chilli Flakes, Coriander Powder, Cumin Powder, Green chilies, Kalonji seeds, Green Coriander, salt.
Main Keywords
chicken karahi recipe, chicken recipe,
Read also:
How to make cabbage kofta. Batata vada recipe step by step. Chicken Biryani recipe at home. How to make Jeera rice recipe. Aloo paratha recipe easy steps. Kanda poha recipe step by step. Achari paneer recipe Dhaba style. Mushroom pizza recipe, Italian recipe. South Indian recipe Idly.
For pin: