Achari Paneer recipe 
Paneer has a special place in the vegetarian dishes of Indian restaurants. Parties are incomplete without paneer dishes. Achari Paneer recipe is a popular, spicy, and delicious recipe. To make this recipe, pickle spices and paneer are mixed together. You can serve Achari paneer gravy with Indian Bread (Roti, Naan, Paratha, or Missi Roti), Rice, or Pulao.
This spicy Achari Paneer is made by adding paneer with fennel seeds, onion seeds, and fenugreek seeds. This is a very tasty main dish which you can make on weekends or on the arrival of guests.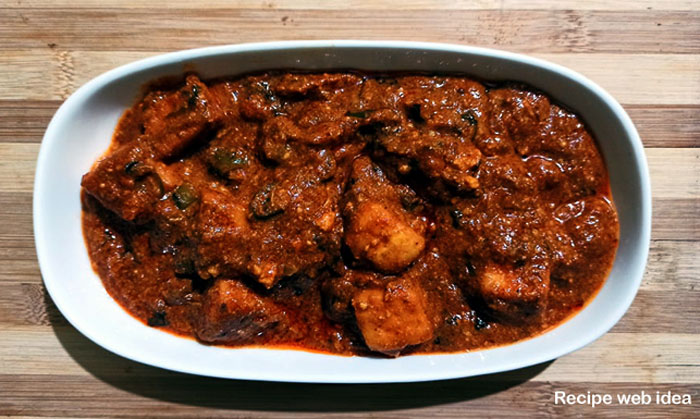 Check out our other popular Paneer Recipes
Restaurant Style Matar Paneer recipe. 
Paneer Tikka Masala Recipe Restaurant Style
Palak Paneer Recipe (Popular Indian Recipe)
Paneer Butter Masala Recipe Step by Step.
Shashi paneer masala recipe Dhaba style.
Preparation time                    15 minutes
Cook time                                 35 minutes
total time                                  50 minutes
Serve                                          04 members
Difficulty level                         Medium
Cuisine                                       Indian recipe
Course                                        Main course
Ingredients for Achari Paneer
Paneer                                       200 grams (cut into 1-inch cubes of paneer)
Yogurt                                         100 grams (thick curd)
Olive oil                                      04 tbsp
Red Onion                                 02 big (sliced)
Garlic                                           4-5 cloves (Make a paste)
ginger                                         01 inch piece  (Make a paste)
Green chili                               3-4 (chopped it)
Tomato                                      02 big  (chopped it)
Achari Masala
Fennel                                        01 tsp
Mustard Seeds                       01tsp
Fenugreek seeds                   01 tsp
Onion seeds (Kalonji)           01 tsp
Cumin Seeds                            02tsp
Dry masala
Turmeric Powder                   01 tsp
Coriander Powder                 02 tsp
Red chili powder                    01 tsp
Salt                                               as per taste
How to make Achari masala 
Mango achari masala comes in the market, roast it in mustard oil and add it.
If you want to make it at home, then roast the onion seeds, fennel seeds, mustard seeds, fenugreek seeds, dry red chilies, and cumin seeds till they turn brown and let it cool down for a while. Then grind it with the help of a blender.
How to make Achari Paneer masala
First, put mustard oil in a pan and heat it. When the oil becomes hot, add chopped onion and fry till it becomes light brown.

Now add green chilies to the pan, then add ginger garlic paste and fry well.

And fry till the aroma comes, by this time it will become light brown.

Add chopped tomatoes to the pan and cook for about 4 minutes.

Now add whipped curd to this mixture and cook for about 3-4 minutes.

Add coriander powder, red chili powder, turmeric powder and salt and fry, stirring continuously, till oil separates from the sides of the pan.

Now add 1 cup of water to it and boil it well.

Add the cut pieces of paneer to it and cook for about 5 minutes.

Now, your Achari Paneer Masala is ready, serve it hot with roti, naan, or jeera rice.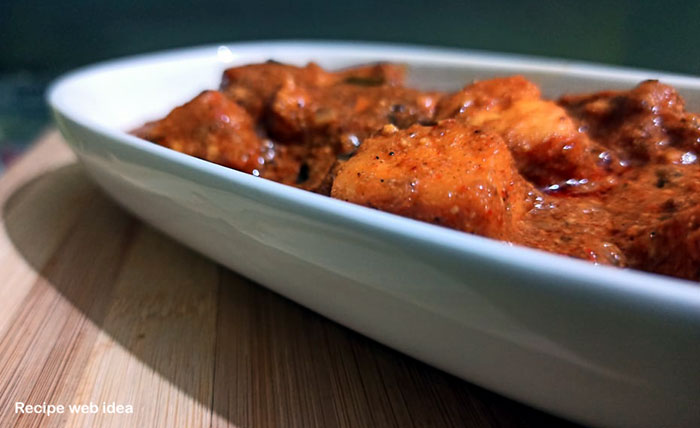 *To prepare pickle masala, add mango pickle masala in mustard oil and fry.
Main ingredients
Paneer,  Yogurt, Mustard oil,  Red Onion, Garlic, ginger, Green chilli, Tomato paste,  Achari Masala, Turmeric Powder, Coriander Powder,  Red chili powder, salt.
Main keywords
Achari paneer gravy, achari paneer recipe, paneer recipe, paneer curry.
Read also:
How to make Chicken 65 recipe. Green peas nimona recipe step by step. How to make Idli recipe. Cabbage kofta recipe step by step. Vegan pumpkins meatballs. Chur chur naan recipe easy steps.  White sauce pasta recipe at home.
For pin.