Choco Coconut Laddoo recipe
Choco Coconut Laddoo recipe | Chocolate coconut ladoos | Diwali recipe. This recipe is made keeping in mind the Diwali festival. Earlier in my old post, I had given information about Coconut-made Barfi and Coconut Laddu. This is an excellent and easy Diwali recipe. In this ladoo recipe, I have made coconut laddoos with condensed milk, sugar, and cocoa powder. You can also use dark chocolate instead of cocoa powder.
Sugar is necessary to remove bitterness from dark chocolate but is good for the setting. After the coconut mixture is ready, pour cocoa powder after the heat. After making the laddu, wrap it with coconut powder,   it will look attractive.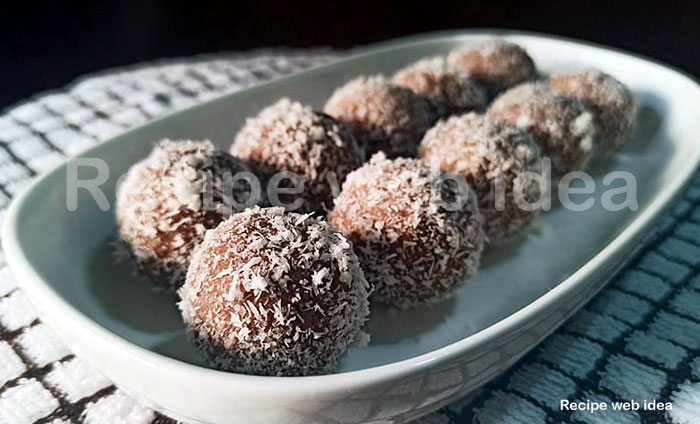 Double layered coconut,  barfi, made in white and green colors, is attractive to look at and children like it very much.  This Diwali you should try this recipe, hope you will like it, you will not need to take from the market.
You can also choose other recipes like Choco-Coconut Laddu Recipe, double-layered coconut barfi, Bottle gourd barfi, peanut roll, coconut ladoo, Besan laddoo, coconut barfi.
Preparation time                      05minutes
Cooking time                             20minutes
Total time                                    25 minutes
Serve for                                    15-16 pieces
Difficulty level                           Easy
Course                                          Sweet recipe
Cuisine                                         Indian dessert
Ingredients for Choco Coconut Laddoo recipe
Coconut                                       100 grams (grated)
Milk Powder                              200 grams
Sugar                                             200 grams
Cardamom                                  3-4 (crushed)
Almonds                                      01tbsp (chopped)
Cashew nuts                              01 tbsp (finely chopped)
Walnuts                                       01 tbsp (crushed )
Pistachios                                    01( coarsely grind)
Cocoa powder                           02tsp
Coconut powder                      for wrap laddoos
How to make Choco Coconut Laddoo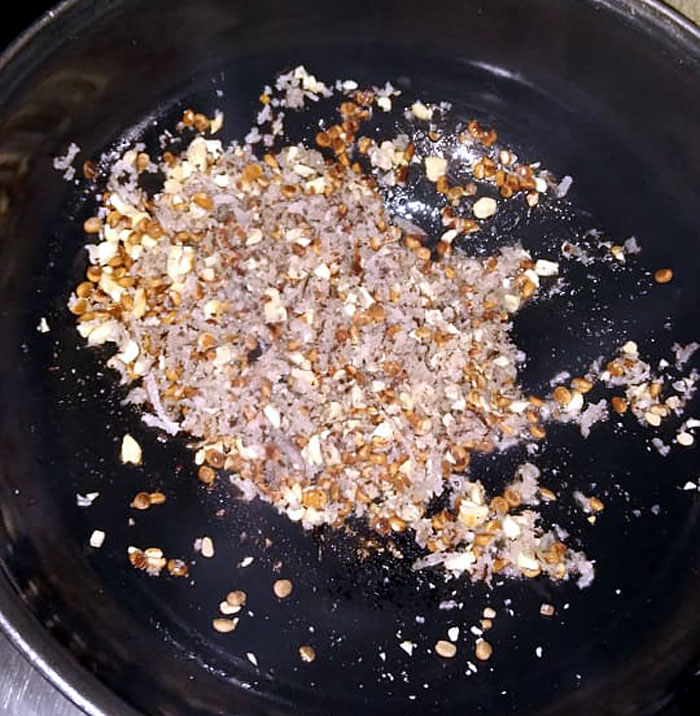 Heat 01 tablespoon butter or ghee in a pan, add chopped nuts and toss it well and fry until golden.
Pour the roasted nuts on a plate and keep aside.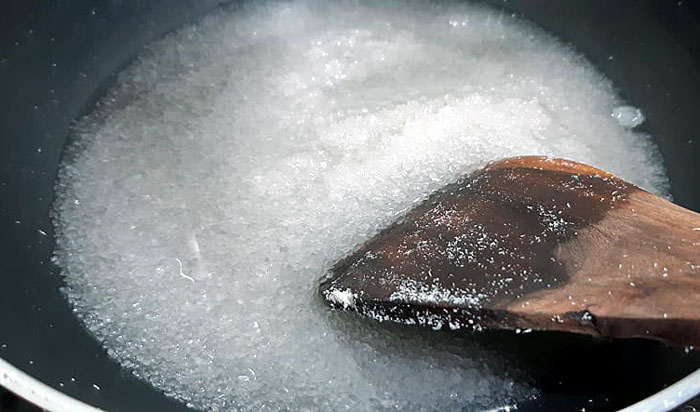 First, in a pan, mix sugar and water according to the above volume and turn on the gas. Keep stirring it until the sugar dissolves completely.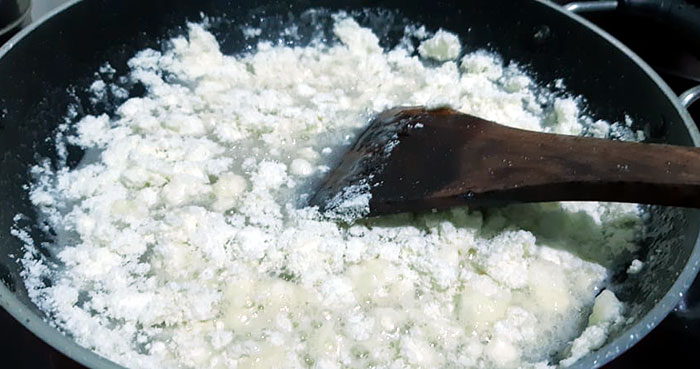 When the mixture becomes thick, add milk powder and stir continuously. Keep the flame medium at this time.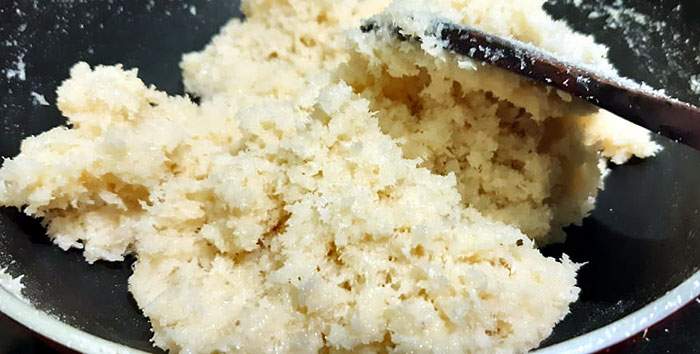 Now take coconut powder (narial powder), roasted nuts, and pour it according to the above quantity.
The sugar mixture thickens in about 5 to 7 minutes.
After about 5-7 minutes, the mixture will separate from the pan. At this time the mixture will start to take shape due to being thick.
Add cardamom powder to it and keep stirring.
Now your laddoo mixture is ready, Take the ladoo mixture down and mix the cocoa powder in it, now your cocoa chocolate laddu mixture is ready.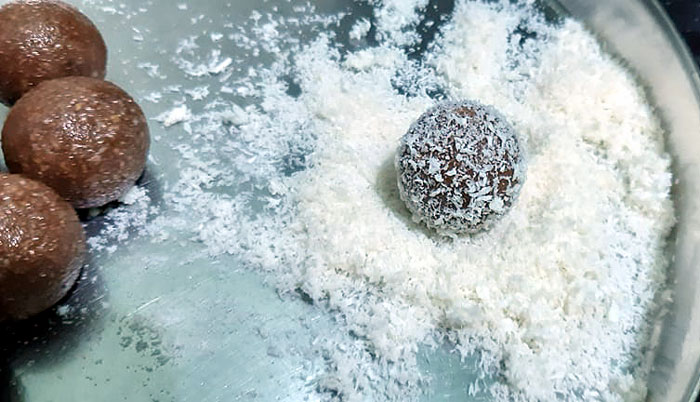 Apply ghee to the palms and take a little mixture to form a round ladoo, now wrap it with coconut powder and keep it aside.
Similarly, make laddus from all the mixture and keep it aside, leave it in the open air for a while, it becomes stiff and set.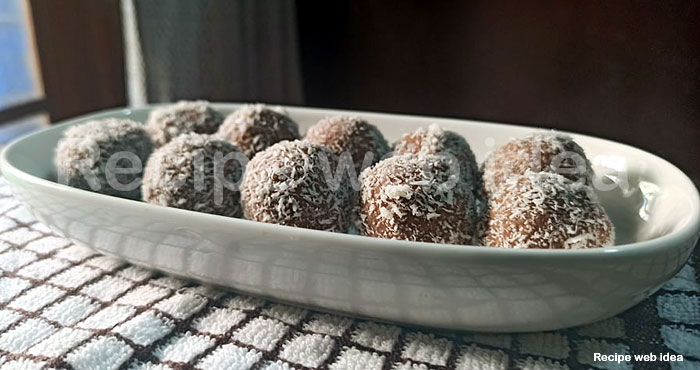 Now your cocoa chocolate laddoo is ready, keep it in a tight container, it does not spoil for 8-10 days.
Suggestions
In Choco-Coconut Laddoo we have used cocoa powder, you can use dark chocolate for taste and color.
Do not make the laddu mixture too cold, otherwise, it will be difficult to make laddu if it becomes hard.
Use the right amount of sugar, otherwise, the bitterness of the chocolate will spoil the taste.
Main ingredients
Coconut powder, milk powder,  Sugar, cardamom, Cocoa powder.
Keywords
Diwali, Indian dessert, Choco-Coconut Laddoo, Sweet dish, Coconut laddoo, laddoos,  Laddoo recipe, Diwali recipe.
Read also:
Veg Manchurian recipe step by step.  How to make Masala kaju namkeen.  How to make Milk Peda recipe. Mango barfi recipe step by step.  Mathri recipe easy steps. Poi pakora recipe step by step. Rava besan laddoo: Diwali sweets. Habshi Halwa recipe step by step. Chocolate barfi recipe step by step. Healthy laddoo recipe for cold weather.
For pin: