Agnolotti alla Piemontese
An Italian friend introduced me to Agnolotti alla Piemontese. It is a traditional regional Italian recipe, with origins in the Italian countryside but is still prepared on special occasions. Agnolotti is similar in shape to ravioli but differs in the filling. If you like making fresh pasta, it takes a bit of effort to make agnolotti but the preparation is very simple. The agnolotti is prepared a few days before Christmas and I want to explain how to make them. I am sure that this time, you will make a special dish to welcome your guests, and goodness is assured. Read also.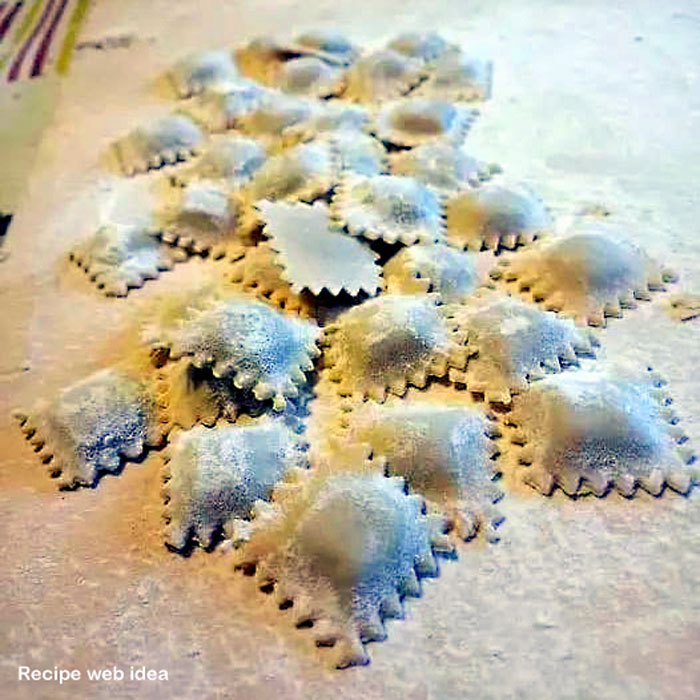 It could be said that every part of Piedmont has its own recipe for making the filling and the differences are found in the ingredients. The original recipe includes eggs, flour and for the filling, there are two important ingredients spinach and meat.
Our other popular Italian recipes
Grilled Tilapia Fish with Asparagus (Tilapia recipe with Lemon)
Traditional peperonata recipe with peppers and onions.
Traditional Italian meatballs recipe. 
Italian Semolina Pancakes recipe.
Polpette di Ceci (Chickpea balls recipe)
How to make an Apple Pie recipe at home.
Preparation time                          60 minutes
Cooking time                                 45 minutes
Total time                                        1 hour 45 minutes
Serve for                                         6-8
Difficulty level                               Easy
Course                                              appetizer recipe/snacks
Cuisine                                             Italian recipe
Ingredients for 6-8 people
For the dough
 Fine Flour (Maida)                      1 kg
 Eggs (use red only)                     06
 Warm water
 Ingredients for the filling
 Spinach or chard                          01 KG
 Roast beef                                     01 kg.
 other meat to taste (rabbit, chicken)
 Grated Parmesan cheese        200 grams
 Egg                                                        01
 nutmeg
 Salt                                                    to taste
 Chilli powder                                 1/2 tsp
 Black pepper                                 to taste
 Carrots                                            01(Chopped)
 Onion                                               01(Chopped)
 Rosemary                                       to sprig
 Bay leaf                                           2-3 leaves
 Red wine                                        01 glass
How to make Piedmontese Agnolotti
Step -01
Pour the flour onto a clean, flat surface, forming a small mountain with a hole in the center.

Break the eggs into the hole and slowly mix the eggs with the flour and add warm water to the mixture if necessary.

Knead until you get an elastic and smooth ball. Wrap the dough with cling film and let the dough rest for at least 1 hour.
Step-02
Prepare the dough for the filling In a saucepan, put 2-3 tablespoons of olive oil.

Cut the onion, carrot and put them in the pan to fry. Add the chopped meat

with a hint of rosemary and bay leaves and cook adding a glass of red wine.

Continue cooking with vegetable broth, adding it little by little.

Boil the spinach separately.

When the meat is cooked, leave it to cool in a bowl.

With a mixer, blend the cooled meat, spinach and add an egg, nutmeg, grated cheese, salt, chilli powder, and black pepper and mix well. Read also. 
 Step -03
Create the shape of the agnolotti Secure the pasta machine to the work surface.

Make sure the pasta maker is in the best position.

Take the dough and divide it into 5-6 equal parts and form balls.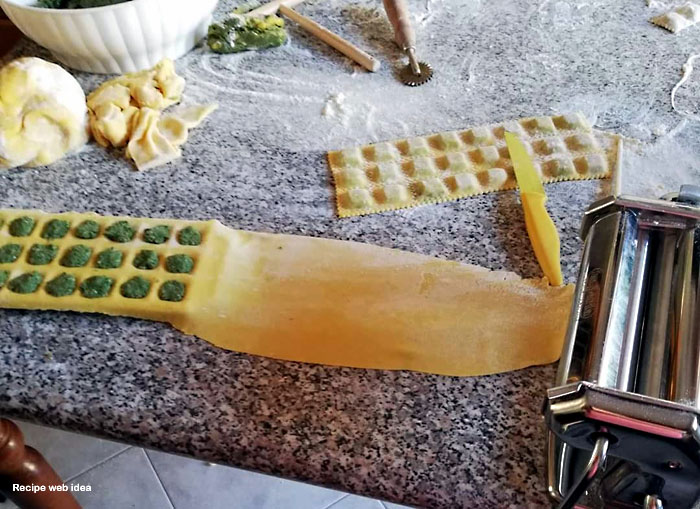 Pass the first ball through the pasta machine, many times until you get it a long and thin sheet. Make more sheets until the balls are finished.

Now sprinkle the work surface with a little flour and roll out the first sheet. With a spoon take some filling and with the help of a teaspoon, place the filling on the pastry, placing small piles at the same distance in three rows for each sheet.

Overlap the first sheet with another sheet and weld them with the index finger between a pile of filling and the other. Continue this operation until all the sheets and the filling are used up.

With a knife or even better with a pastry, the wheel removes the excess dough and cuts the dough between a pile and the other forming many small squares.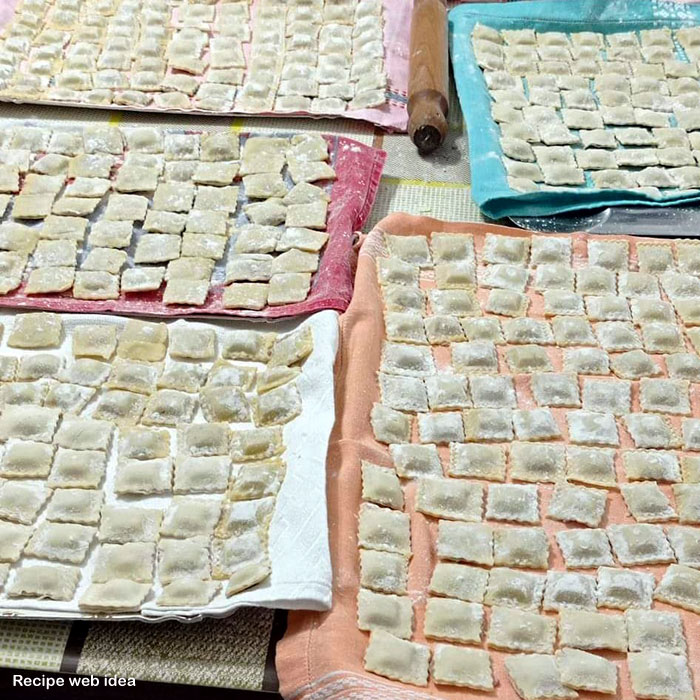 On a tray, spread a clean cloth and sprinkle it with flour.

Place the agnolotti and let the pasta dry a little.

You can now cook whole agnolotti or freeze them in more airtight bags.

To dress the agnolotti, use a good meat sauce or more simply sauté some sage in butter and sprinkle with Parmesan cheese. Read also. 
For a vegetarian
For a vegetarian version, the filling will be replaced by a mixture of boiled rice, boiled cabbage, eggs, parmesan, nutmeg, black pepper.
Main Ingredients :
Fine Flour,  Eggs, Water, Spinach or chard, Roast beef, Parmesan,  Egg (beat), Nutmeg, Salt, Black pepper.
Main keywords:
Agnolotti alla Piemontese, Agnolotti alla Piemontese recipe, Italian dish, Agnolottiagnolotti pasta recipe, italian pasta,  ravioli recipe. 
Read also:
How to make Mawa jalebi. How to make Veg Manchurian at home. Achari Chicken recipe Dhaba style.  How to make Vegetable soup. Mutton pulao recipe at home. Vegan Pumpkin meatballs recipe. Chicken Kebab curry recipe.  Famous south Indian Idli recipe. Traditional Turkish kabab recipe.
For pin: