Puran Poli recipe
It is a traditional sweet dish made in Maharashtra. Puran poli is made by people during special occasions or at festivals. Pooran poli is made in different ways, but the recipe made from gram lentils (Chana dal) is usually more popular. This is a great and easy recipe, and can be eaten for 2 days. Learn how to make Puran Poli, Maharashtrian Puran Poli recipe and suggestions for this recipe.
Today we are telling you step by step method of making the Puran Poli recipe.
Click for our other popular traditional recipes.
Balushahi recipe step by step.
Sweet Bundi recipe with photographs.
Preparation time                  35 minutes
Cooking time                         30 minutes
Total time                                01 hour 5 minutes
Serve for                                04 members
Difficulty level                       Easy
CourseTraditional                sweet dish
Cuisine                                     Maharashtrian dish
Ingredients for Pooran poli recipe
To make dough
Wheat flour                            01 cup
Fine flour (Maida)                01 cup
Water                                       to make the dough
Material for filling
Gram lentils (Chana Dal)   01 cup
Jaggery                                     01 cup
Cardamom powder            01 tsp
Salt                                             to taste (to be added to the filling)
Oil                                               2 tbsp
To ghee
Kneading dough
First of all, soak the gram lentils (Chana Dal) in 1 1/2 cups of water for 2 hours, then after 2 hours, remove the excess water.
Pour flour and fine flour (maida) in a large bowl as per the above-mentioned quantity, add a little pure ghee and salt in it and mix well.
Use light hot water to knead the dough, adding water as required and kneading the soft dough.
Cover the dough with the cloth for 10 minutes, so that the dough will set well.
To prepare to stuff
Pour the washed lentils  (Chana Dal) into the cooker for stuffing, add 1 cup of water and let it boil on the gas. In a whistle, the lentils will cook well, turn off the gas and allow the cooker to cool down.
When the cooker cools down, Pour the boiled lentils into the sieve and remove the excess water. take out the boiled lentils in a bowl.
Let the lentils cool down, then put them in the mixer and grind them finely.
Add 2 spoons of ghee to a pan and heat it. When the ghee becomes hot, break jaggery into small pieces and let it cook.
When the jaggery is melted, add ground chana dal to it and mix well. Cook it for a while and roast it.
After roasting a little, add cardamom powder and mix well.
Now your stuffing (puran) is ready, turn off the gas and remove it on a plate.
How to make puran poli
Make small balls of all the stuffing (Puran).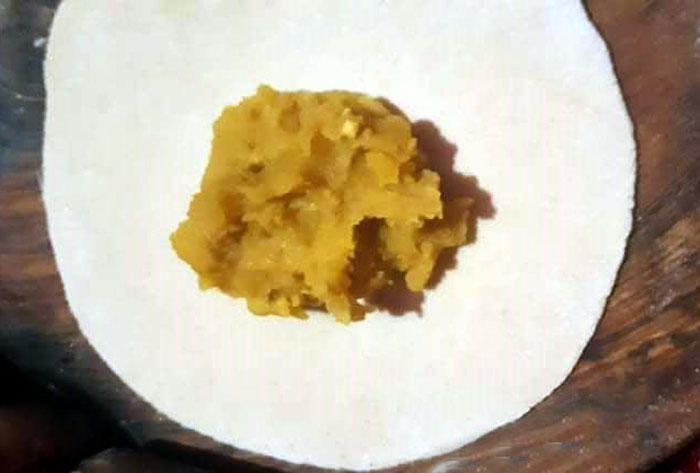 Now chafe the dough a little and do the same, divide it into equal parts and make a ball.
Wrap the dough in dry flour and press it with your palm and roll it slightly.
*Keep in mind that the dough ball is bigger than the stuffing ball.
Put the griddle to be hot.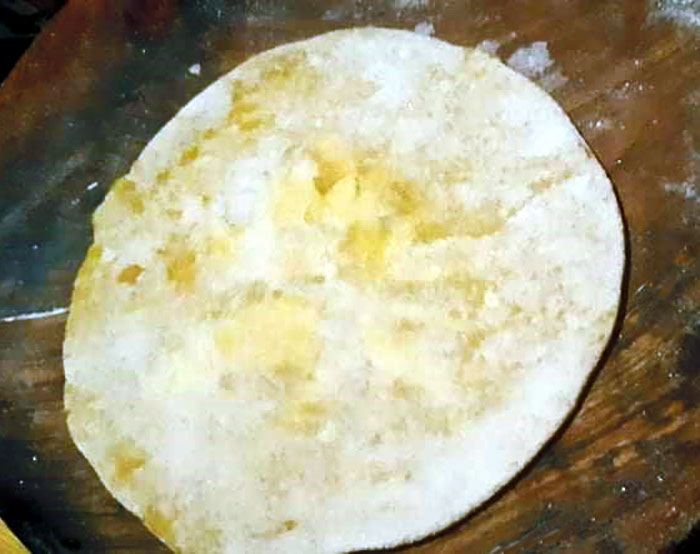 Wrap it in dry flour and roll out about 7-8 inch diameter bread, do not apply too much pressure while preparing the bread, otherwise, it may burst.
Heat the griddle, apply some ghee on it and add full poli. Allow the entire poli to roast till it turns brown, when it sinks on one side, flip it and add ghee. Roast until brown on the other side.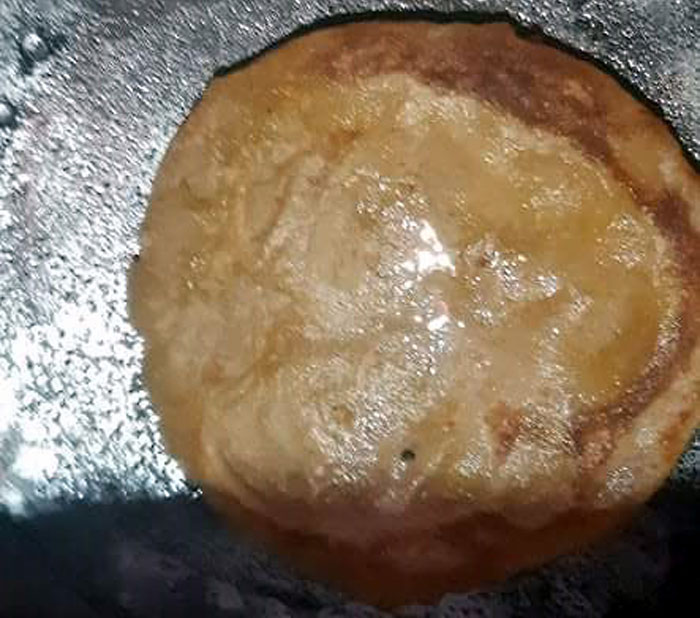 Heat the griddle, add some ghee to it and add the Pooran Poli. Allow the Pooran Poli to brown until it cooks on one side, flip it over, and add ghee. Cook until brown on the other side.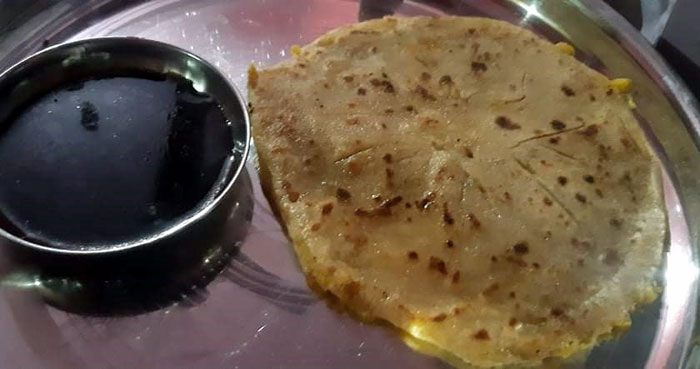 Take your Puran Poli ready. Serve it hot with chutney, sweet lemon pickle, or any vegetable.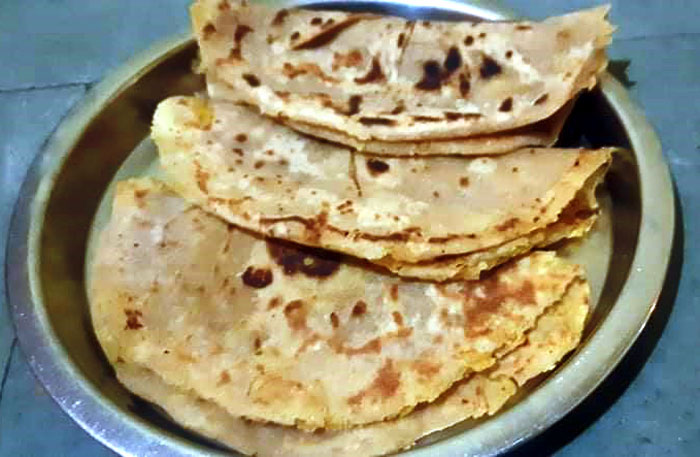 It does not go bad for a couple of days, so store it and have breakfast the next day.
Suggestion
We have used jaggery in our recipe, you can use sugar instead.
You can also use tur dal instead of chana dal to fill in the Puran Poli.
Puran poli is traditional a recipe made from jaggery. But you can also make it with sugar powder.
Main Ingredients
Wheat flour, Maida, Gram lentils (Chana Dal), Jaggery, Cardamom powder, Salt, Oil, ghee.
Main keywords
Puran Poli recipe, how to make puran poli,  maharashtrian pooran poli,
Read also:
Dry fruits laddoo recipe. Veg Manchurian recipe easy steps.  Stuffed Bhindi recipe step by step. How to make Masla Pasta recipe. Roasted Mushroom recipe easy steps.  Chicken shish kabab recipe. Onion fritters recipe step by step. Mathri recipe at home. Rajasthani Mirchi vada recipe. Suji ke twister recipe.
for pin: