Gajar Ka Halwa Recipe (Carrot Halwa recipe )
Gajar ka Halwa (carrot halwa recipe) is one of the most popular sweets liked in India during the winter season. It is a traditional Indian sweet, known in Punjabi as Gajrela, it is very easy to make, people make it in different ways Some people make it using milk, milkmaid, or khoya. You can enjoy Carrot pudding on special occasions or as an after-dinner dessert regularly. We have brought this easy recipe to you by giving a step-by-step guide. To make Gajar ka halwa recipe we have used grated carrots, condensed fresh milk, sugar, and dry fruits. Make it at home and enjoy the original taste and purity.
This sweet dish is a popular dessert made in North India and is a good dessert option. Choose tender and juicy carrots to make a delicious pudding.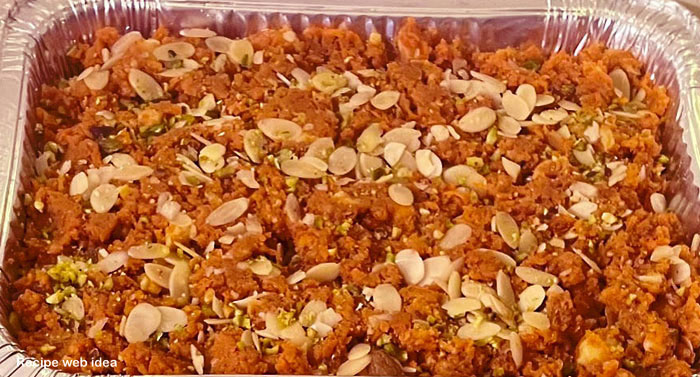 What is Halwa (pudding)?
It is an Arabic word used for sweet, it refers to a special kind of dessert, in which ghee, sugar, and milk are used.  Moong Dal Halwa, Badam Halwa, Sooji Halwa, or Gourd Halwa. Indians know this dessert as Halwa.
See other delicious Halwa recipes
How to make Lauki ka halwa recipe step by step.
Badam halwa recipe at home.
How to make Famous Habshi Halwa recipe.
Popular Indian dessert Suji ka halwa.
Preparation time                15 minutes
Cooking time                       25 minutes
Total time                              40 minutes
Serve                                      04 members
Difficulty level                     Easy
Course                                    Indian dessert
Cuisine                                   North Indian recipe
Ingredients for Gajar Ka Halwa Recipe
(1 cup = 250 ml)
Carrots                                   800 grams
Sugar                                       06 tbsp
Milk (full cream )                 1 litter
Chironji                                  01 tbsp
Pure Ghee                            01 cup (04 tbsp)    
Raisins                                    02 tbsp
Cashew nuts                        01 tbsp
Almonds                                01 tbsp
Green cardamom              5-6 (crushed)
How to make Carrot halwa

Step – 01
First of all, take carrot according to the above-mentioned quantity, wash it thoroughly and peel it.

Now grate the carrots in a food processor or grater, and keep them aside.
Step – 02
Now take a heavy pan to cook carrots, keep it on the flame, add grated carrots to it.

Pour 500 ml full-fat milk over the grated carrot and mix well.

Reduce the flame to medium-low and cook the mixture while stirring. After a while, the froth will start appearing in the milk and the milk will start thickening.

Cook this mixture while stirring, keep stirring the sides of the pan so that the milk evaporates well, and the solids formed by the milk get mixed in the mixture. Cook the carrot and milk mixture, stirring continuously, till the milk becomes 80 percent thick.
Step – 03
When the carrot mixture becomes thick, then add 4 tbsp pure ghee to it and mix it well.

After cooking a little, add 10 -11 tablespoons of sugar (or according to taste) to this mixture.

Now add 5 to 6 cardamom (crushed), you can also add cardamom powder.

Simmer the mixture on a low flame while stirring continuously.

When the carrot halwa mixture becomes thick, add chopped cashews, pistachios, almonds, and raisins. Mix it well.
Step – 04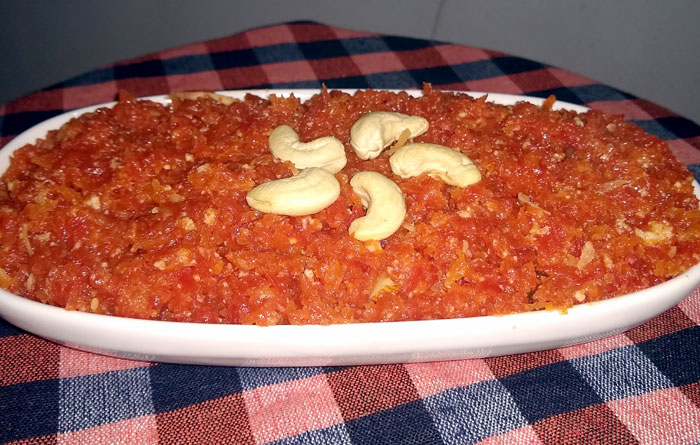 Now Gajar Halwa is ready, garnish with dry fruits and serve hot, you can also serve it chilled in Fariza.
Main Ingredients
Carrots, Sugar,  Milk, Chironji, Ghee, Raisins, Cashew nuts, almonds, Cardamom.
Main keywords
Gajar Halwa, Gajar ka Halwa,  Carrot halwa, Carrot pudding,
Suggestion
You can also add clarified butter instead of pure ghee.

Cook the halwa on medium-low flame and keep stirring continuously, otherwise, the milk will stick to the surface and the taste will be spoiled.

You can keep the halwa in the fridge for several days. Take it out, heat it and feed it according to your need.

 You can also use fresh cream or condensed milk, Milkmaid, instead of milk.
Read also:
Instant kesar peda recipe.  Vegan stuffed eggplants in tomato sauce. Chicken chapli kebab recipe at home.
For pin